MAINZ, Germany — President Donald Trump took a swipe at German leader Angela Merkel over border controls Monday by wrongly stating that crime was rising in her country because of mass migration.
"We don't want what is happening with immigration in Europe to happen with us!" he wrote in a string of tweets defending White House policies regarding the U.S.-Mexico border.
His comment comes a week after he stoked tensions with other leaders at the G-7 summit, including the German chancellor who called his behavior "depressing."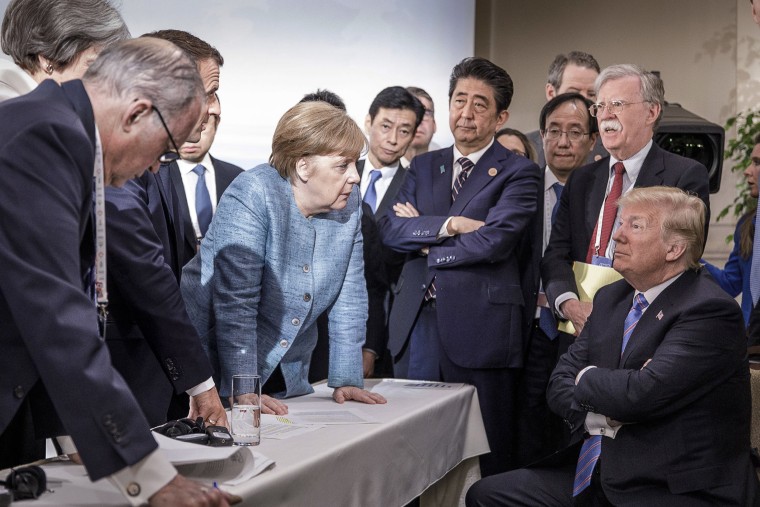 Trump tweeted: "The people of Germany are turning against their leadership as migration is rocking the already tenuous Berlin coalition. Crime in Germany is way up. Big mistake made all over Europe in allowing millions of people in who have so strongly and violently changed their culture!"
Under Merkel, Germany opened its borders to welcome around 1 million asylum-seekers in 2015. At times more than 10,000 people were arriving daily in the country, which had a population of around 81 million.
But according to official figures released last month, Germany last year recorded its lowest number of criminal offenses since 1992, with figures showing the crime rate is falling more quickly among non-German suspects.
On its website, German mass-circulation Bild newspaper ran the headline, "Trump meddles in asylum dispute" and wrote, "That a U.S. president so massively weighs in on the domestic debate of a western ally is highly unusual."
Trump's comment came moments after Merkel sidestepped a major political crisis by securing more time to resolve a coalition rift over border controls.
The chancellor said an agreement between her Christian Democrats (CDU) and Bavaria's Christian Social Union (CSU) on tighter immigration rules gave her the support she needed to seek bilateral agreements ahead of a European Union summit on June 28.
Merkel is caught in a deadlock with her own interior minister, Horst Seehofer, whose CSU wants to turn away migrants already registered in other E.U. states.
She believes that would unfairly burden southern European countries, including Italy and Greece.
Seehofer had threatened to defy her, raising the prospect that she would be too weakened to continue as German leader.
However, Seehofer on Monday said he would only implement the policy if Merkel failed to reach a deal with other E.U. states at the summit — effectively giving her two weeks to find a fix.
"We wish the chancellor much luck," Seehofer told reporters.
He would not be drawn into whether Merkel would fire him if he pushed ahead with his plan to turn away some migrants at the German border should she be unable to reach a European deal.
"I won't talk about that today. Step by step," he said. "In July, if there is no result at European level, we must implement this."
Merkel, who is not yet 100 days into her fourth term, cobbled together a coalition three months ago after her CDU party suffered a setback in elections.
The CSU, which faces regional elections in October, fears its decades-old control of Bavaria could be challenged by the anti-immigration Alternative for Germany (AfD) party if it does not tighten policy toward migrants.
Merkel's open-door migrant policy is widely blamed for the rise of the right-wing AfD, now the main opposition party in Germany's Parliament.
More than 1.6 million migrants, including many fleeing wars in the Middle East, have arrived in Germany since 2014.
Andy Eckardt reported from Mainz, and Alastair Jamieson from London.