Donald Trump wants to build a "big, beautiful wall" to stop illegal immigrants — but Britain and other European nations are already doing it.
The U.K. government has announced plans to begin constructing a 13-foot concrete roadside barrier at the French port of Calais, where truck drivers have been targeted by migrants trying to sneak through the Channel Tunnel.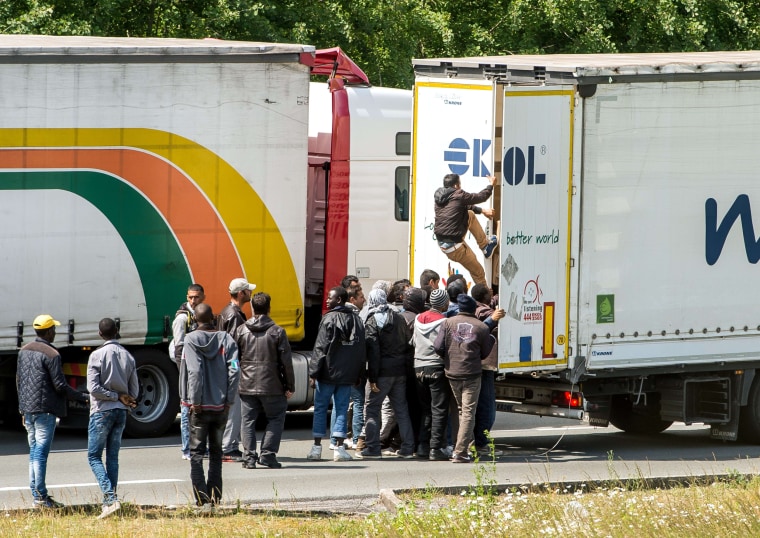 At two-thirds of a mile long, the barricade will be minuscule in comparison to Trump's proposed $8 billion, 1,000-mile fortification along the U.S.-Mexico border.
And it is Britain, not France, who will pay for it.
However, the plan has already earned comparisons to Trump's proposal and raises political questions about the return to Berlin Wall-era barriers to human movement.
Related: Paradise Found? Migrants Spend Years Behind Bars in U.K.
"It reminds me of the wall they built around the Warsaw Ghetto in World War Two," said Nathalie Goulet, a French senator and vice-chair of the senate foreign affairs committee. "Putting up walls has happened throughout history but eventually people find a way around them or they fail. Look at the Great Wall of China — now tourists walk on it and take pictures."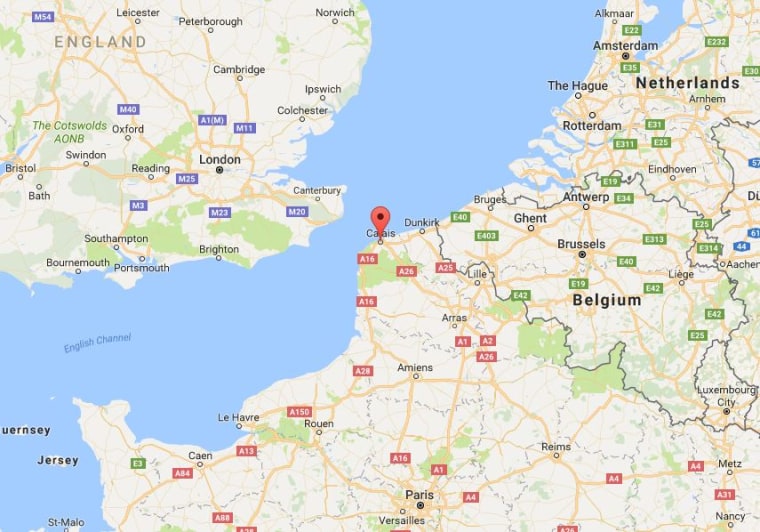 Several European countries have thrown up razor wire to combat the biggest migrant crisis since World War Two.
More than 305,000 migrants have entered Europe so far in 2016, according to the International Organization for Migration (IOM). That comes on top of the one million who reached the continent last year.
While many have applied for asylum in Germany — where 1.1 million refugees arrived in 2015 — or Scandinavia, thousands more have ended up in squalid camps including a sprawling and unsanitary site in Calais known as "The Jungle."
Related: Migrants Trying to Reach U.K. Endure Hell of 'The Jungle'
Every night, hundreds of migrants prowl the port's approach roads and freight yards, trying to sneak onto trains and trucks crossing the 30-mile English Channel by rail tunnel or ferry.
Many are horribly injured as they crawl under wagons, while others suffocate in sealed or refrigerated containers.
It is a daily cat-and-mouse game that tests the resilience of local police — and the patience of British and French authorities who share joint responsibility for border controls on both sides of the water.
In March, the U.K. agreed to spend $22.5 million to help tighten security at the port. Last week, Immigration Minister Robert Goodwill said measures would include the road-protecting wall after truck drivers said they feared for their safety when driving though the area.
"People are still getting through," Goodwill told lawmakers. "We have done the fences. Now we are doing the wall."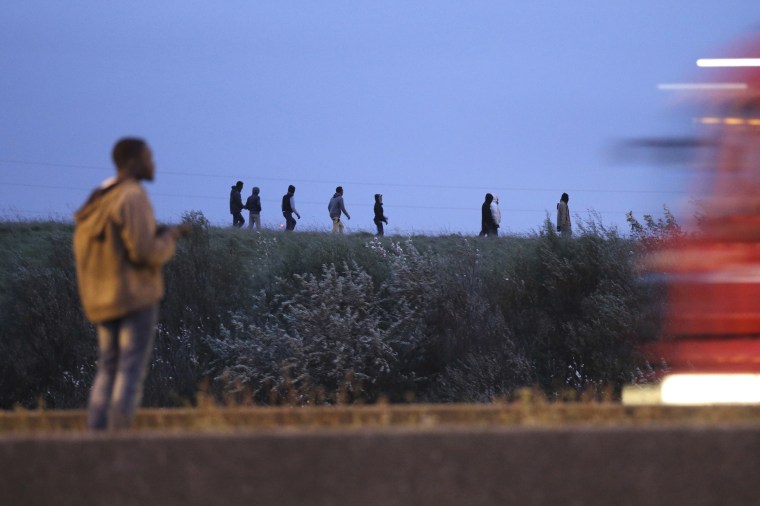 It drew immediate criticism and comparison to Trump's controversial plan for a wall along the Mexico border — even though the billionaire's barrier would be vastly larger and more than 35 feet high.
François Guennoc, of Calais migrant aid group Auberge des Migrants, said the wall was a waste of money.
"When you put walls up anywhere in the world, people find ways to go round them," he told The Guardian. "It could make it more dangerous for people, it will push up tariffs for people-smugglers and people will end up taking more risks."
However, supporters of the Calais reinforcements said it was necessary and point to other European nations who have rushed to install fences in response to the current migration crisis.
"People are using Trump to toxify everything he touches, including ideas," said Douglas Murray, associate director of the Henry Jackson Society, a conservative think tank. "In Europe in the last two years, border security is very much a thing and checks have been reintroduced even by the two countries that were most proud of having abolished them — Sweden and Denmark."
He added: "Good fences make good neighbors, and we're in a period in which people are flooding across national boundaries and the countries which are going to be interested are the ones which bear the burden when migrants arrive."
Austria erected a 2.3-mile metal fence along part of its border with Slovenia in November, even though movement between the two EU Schengen-area countries is supposed to be unrestricted.
Hungarian soldiers worked through the night last October to block parts of the border with Croatia, a month after a similar fence was completed along its border with Serbia. Bulgaria last year sealed its southern border with Turkey — the nearest European Union land frontier to the Middle East — using a 15-foot-high fence.
And it is not just the European crisis that has seen a rush to build fences. Morocco and Tunisia both announced border walls last year — against Algeria and Libya, respectively — in response to the movement of Islamist fighters and the rising threat of terrorism.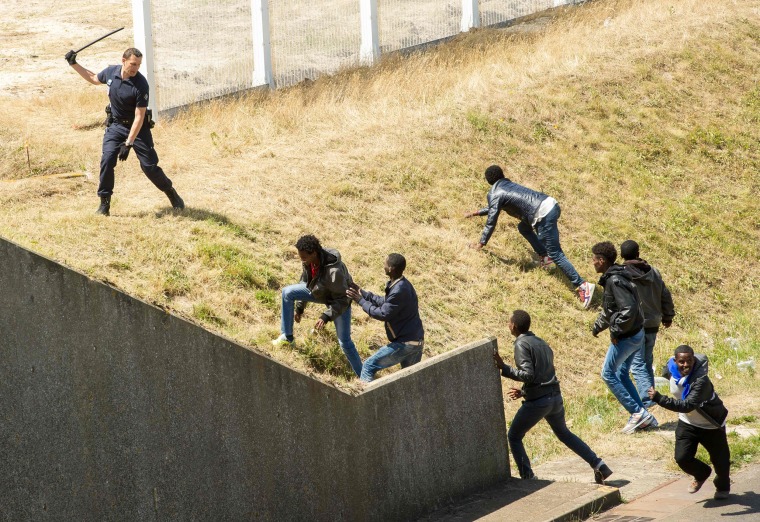 On Thursday, defense officials in Israel said work has begun on an underground barrier along its border with Gaza to block tunnels built by Hamas militants.
In fact, over 40 countries around the world have built fences against more than 60 of their neighbors since the fall of the Berlin Wall in 1989, according to The Economist. More than 30 of those decisions were made following 9/11 and 15 of them were announced in the past year, the magazine reported.
A spokesman for Britain's Home Office, which deals with immigration, said the Calais wall would be completed by the end of this year. He declined to comment on the cost but a Home Office official told NBC News the reported figure of $2.25 million was accurate.
Goulet, the French senator, said it would not solve the longer-term causes of the migrant crisis.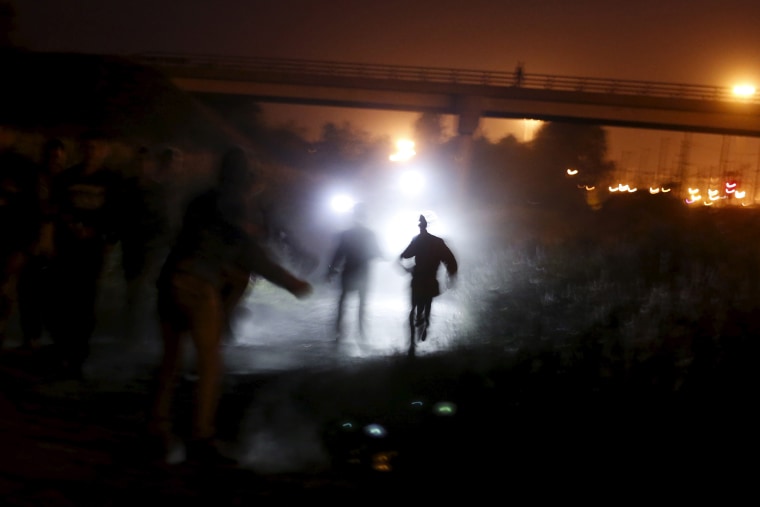 "This wall, and Mr. Trump's wall, will not work because they do not stop the problems that lead to immigration," she said. "If people are persecuted or fear for their lives or cannot survive because they are too poor then they will continue to.
Goulet added: "It is particularly surprising that some Americans seem to want a wall given that America was created as an open country for open-minded people. If all the money that was spent on the election campaign was spent on reducing poverty and insecurity around the world then there wouldn't need to be a wall at all."