LONDON — Turkey demanded Thursday that the U.S. immediately reverse a decision to impose sanctions over the treatment of detained American pastor Andrew Brunson.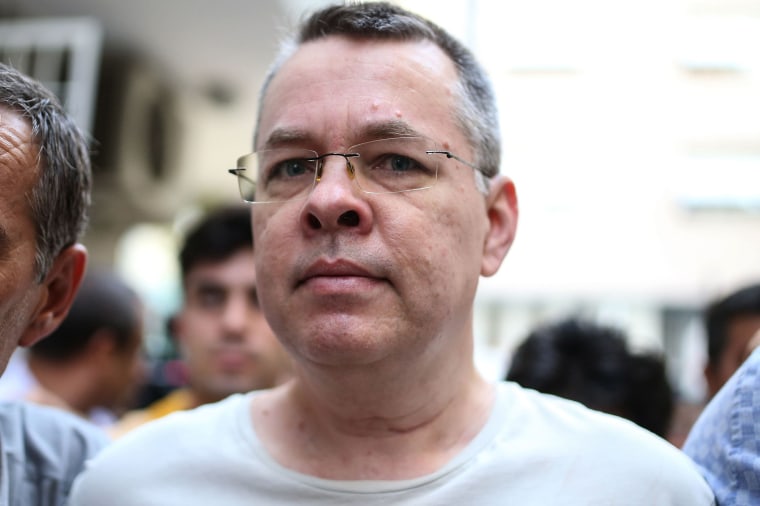 Former Turkish Prime Minister Ahmet Davutoğlu said the Trump administration's decision was "incompatible with the most simple diplomatic courtesy and mutual respect" and risked regional instability.
Relations between the countries have plummeted after Brunson, 50, was arrested in 2016 on charges of "committing crimes on behalf of terror groups without being a member" and espionage.
He was recently released from prison and put under house arrest but still faces a sentence of up to 35 years if he is convicted at his ongoing trial.
The evangelical pastor, who is originally from Black Mountain, North Carolina, has lived in western Turkey for 23 years and led the Izmir Resurrection Church.
White House spokeswoman Sarah Sanders said sanctions were imposed after Ankara ignored appeals for Brunson's release.
"We've seen no evidence that Pastor Brunson has done anything wrong, and we believe he is a victim of unfair and unjust attention by the government of Turkey," she told reporters Wednesday.
Trump tweeted last week that Brunson is "a great Christian, family man and wonderful human being," who "should be released immediately!"
Secretary of State Mike Pompeo said: "The Turkish government refused to release Pastor Brunson after numerous conversations between President Trump and President [Tayyip] Erdogan, and my conversations with Foreign Minister [Mevlut] Cavusoglu. President Trump concluded that these sanctions are the appropriate action."
Turkey's embattled lira currency, which has already lost one-fifth of its value this year, slumped further against the dollar in early trading and hit a record low Thursday.
The Treasury Department sanctions target Turkey's Justice Minister Abdulhamit Gul and Interior Minister Suleyman Soylu, whose departments were blamed by Sanders for Brunson's arrest. Americans will be prohibited from doing business with them.
Gul shrugged off the decision, writing on Twitter that he had no assets outside Turkey.
However, Soylu issued an apparent threat against Pennsylvania-based exiled cleric Fetullah Gulen, who Ankara blames for a failed 2016 coup attempt but who the U.S. has declined to extradite.
"We won't leave him there, we'll take him," Soylu tweeted.
Erdogan has also warned that Turkey would seek international arbitration if the U.S. refuses to deliver F-35 fighter jets in retaliation for Brunson's detention.
The countries are also at odds over the Syrian war, Turkey's plan to buy missile defense systems from Russia and the U.S. conviction of a Turkish state bank executive on Iran sanctions-busting charges this year.