The man challenging Recep Tayyip Erdoğan in Turkey's presidential elections this weekend received a boost on Thursday when a small party candidate abruptly withdrew and a closely watched poll gave him a more than 5-percentage-point advantage.
Muharrem İnce, one of four candidates contesting Sunday's vote, said on Thursday he was withdrawing from the race.
İnce was one of four candidates in the vote, alongside Erdoğan, his main rival Kemal Kılıçdaroğlu and Sinan Oğan.
His withdrawal could reshape the last days of campaigning in what is seen as Erdoğan's biggest test in his two-decade reign.
Turkey's main stock index jumped 6% after İnce made the shock announcement in front of his party's headquarters in Ankara. Financial markets are on edge given Kılıçdaroğlu has pledged to reverse Erdoğan's unorthodox economic policies.
A survey by pollster Konda put support for Erdoğan on 43.7% and Kılıçdaroğlu on 49.3%, leaving him short of the majority needed to win in the first round and suggesting the election would go to a run-off between the two men on May 28.
The survey was carried out May 6-7, before İnce's announcement.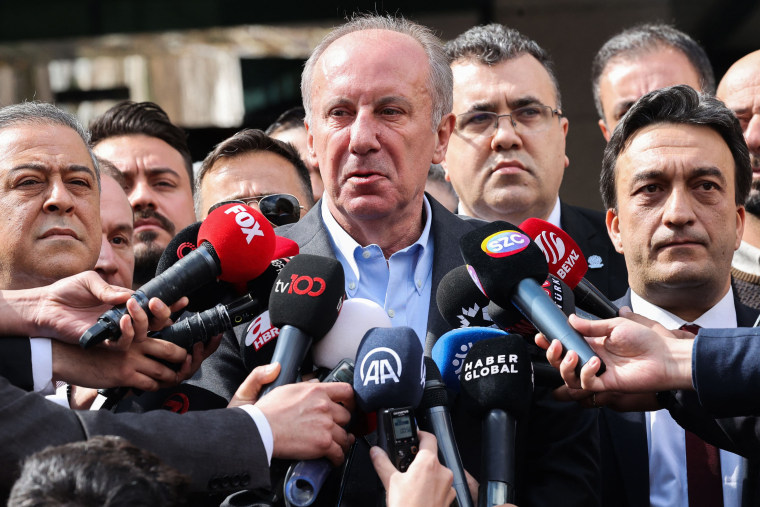 Nonetheless, the findings were largely in line with some other polls that put Kılıçdaroğlu ahead. He was named candidate of a six-party opposition alliance and also heads the Republican People's Party (CHP), the banner under which İnce unsuccessfully ran for president in 2018.
Erdoğan's re-election bid has been complicated by a cost-of-living crisis, triggered by a lira slump and soaring inflation, and a devastating earthquake in February which killed more than 50,000 people in Turkey and left millions homeless.
İnce, who had 2.2% support in the Konda poll, said he had been the target of a smear campaign including fake videos and documents being circulated on social media, and he accused journalists and prosecutors of not doing their jobs.
"I am not afraid of plots, fake video edits, invoices and non-existent jeeps. I have been resisting these for 45 days already," he said, adding that some people had accused him of working with Erdoğan to prevent Kılıçdaroğlu's election.
"I am withdrawing from the candidacy. I am doing this for my country," he said.
He did not back another candidate and asked people to vote for his party in the parliamentary elections.
"There is no doubt that Erdoğan is facing a majority that wants change — and that includes younger people," said Asli Aydıntaşbaş, a Brookings Institution visiting fellow. "The only question is whether folks believe Kılıçdaroğlu is that agent of change."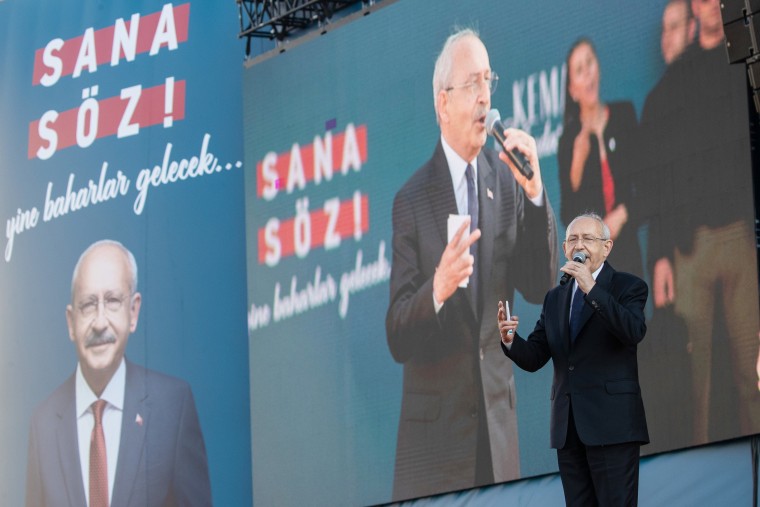 "Whether he barely wins or not, I feel like the Erdoğan era is over," she added. "Turkish society is ready to move on. And sadly President Erdoğan is not leaving behind an institutional governance model."
Down to the wire
The Konda survey put support for the fourth presidential candidate, Sinan Oğan, at 4.8%. Konda had said the majority of Oğan's and İnce's voters were leaning towards voting for Kılıçdaroğlu in a second round.
A Metropoll survey also showed the vote going to a second round, with Kılıçdaroğlu getting 49.1% and Erdoğan 46.9%. In a run-off, it showed Kılıçdaroğlu winning with 51.3%.
Konda put support for Erdoğan's ruling alliance on 44.0% in the parliamentary vote, ahead of the main opposition alliance on 39.9%. The pro-Kurdish HDP party, which is backing Kılıçdaroğlu, is expected to play a "kingmaker" role.
Konda said the HDP, running under another party's emblem due to the threat of a court ban, and its leftist allies are seen winning 12.3% of support in the parliamentary vote. That would leave Erdoğan and his allies in the minority.
Konda, which publicly releases only one poll ahead of votes, undertook face-to-face interviews with 3,480 people across 35 provincial centers. The survey has a margin of error of +/- 2.2% at 99% confidence level, Konda said.