LONDON — Turkey entered a new era Monday, but with the same man in charge.
Recep Tayyip Erdogan, who at 64 has dominated Turkish politics for 15 years, won another five-year term in presidential elections.
With his term comes sweeping new powers under a new constitution that also weakens Parliament and removes the post of prime minister. Erdogan, who critics accuse of adopting increasingly authoritarian tactics, can pick ministers and judges and could seek re-election again, which could keep him in charge until 2028.
"One nation, one flag, one country, one state," he shouted to cheering supporters after his victory was announced in the early hours.
His nearest opponent, Muharrem Ince, retorted that the country was now ruled by "one man."
"Turkey has cut off its links with democracy," Ince said as he conceded defeat with 30.6 percent of the vote against Erdogan's 52.5 percent.
But some Erdogan opponents were celebrating early Monday, after his ruling Justice and Development Party (AKP) lost vote share compared to 2015.
In the mainly Kurdish city of Diyarbakir, supporters waved flags and cheered in the streets after the pro-Kurdish People's Democratic Party (HDP) passed the 10 percent milestone needed to win seats in Parliament despite its main candidate being in jail.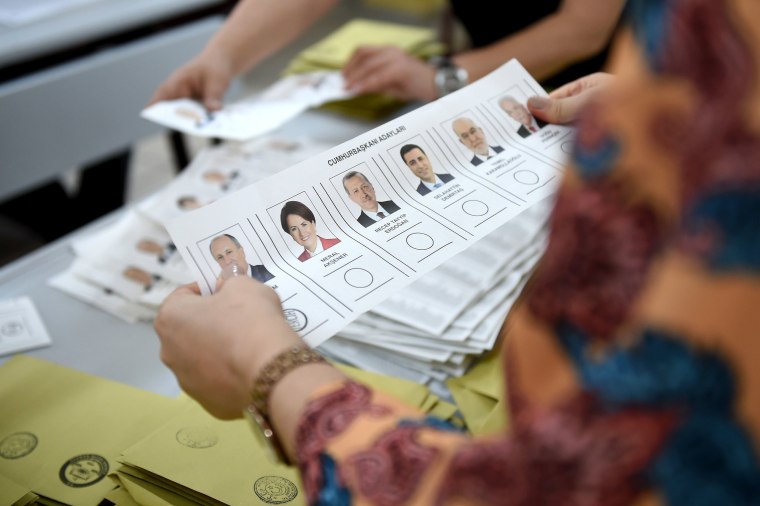 "Despite the very high threshold, which was designed to squeeze out the smaller parties, and pre-election violence, the HDP was able to consolidate its support," said Fadi Hukara, an expert on Turkey at the London-based think tank, Chatham House.
Some in the government accuse the HDP of links with the outlawed Kurdistan Workers' Party (PKK), which has been involved in a decadeslong struggle for independence and autonomy.
The results leave Erdogan's AKP without an outright majority in Parliament but it can comfortably govern thanks to its coalition with nationalists.
"While other candidates could stage 100 campaign rallies, I was able to send out 100 tweets."
"In this new system, the Parliament is only there to make it look like a democracy," said Ibrahim Dogus, director of Centre for Turkey Studies in London. "Most of the powers are now with the president, with Erdogan. It's a bespoke system designed to suit Erdogan's personal aspirations."
He added: "This is a new era in Turkey where a very powerful individual, accused of being more and more authoritarian, has extended his powers, and it could end up in a very difficult and unpredictable future."
Erdogan's win could also deepen Turkey's rift with its Western and NATO allies concerned by its setbacks in democracy and human rights as well as its closer ties with Russia. Russian President Vladimir Putin sent Erdogan a congratulatory telegram Monday, one of the first world leaders to do so.
"A lot will depend on the president's attitude to opposition, and he has not been very kind to his opponents so far," Dogus said. "So many academics and journalists are in jail."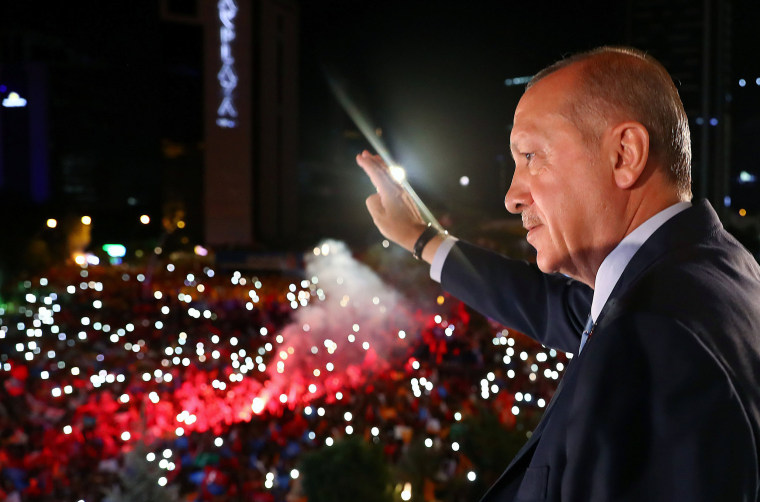 In his pre-dawn victory speech, Erdogan appeared to double down on his agenda, saying he would work toward achieving his goal of making Turkey one of the world's top 10 economies by 2023, when the Turkish Republic marks its centenary.
He also pledged a more "determined" fight against outlawed Kurdish rebels and alleged members of a movement led by U.S.-based cleric Fethullah Gulen, whom he accuses of orchestrating a failed coup in 2016.
Some 50,000 people have been arrested and more than 110,000 civil servants have been fired in a massive government crackdown that has taken place under a state of emergency imposed after the coup that is still in place.
"Turkey made its choice in favor of a more determined fight against the PKK [Kurdistan Workers Party] and [Gulenists]," Erdogan said. "We will go after terror organizations with stronger determination."
The more urgent problem for Erdogan is Turkey's debt-burdened economy; the Turkish lira has lost more than a fifth of its value this year against the U.S. dollar.
"He is now free to pursue an even more populist economic agenda, which could accelerate the economic crisis in years to come," said Hukara, from Chatham House. "It means supply gargantuan amounts of cheap consumer credit and loosening the purse strings for mega public construction projects."
The Organization for Security and Cooperation in Europe (OSCE) said Monday that Edrogan's opponents were denied equal conditions for campaigning in the election, and he enjoyed undue advantages because of his extensive control over Turkish media.
"The restrictions we have seen on fundamental freedoms have had an impact on these elections," said Ignacio Sanchez Amor, head of the OSCE observer mission. "I hope that Turkey lifts these restrictions as soon as possible."
HDP's presidential candidate, Selahattin Demirtas, who won 8.4 percent of the vote, has been in pre-trial detention since November 2016 on terror-related charges. He denies any wrongdoing.
"The fact that I was forced to campaign in detention conditions was the greatest injustice," Demirtas tweeted Monday from prison. "While other candidates could stage 100 campaign rallies, I was able to send out 100 tweets."