ISTANBUL — Turkish President Tayyip Erdogan upbraided the United States for its support of Syrian Kurdish rebels on Wednesday, saying Washington's inability to understand the group's true nature had turned the region into a "sea of blood."
Erdogan's comments, a day after Turkey summoned the U.S. ambassador over its support for the Syrian Kurds, illustrate Ankara's growing frustration with its NATO ally, which backs Syrian Kurdish rebels in the battle against ISIS.
Ankara sees the Syrian Kurdish PYD as terrorists, citing their links to the Kurdistan Workers Party (PKK), which has carried out a violent, three-decade insurgency for Kurdish autonomy in Turkey's southeast.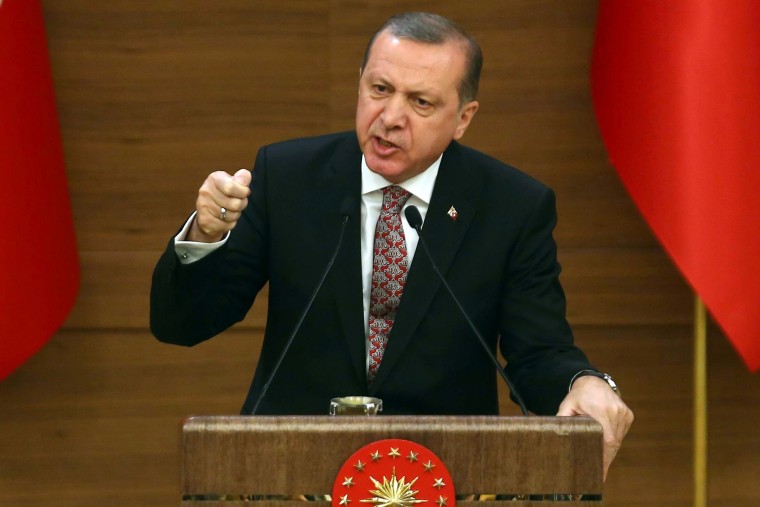 "Are you our side or the side of the terrorist PYD and PKK organization?" Erdogan said in a speech in Ankara to provincial officials.
He added that Washington's inability to grasp the nature of the two groups had caused a "sea of blood" and created a domestic security issue for Turkey.
Ankara summoned the U.S. ambassador to express its displeasure after State Department spokesman John Kirby said on Monday the United States did not regard the PYD as a terrorist organization.
As well as battling both a Kurdish insurgency and ISIS, Turkey has been grappling with an influx of more than 2.5 million refugees since the start of the Syrian civil war.
Turkey's spending on the Syrian refugee crisis has reached $10 billion, while the United Nations has given just $455 million, Erdogan said.
Meanwhile, military sources said the army seized up to explosives and four suicide-bomber vests when it detained 34 people trying to cross into Turkey from an area in Syria under ISIS control.
Turkey fears that the advances by Syrian Kurds against ISIS on its 560-mile border with Syria will fuel separatist ambitions among its own Kurds.