ISTANBUL, Turkey — Turkey's president said Saturday his country will stand strong against an "attempted economic coup" amid heightened tensions with the United States.
Recep Tayyip Erdogan told thousands of supporters in Ankara that the country was being "threatened by the economy, sanctions, foreign currency, interest rates and inflation."
"We tell them that we see their game and we challenge them," he said.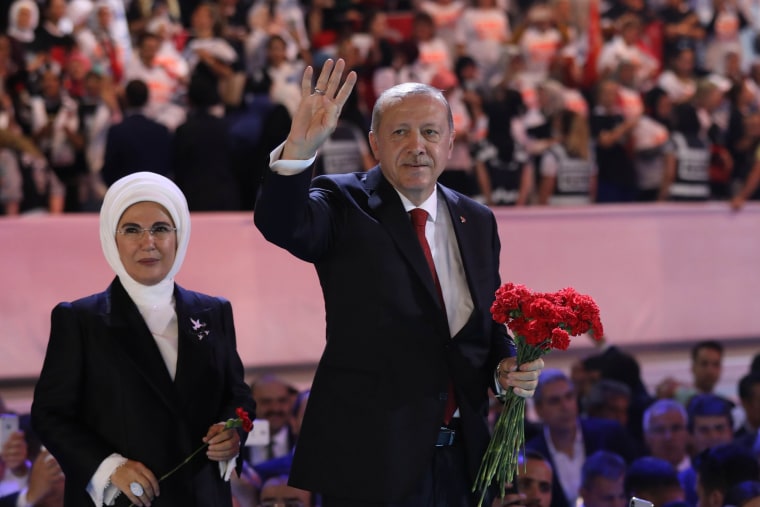 Turkey is reeling from a massive sell-off of its currency as Washington imposed sanctions and threatened new ones if an American pastor under house arrest isn't released.
Evangelical pastor Andrew Craig Brunson faces up to 35 years in jail if convicted of espionage and terror-related charges. He maintains his innocence.
President Donald Trump and Secretary of State Mike Pompeo have repeatedly called for his release, while Erdogan has said the U.S. should respect Turkey's judicial process.
The lira's value dropped 38 percent against the dollar since the beginning of the year and sunk as low as 7.24 this week.
On Friday, Turkey's battered lira weakened 3 percent after a Turkish court rejected Brunson's appeal for release, drawing a stiff rebuke from Trump, who said the United States would not take the detention "sitting down."
Ratings agencies Standard & Poor and Moody's downgraded Turkey's credit rating further to "junk" status, pointing to currency volatility and concerns over central bank independence.
Some Erdogan supporters at his ruling party's congress to elect a new executive branch wore shirts with the lira sign.
An important emerging market, Turkey borders Iran, Iraq and Syria and has been mostly pro-Western for decades. Financial upheaval risks further destabilizing an already volatile region.
Turkey, home to the Incirlik air base which is used by U.S. forces in the Middle East, has been a NATO member since the 1950s. It is host to a critical part of the Western alliance's missile defense system again Iran.