ANKARA, Turkey — Turkey aims to finalize a deal to purchase S-400 surface-to-air missile systems from Russia in the coming week, Turkish President Recep Tayyip Erdogan said on Monday.
Turkey has been negotiating with Russia to buy the system for more than a year. Washington and some of its NATO allies see the decision as a snub because the weapons cannot be integrated into the alliance's defenses.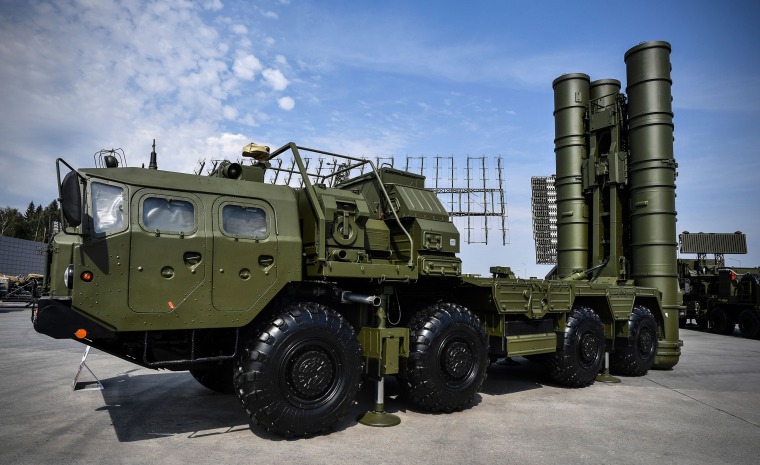 Turkey expects to receive its first such system in 2019, Defense Minister Nurettin Canikli said last month.
"Our officials will come together in the coming week to finalize the S-400 issue," Erdogan said during a joint news conference with his Russian counterpart Vladimir Putin.
NATO member Turkey has the alliance's second-largest military.
However, Ankara has been working to develop its own defense systems and equipment and has lined up several projects for the coming years including combat helicopters, tanks, drones and more.
During their news conference, Erdogan said it was their eighth meeting this year and repeatedly referred to Putin as "my dear friend." Putin also addressed Erdogan as a friend.
Relations between the two countries were tense after Turkey shot down a Russian warplane on the border with Syria in November 2015, but they have restored ties and developed a close rapport on the conflict in Syria.
Erdogan also said Turkey and Russia were on the same page regarding the Trump administration's official recognition of Jerusalem as Israel's capital, a decision which upended decades of U.S. policy.
Putin said Trump's move "destabilizes the already difficult situation in the region" and might "finish prospects for the Palestinian-Israeli peace process."
Earlier Monday, Putin declared "victory" in Syria during a surprise visit Monday to a military base there and announced a partial troop withdrawal from the country.
Putin celebrated Moscow's deepening ties with Syria, Egypt and Turkey during his whirlwind visits to the three regional powers.
Russia's growing footprint in the Middle East extends beyond Syria and Egypt. King Salman of Saudi Arabia visited Putin in October as the two countries shook off decades of enmity and mutual suspicion.
During the Cold War, the Saudis helped arm Afghan rebels fighting the Soviet invasion. More recently, tensions ran high over Russia's military help for Syrian President Bashar al-Assad, whom Riyadh insists must go as part of any settlement in the Syria's civil war. The Saudis have since softened their opposition to Russia's role in Syria.