ANTAKYA, Turkey — The death toll from the earthquakes that hit Turkey and Syria passed 35,000 Monday as only a handful of survivors were pulled from the rubble more than a week after the disasters that devastated swaths of both countries.
Emergency workers rescued 11-year-old Lena Maradini on Sunday, who had been trapped for more than 160 hours close to the epicenter in Hatay, a European Pressphoto Agency picture showed. A woman, Naide Umay, was also rescued from the rubble nearby after almost 175 hours, according to a video by Reuters.
But as tears of joy and applause greeted Lena and Umay being pulled from the rubble alive, death overshadowed most search operations as many rescuers and relatives resigned themselves to finding no one alive under the rubble.
Turkey's disaster agency said Monday that more than 31,500 had been recorded killed in the country. The Syrian Health Ministry reported almost 1,400 deaths and the White Helmets, a volunteer rescue group in rebel-held regions of the country, reported 2,100 more deaths.
The death toll was expected to climb.
Local rescue workers in Turkey have been joined by dozens of international teams. In the southern city of Antakya, Swiss volunteer Asar Taratas, 39, told NBC News that his group was struggling to cope with the sheer number of collapsed buildings.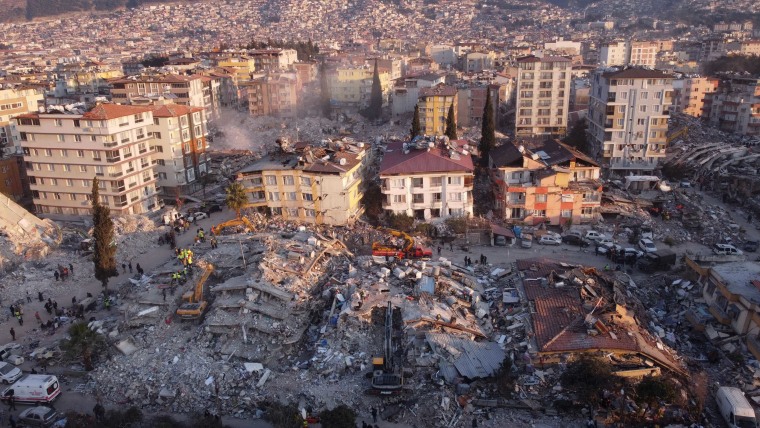 "You need at least machines to have the chance to devise a plan in a place where there's a lot of space to move," he said, referring to the lack of heavy machinery such as bulldozers and diggers required to move big blocks of concrete.
Those trapped could even survive for two weeks if given water and food while rescuers dig them out, he added. 
The 7.8- and 7.5-magnitude earthquakes — and the many aftershocks — hit southeastern Turkey and northern Syria on Feb 6. Officials have said this is the worst natural disaster to hit the region in a century.
Donning a black leather jacket and warming himself near a fire, Yahya Shikani, 29, was chain smoking cigarettes next to a rubble pile in Antakya where a Ukrainian rescue team was pulling out bodies of his sister and two nieces.
Shikani, whose family had fled from Syria to Turkey in 2015 after their house was bombed by Russian warplanes, said he had earlier begged rescue teams, including the police and the army, for help after spotting their bodies but it was only the Ukrainians who responded.
"Crazy fate really," he said. "I was sad that they died, but I was so happy that they picked them out because now we can grieve them."
Among the rescuers was Yehor Tuprunov, who had arrived in Antakya from war-torn Ukraine.
"It's same like in Ukraine because you have destroyed buildings, so many bodies. We feel this problem in Turkey, that's why we came from Ukraine to this place," he said.
With hopes for additional survivors dimming with each passing hour, the focus turned to helping those who survived, with tons of critical humanitarian aid and response teams arriving in Turkey.
So far, the U.S. Air Force had delivered more than 5,700 tons of life-saving equipment and disaster aid, the U.S. Agency for International Development said Sunday.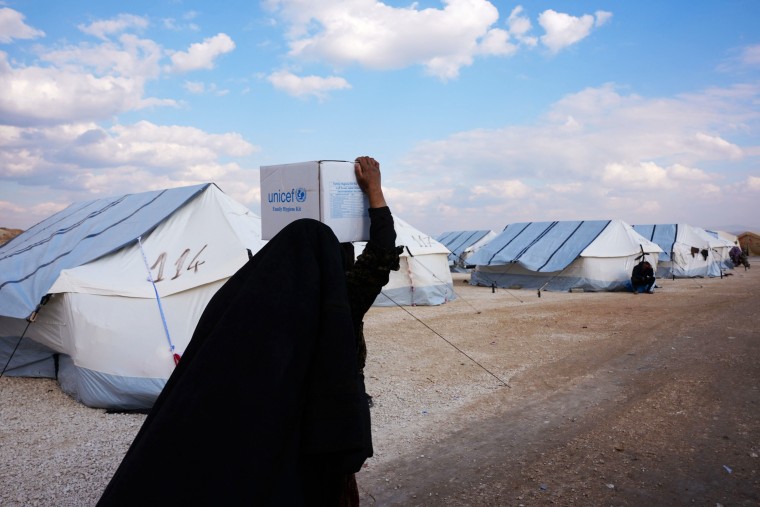 But in the sanction-hit Syria, aid delivery has been hampered by a decadelong civil war and the availability of only a single border crossing for United Nations aid delivery.
"We have so far failed the people in north-west Syria. They rightly feel abandoned," the agency's relief coordinator, Martin Griffiths, said Sunday in a tweet after his visit to the Turkish side of the crossing.
The U.S. ambassador to the United Nations, Linda Thomas-Greenfield, urged the Security Council on Sunday to approve two additional crossings for the delivery of lifesaving aid.
"People in the affected areas are counting on us. They are appealing to our common humanity to help in their moment of need," she said in a statement.
Speaking from the Syrian capital of Damascus, World Health Organization Director-General Tedros Adhanom Ghebreyesus said, "The compounding crises of conflict, Covid, cholera, economic decline and now the earthquake have taken an unbearable toll."
Kelly Cobiella reported from Antakya and Mithil Aggarwal from Hong Kong.
CORRECTION (Feb. 13, 2023, 8:34 a.m. ET): A previous version of this article misspelled the last name of the U.S. ambassador to the United Nations. She is Linda Thomas-Greenfield, not Thomas-Greenfields.