LICE, Turkey - Standing in a parched field far from any roads in Turkey's southeastern mountains, a teary-eyed Sokrun Gunduz clutched photographs of her two absent sons.
Mazlum, 15, is in a Turkish prison under suspicion of collaborating with the Kurdistan Workers Party (PKK), a group branded a terrorist organization by Turkey, the European Union and the United States.
Agit, 22, is in northern Iraq battling the jihadist Islamic State in Iraq and Syria (ISIS) with the same group. The young man is one of thousands of PKK soldiers who have joined the war against ISIS in Kurdish areas of Syria and Iraq, and who have become vital to the international community's battle against the powerful Islamist insurgency.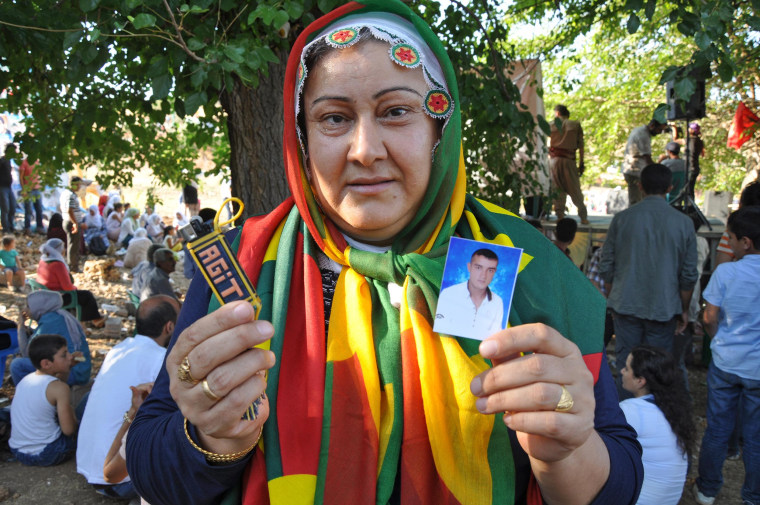 "The Kurdish fight has spread," the 43-year-old grocer said at a recent rally marking the anniversary of the PKK's armed struggle against Turkey. The group has battled the Turkish state for cultural and political rights and Kurdish self-rule for 30 years in a conflict that has claimed more than 30,000 lives.
"We must protect our Kurdish brothers and sisters," she said amid a crowd of thousands of PKK fighters and supporters celebrating the 30th anniversary of the group's struggle. "In doing so, we will finally get our own Kurdish state."
"In a way, we have to thank the Islamic State. They've united us, reviving the great Kurdish cause."
Many of Turkey's Kurds – a disenfranchised minority that makes up a fifth of the country's population – feel revitalized by the PKK's role in Syria and Iraq, and hope their successes on the battlefield will produce political victories such as greater autonomy, more rights and perhaps even an independent state.
"In a way, we have to thank the Islamic State. They've united us, reviving the great Kurdish cause," said Seyid Narin, a municipal mayor in Diyarbakir, long the center of the Kurdish resistance and separatist movement in southeast Turkey. Ten months ago he lost a son who was fighting in Syria -- a second one is now in northern Iraq with the PKK.
"Our struggle is reborn," he said.
This struggle poses a potential threat to Turkey's ruling Justice and Development Party (AK Party) which has spearheaded efforts to restart peace talks with the terror group and now tolerates its military role in Turkey.
"Both the (ruling party) and PKK know that ISIS must be stopped ... if anything, this fight will bring the AK party and Kurds closer together," said Bedirhan Akyol, a Kurdish Justice and Development official in Diyarbakir. "The PKK is becoming stronger through this fight, but that won't have a bad effect on peace talks."
But Akyol's positive spin belies a deep unease in Turkey about the PKK's role fighting ISIS in Syria and its place in society at large. That the long reviled organization has been cast as the hero in the war against homicidal Islamist fighters has prompted alarm and anger in some circles.
The ruling party and the PKK are essentially creating laws that would result in the break- up of Turkey, said Oktay Vural, a leading Turkish opposition politician.
"The terrorists failed to divide Turkey for 30 years, but the country is now being brought to the brink of partition in the name of [Recep Tayyip] Erdogan's political future," he wrote in an editorial, referring to the country's powerful prime minister and president elect.
Even some who do not consider talks with the PKK treasonous, like Vural does, worry that Turkey already has enough on its plate with the regional threat posed by ISIS and a teeming Syrian refugee population, before dealing with the legitimization of a group long branded as terrorists.
"We don't have the capacity to deal with all these challenges," warned Osman Bahadir Dincer, a Middle East analyst at the USAK think tank in Ankara. "Something will explode."
'Second-class citizens'
Kurds are one of the largest ethnic groups in the world, around 40 million, marginalized with no state of their own. They stretch across an area including Turkey, Syria, Iraq and Iran. The only internationally recognized Kurdish entity exists in Iraq with its own regional government, a booming economy, and security forces known as the Peshmerga.
Until 1991, it was illegal to speak Kurdish in public in Turkey. Broadcasting in Kurdish was banned until 2002, and until 2003, parents were forbidden to give their children Kurdish names. Kurdish-language public education is still heavily contested, with many Kurdish children forced to take classes in Turkish, a language they rarely learn at home.
The PKK has moderated its demands ahead of expected peace talks, and jailed leader Abdullah Ocallan has renounced violence and abandoned his goal of a separate state. For his part, Erdogan has advanced peace efforts more than his predecessors, promising long withheld cultural and language rights for Kurds.
But Turkey still has a long way to go before Kurds are treated with proper respect, said Raci Bilici, president of the Diyarbakir branch of the Human Rights Association, a Turkish rights group. The government still uses opaque anti-terrorism laws to oppress and detain Kurds, he adds.
"If the PKK doesn't play it carefully and overestimates their own leverage, they could halt peace negotiations with unrealistic expectations."
"Kurds don't want to live as second-class citizens in Turkey. We need basic human rights," he said.
While hostilities have largely died down since a March 2013 ceasefire, peace is still precarious in the poor and isolated southeast where unemployment is nearly twice the national average. Many Kurds don't trust that Erdogan will deliver on his promises. What's more, many criticize the Turkish government for not cracking down on Islamist militants and say the government tacitly supports ISIS with an open-border policy that has threatened Kurdish areas in Syria.
'Unrealistic expectations'
While disparate Kurdish groups across the region have united against ISIS's advances in Kurdish areas of Syria and Iraq, intra-Kurdish rivalries and broader divisions could scupper plans for lasting unity.
Ocalan and Masoud Barzani, president of the Kurdish regional government in northern Iraq, have a fractious relationship and rivaling ideologies. Adding to an already confusing array of alliances, Barzani officials have fostered strong ties with Turkey's government.
Iraqi Kurdistan is one of Turkey's biggest export markets, and its oil-rich government has built a pipeline to energy-hungry Turkey. Analysts say Erdogan has bolstered ties with Barzani partly in an effort to marginalize the PKK but also to maintain a stable buffer on its border.
Given the myriad of crisscrossing alliances and interests, a major breakthrough for Turkey's Kurds is probably not in the offing, said Denise Natali, a fellow at the National Defense University in Washington, D.C. Furthermore, raised and then dashed expectations could hurt eventual peace talks between Erdogan's government and the PKK.
"If the PKK doesn't play it carefully and overestimates their own leverage, they could halt peace negotiations with unrealistic expectations," she said. "Recent events in the region aren't necessarily a forward-moving process for the PKK and the Kurds."
Natali could be talking about Narin, the municipal mayor whose son was killed while fighting ISIS in Syria.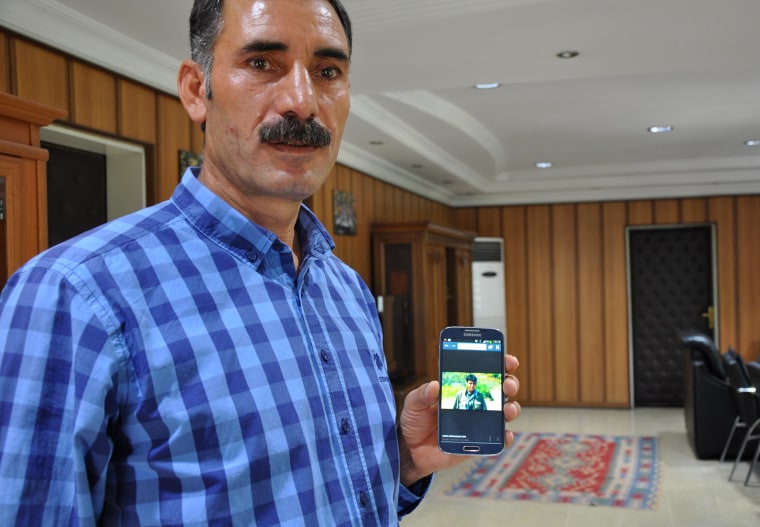 "Over the past few weeks, the PKK has proved themselves to a world that thought they were terrorists," Narin said at the PKK rally deep in the mountains of southeastern Turkey. "They are stronger than people realized…this is all leading up to a big moment."
Gunduz standing nearby was still clenching photographs of her two sons as she rushed toward a PKK commander to shower him with praise. But he was soon lost in a swarm of gun-wielding fighters as he ran back up into the mountains and into the fight.
This reporting was made possible in part by a reporting grant from the Hollings Center for International Dialogue.