Turkish-backed rebels cleared ISIS from Turkey's Syrian border Sunday, securing a 55-mile corridor and marking a substantial gain in the government's plan to drive out Sunni militants and stop the advance of Syrian Kurdish fighters.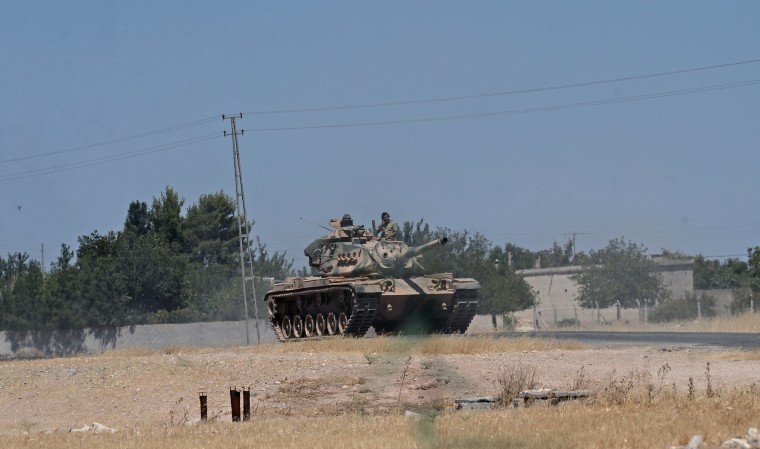 The rebels — who are predominantly Syrian Arabs and Turkmen fighting under the banner of the Free Syrian Army — took charge of the frontier between Azaz and Jarablus after seizing 20 villages from the Sunni hard-line group, the Turkish military said in a statement.
That puts Turkey in firm control of a stretch of land it sees as a bulwark against YPG, the U.S.-backed Syrian Kurdish militia. However, that could sharpen tensions with the United States over Syria policy.
Turkey is fighting a three-decade-old Kurdish insurgency in its southeast and fears that gains by YPG will embolden militants at home. Turkey considers YPG a terrorist organization and an extension of the outlawed Kurdistan Workers Party, or PKK.
"We will never allow the formation of an artificial state in the north of Syria," Prime Minister Binali Yildirim told a crowd Sunday in Diyarbakir, the largest city in the mainly Kurdish southeast.
The advance took place little more than a week after Turkey launched the Syrian incursion, deploying tanks and air power to support the rebels, who swept into the border town of Jarablus.
Turkey and its rebel allies opened a new line of attack Saturday in northern Syria, rolling across the border 34 miles west of Jarablus.
While the United States and Europe also regard the PKK as a terrorist group, Washington sees YPG as a separate entity and an effective client in the fight against ISIS in Syria. That position has caused friction with Turkey, a NATO member and a partner in the anti-ISIS coalition.