ISTANBUL — Turkish police raided media outlets close to a U.S.-based Muslim cleric on Sunday and detained 24 people, including top executives and ex-police chiefs, in operations against what President Tayyip Erdogan calls a terrorist network conspiring to topple him.
The raids on Zaman daily and Samanyolu television marked an escalation of Erdogan's battle with ex-ally Fetullah Gulen, with whom he has been in open conflict since a graft investigation targeting Erdogan's inner circle emerged a year ago.
In scenes broadcast live on Turkish TV channels, top-selling Zaman's editor-in-chief Ekrem Dumanli smiled and studied police documents before being led through the newspaper's headquarters to applause from staff crowded onto balconies
"Let those who have committed a crime be scared," he said before police struggled to escort him through the crowds to a waiting car. "We are not scared."
Several hundred people chanted "The free press cannot be silenced" and "Turkey is proud of you."
The European Union was quick to condemn the raids, saying in an unusually strongly worded statement they were incompatible with media freedom and ran counter to European values.
The U.S. State Department called, "as Turkey's friend and ally," on Turkish authorities to protect media freedom and other democratic values.
Erdogan, whose AK Party was elected in 2002, introduced many democratic reforms in his first years in power and curbed army involvement in politics. NATO allies often cited Turkey as an example of a successful Muslim democracy, but more recently critics have accused Erdogan of intolerance of dissent and, increasingly, a divisive reversion to Islamist roots.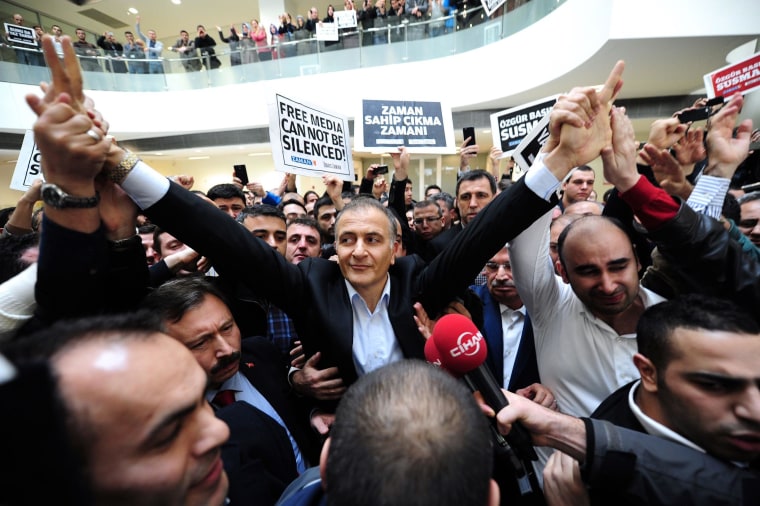 IN-DEPTH
SOCIAL
— Reuters