/ Source: Associated Press
LONDON — Two people are dead and six were wounded in a stabbing in the city of Turku, western Finland, police said Friday. A hunt was underway for potential attackers, they added.
One suspected attacker was shot in the thigh, according to police who urged citizens to leave the immediate area in the center of the city while they searched for "possible more perpetrators."
The Turun Sanomat newspaper reported that at least one person was killed in the attack.
Pictures from the scene showed rescuers attending to the wounded.
Jesse Brown, a 29-year-old who is currently unemployed, said he saw part of the incident unfold.
"I saw police shoot a man. People were running and there was talk about possible knife attackers," he said. "I saw an injured person, a man, at the market square."
He said the injured person was "covered in blood."
Palman Afzali, a 26-year-old Afghan-born Finnish citizen, said he was leaving work as a nurse when he heard someone shout, followed by screams. He then saw a young man chasing people and stabbing them with a large knife.
"He was trying to hit people with the knife," Afzail told NBC News. "I ran past bodies on the ground, I saw a woman I think was already dead — I can't get her face out of my mind."
The police were not in the area to stop the individual, but normal people attempted to chase him down, Afzali said.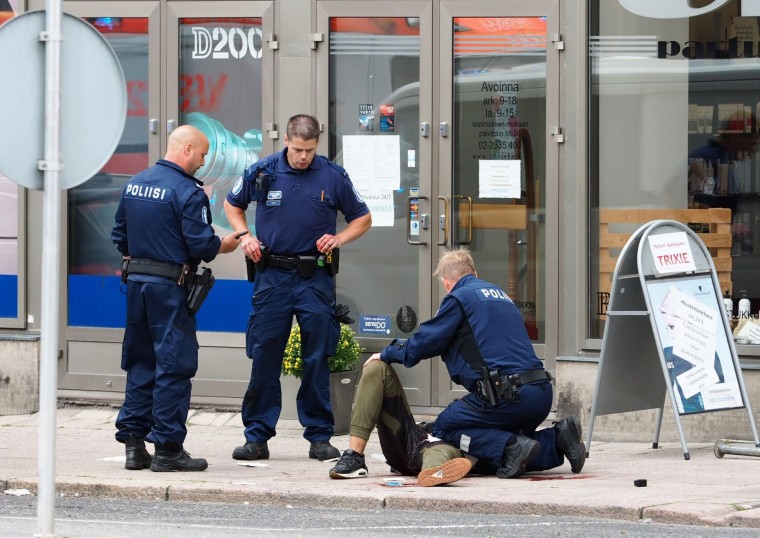 Riitta Koskela said she was about 100 yards from the square. "My daughter had stopped at a movie theatre to use the restroom when I saw people running and screaming," she said. "We hid in the restroom and more people ran in. The security locked the doors and kept us safe. Didn't know whether it was just one crazy person or more."
She added: "I saw people screaming and running and took my family into hiding."
Jussi Marttila arrived at the scene some 15 minutes later.
"There are a lot of people in the street. It's fairly calm but the atmosphere is tense," he said. "There is a strong police presence and some ambulances in the market square. The environment is very tense and rumors are going wild."