CAIRO — Egypt deported the well-known host of a TV talk show who has been critical of the country's government amid an intensifying crackdown on free speech and dissent in the key U.S. ally, according to her lawyer.
Liliane Daoud was taken from her house to an undisclosed location on Monday, lawyer Zyad Elelaimy said.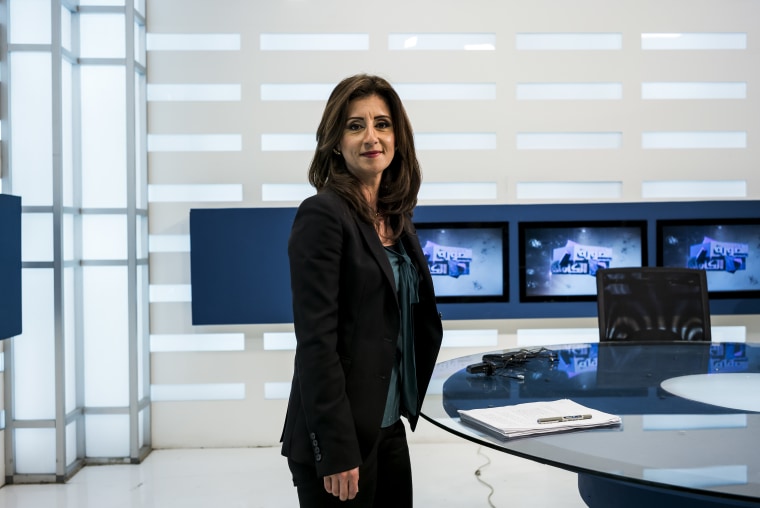 The Lebanese national's arrest by men who said they were from the Egyptian Passport Department, came just hours after her employer ONTV ended her contract, he added.
"Eight men in civilian clothes saying they are from Immigration kidnapped Lilian Daoud from her house and are saying that there is an order for her deportation," Elelaimy said via Twitter.
Elelaimy said he learned about Daoud's arrest from her 10-year-old daughter who was at home when her mother was detained.
Daoud pledged to "take all measures" to return to Egypt upon arrival in the Lebanese capital of Beirut, Elelaimy added.
Bassem Youssef, a popular TV satirist who was known as "Egypt's Jon Stewart" before his show was taken off air in 2014, was one of a slew of media figures and rights advocates who reacted to Daoud's deportation.
"The space for dissent in Egypt has not been this narrow in decades ... it's worse than Mubarak."
"Liliane Daoud was arrested," he said. "Now they are taking her to be deported out of the country. Liliane has a young daughter born in Egypt, raised in Egypt all her life. They forced her to leave her at home and leave with them. In reality, she was kidnapped. Bravo, guys. Really, Bravo."
The government of President Abdel-Fattah el-Sissi has launched a wide crackdown after the military overthrow of President Mohammed Morsi in 2013, arresting thousands of people, mainly his Islamist supporters but also secular activists.
Also on Monday, authorities banned a prominent director of a women's rights organization from traveling outside the country, according to Human Rights Watch.
Related: Egyptian Court Sentences 2 Al-Jazeera Employees to Death
Interior Ministry passport control officers at Cairo International Airport stopped Mozn Hassan, the director of Nazra for Feminist Studies, from getting onto a flight to Beirut. She was scheduled to attend a meeting of regional women human rights advocates there, the group said.
According to New York-based Human Rights Watch, Hassan was the fourth director of a nongovernmental organization to be banned from traveling abroad since a judicial panel reopened an investigation into the foreign funding of the groups in late 2014.
That investigation escalated in the first half of 2016, according to the group. Human Rights Watch cited a document compiled by transparency advocacy group Daftar Ahwal that showed at least 175 activists, journalists, religious figures, politicians, and human rights workers have been banned from leaving Egypt since Morsi was deposed in 2013.
Related: Egypt Military Court Sentences 8 Civilians to Death
"Any form of dissent is perceived as threatening [by Sissi's govermnent]," according to Nadim Houry, Human Rights Watch's deputy director for the Middle East.
"The space for dissent in Egypt has not been this narrow in decades ... it's worse than Mubarak," he said, referring to President Hosni Mubarak who was deposed by mass protests in 2011 after 30 years in power.
"Maybe one has come to expect this from strongmen in the Middle East," he said. "What is striking is the deafening silence of Egypt's traditional allies and at the top of that list is the United States."
Egyptian officials were not immediately available for comment.
The U.S. State Department has "seen reports" of Daoud's detention and deportation, a spokesperson said.
"As we have consistently said, we are concerned about the stark deterioration in respect for freedom of expression in Egypt and we continue to have very frank discussions with the Government of Egypt about our human rights concerns," the spokesperson said.