On Saturday evening, a man was carjacked in Johannesburg, South Africa. This would ordinarily be a detail that's buried in the back pages of a local newspaper, but there was something unique about this particular crime: Within about two hours the man was rescued from the trunk of his own car — thanks to a couple of text messages and a large group of dedicated Twitter users.
The Independent Online, a news website based in South Africa, reports that the man was driving through north-west Johannesburg when he was stopped by two armed men. The men forced him into the trunk of the car "and sped off." Fortunately the man had his cellphone and managed to send a text message to his girlfriend. She in turn tweeted about the incident, asking for help and listing the car's license plate number.
One of the woman's friends saw the plea for help and tweeted a message to @PigSpotter, a Johannesburg-based Twitter user known for posting messages about speed traps and roadblocks set up by local police. He in turn spread the message to over 100,000 followers, many of whom are part of the private security industry.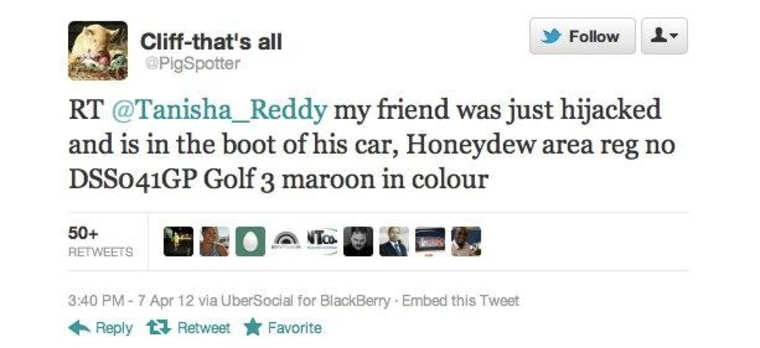 And then all the pieces began falling into place, according to the Independent:
"Does that vehicle have a tracking device?" tweeted vehicle-tracking company Afritrack.
"We would like to assist. We have units in surrounding areas."
The car didn't have a tracking device, but that wasn't a problem:
Community emergency service and rescue team Riga Rescue stepped in: "I have contacts in the area give me cell number we trace him fast quick boat [sic] let's hurry."
About fifteen minutes later another tweet came:
"We have co-ords," read the 10.20pm tweet from K9 Law Enforcement, a security services company co-founded by ex-Big Brother star Bradford "Bad Brad" Wood.
And another:
"We trying to intercept from both ways!" responded Riga Rescue. "Hang on we [are] doing all we can!"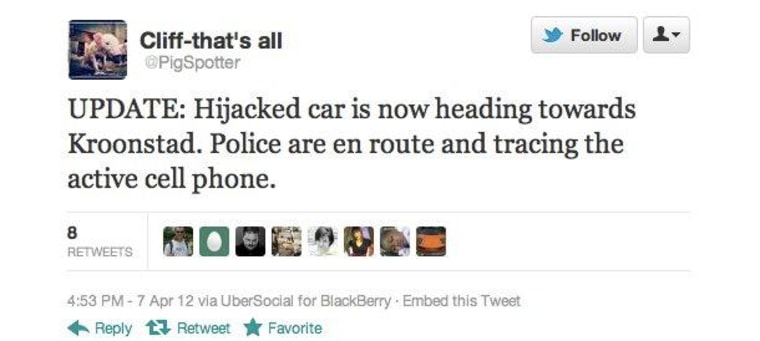 Nearly an hour passed from the time of those tweets — which would be about two hours since the initial call for help — before the good news came: The hijackers drove straight into a roadblock. They escaped on foot, but the victim was safe and sound.
It may seem odd that the man texted his girlfriend instead of contacting the police directly and that she chose to turn to Twitter for help, but we should keep in mind that the Johannesburg area is particularly notorious for having a high rate of carjackings and that private security firms — such as those which helped with this incident — play a large role in keeping the crime rate under control in the first place. One way or the other, all the right players were notified and involved in the rescue of the carjack victim. 
Related stories:
Want more tech news, silly puns, or amusing links? You'll get plenty of all three if you keep up with Rosa Golijan, the writer of this post, by following her on Twitter, subscribing to her Facebook posts, or circling her on Google+.