Two American teens were arrested in Rome in the fatal stabbing of a police officer, allegedly over a stolen backpack, authorities said on Saturday.
Italian authorities identified the suspects as Gabriel Christian Natale-Hjorth, 18, and Finnegan Lee Elder, 19, both from Mill Valley, California, an affluent suburb just north of San Francisco, The Associated Press reported. Authorities originally said both were 19.
Italian police said they found the duo in a hotel room Friday ready to flee the country. A knife of "considerable size" had been hidden in a panel of their room's ceiling. Police also said they found clothes they believe were worn during the crime.
Surveillance video and witness testimony led authorities to the two Americans, who police said confessed.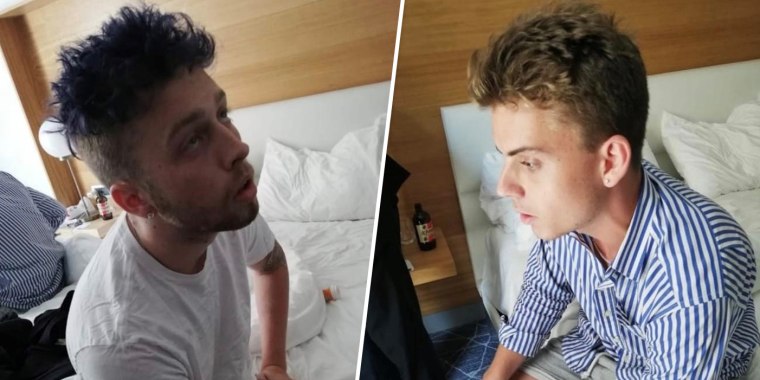 A detention order identified Elder as the one who stabbed Officer Mario Cerciello Rega, 35, who had just returned to duty a few days earlier from his honeymoon. In the same document, Natale-Hjorth was described as having repeatedly punched Rega's partner.
Rega came into contact with the pair after an unidentified Italian man told police the two had allegedly stolen his backpack.
The teens, saying they had purchased bogus cocaine from the theft victim, allegedly placed a threatening phone call to the man, demanding 100 euro ($112) and a gram of cocaine to return the bag, according to an Italian investigator and a police statement.
Rega was dispatched to meet with the Americans in an encounter that quickly turned deadly with a violent struggle that resulted in the officer's stabbing, authorities said.
Elder and Natale-Hjorth were also being investigated for extortion, police said.
A parking lot attendant who identified himself only as Tamer said he saw the attack.
"I saw two policemen in plain clothes, but initially I did not understand who they were," he said.
Later, the witness said, he pointed out a surveillance camera to investigators and identified the suspects captured on video.
"Yes, they are the ones," he said he told police.
"One hour and 30 minutes later, they caught them," Tamer said.
The officer's death has sparked tributes from across the country including flowers and letters left at his police station.
Matteo Salvini, deputy prime minister of Italy, said Rega's killers should be sent to prison for life and face hard labor, noting that the officer had only been married for 43 days when he died.
Rega had just returned from his honeymoon last week. His funeral on Monday will now be held in the same church where he was married last month.
The two Americans, meanwhile, are being held in a Rome jail as local authorities continue to investigate.
Francesco Codini, a lawyer for suspect Elder, said the American has so far "decided not to answer" questions.
He said his client "was tired, that's for sure."
The U.S. State Department said it is aware of the case.
"We are aware of these reports, and we stand ready to provide all appropriate consular services in cases where U.S. citizens are detained or arrested abroad," a State Department official said.