MAINZ, Germany — Two men accused of participating in mass sex assaults on New Year's Eve have been arrested in Germany after police published photographs of their faces, officials said Wednesday.
Both men were detained Tuesday night in connection with the spate of sexual assaults and thefts against women near the Cologne train station on December 31.
Cologne police said in a statement that a 26-year-old man was arrested in Kerpen and a 31-year-old man handed himself in to officers in Hamm. The towns are situated 15 miles west and 60 miles northeast of Cologne, respectively.
Police fielded more than 1,000 criminal complaints — including 400 sexual assault allegations — related to New Year's Eve in Cologne. Officials blamed most of the crimes on foreigners of North African descent, contributing to an anti-foreigner backlash.
At least 108 suspects have been identified so far, 15 of whom have been taken into custody. Three of those detained are being investigated on suspicion of sexual assault.
Related: Arson Suspected After Refugee Shelter Burns in Germany
The latest arrests came after investigators trawled through more than 1,100 hours of video and photos submitted from the night and picked out the faces of five suspects.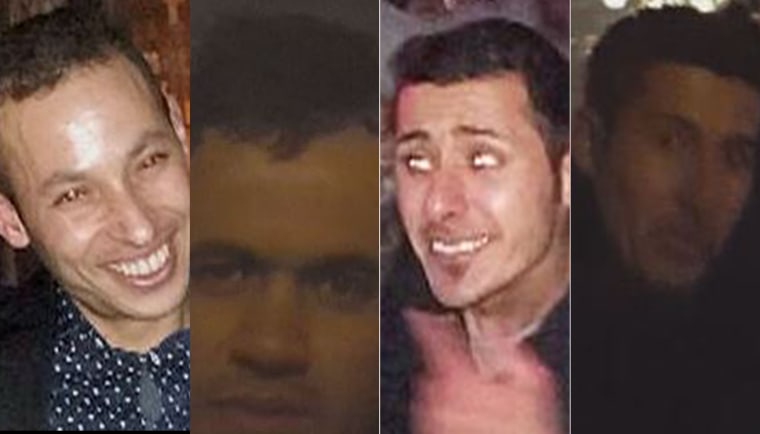 Cologne Police said in a statement Tuesday that the five suspects "surrounded and sexually assaulted their victim in one case." Despite the "daunting situation," several witnesses and victims were able to take photos showing the faces of the alleged assailants, police said.
"We had to filter out suitable photos and link them to specific crimes," Cologne prosecutor Ulrich Bremer told NBC News. "At times, the quality of the material was very bad."
"It is pure coincidence that no people were injured"
The 31-year-old man who handed himself in on Tuesday night said he was one of those pictured, according to police.
Meanwhile on Wednesday, police also released highly pixelated photos of two men spotted firing a weapon in the air outside the train station on the same night.
"It is pure coincidence that no people were injured," officers said in a statement.
Last month, two men from Morocco and Tunisia were given suspended sentences and a juvenile was put on probation for charges of theft relating to New Year's Eve in Cologne.
The allegations of mass theft and sexual assault by North African men has triggered public outcry as Europe struggles to deal with its ongoing immigration crisis.
Some 1 million migrants and refugees entered Germany in 2015, the most popular destination in Europe. But following the Cologne incident and ensuing backlash the country has taken steps to make it easier to deport foreign criminals.