PARIS — The suspect in an attack on a church that left three people dead was identified by authorities Thursday as a 21-year-old Tunisian national who entered France earlier this month.
France's chief anti-terrorism prosecutor, Jean-François Ricard, said in a news conference that the man entered the country on Oct. 9 and had previously been in Lampedusa, an Italian island that serves as a European entry point for migrants from Africa.
Authorities are investigating the attack as an act of suspected terrorism.
Ricard said the man, who has not been identified and wasn't known to French intelligence officials, entered the Notre Dame basilica in the city of Nice at 8:15 a.m. Thursday.
Fifteen minutes later, the suspect began stabbing people, Ricard said. Two women, ages 60 and 44, and a 55-year-old man who was officiating part of the church service, died in the attack.
The older woman and man suffered serious injuries to their throats and were found dead inside the basilica, Ricard said. The other woman fled and was found dead at a nearby restaurant, Ricard said. She had been stabbed multiple times.
Witnesses inside the church described hearing the man shout "Allahu Akbar," or "God is Great" in Arabic, Ricard said. Authorities found items they said belonged to the suspect, including a Quran, three knives and two cell phones.
Responding officers took the suspect into custody. He was seriously injured and remains in critical condition, Ricard said.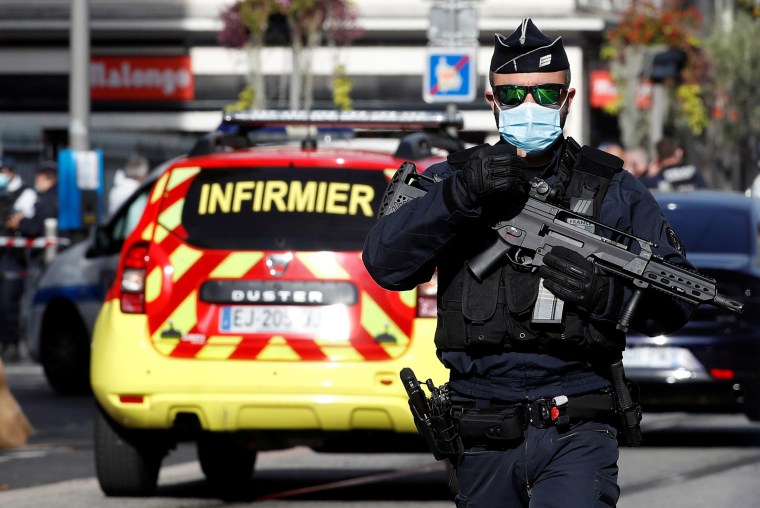 Earlier, French President Emmanuel Macron promised to protect schools and places of worship by more than doubling the number of soldiers deployed to protect against attacks.
Speaking from Notre Dame basilica, Macron said France had been attacked "over our values, for our taste for freedom, for the ability on our soil to have freedom of belief."
"We will not give any ground," he added.
Macron's announcement to increase deployments from around 3,000 troops to 7,000 came hours after the suspected terror attack left the European country reeling.
France's prime minister Jean Castex also said Thursday the country had raised its security alert status to the highest level, in what police described as a terrorist attack in the southern coastal city.
The Nice attack comes at a time of heightened tension between France and the Muslim world over the republication of caricatures of the Prophet Mohammad by the satirical newspaper, Charlie Hebdo. France has Europe's largest Muslim population.
The caricatures are considered deeply blasphemous by Muslims and have provoked anger among them across the world. It has also renewed a vociferous debate over the depictions that Muslims consider offensive but are protected by French freedom of speech laws.
The incident comes almost two weeks after an 18-year-old Chechen refugee decapitated a French school teacher who had shown pupils the Charlie Hebdo caricatures during a civics class.
Nice is no stranger to such attacks.
The scene of the incident in central Nice was not far from the site of a 2016 attack on Bastille Day, when crowds celebrating along the city's tree-lined "Promenade des Anglais" were attacked by a truck ploughing into them, killing dozens.
Other confrontations and attacks were reported Thursday, one in the southern French city of Avignon, which police have said was not terror related and another in the Saudi city of Jeddah, where a security guard at the French consulate was attacked with a knife, according to the French Embassy in Saudi Arabia.
The attacker was immediately apprehended by Saudi security forces and the security guard was taken to hospital with non-life-threatening injuries, the embassy said. But it was not immediately clear if the incident was linked to the Nice attack.
French churches poignantly rang out their bells at 3 p.m. local time, to pay homage to the victims in Nice.
Images on French media and from news agencies showed the area cordoned off, as well as a heavy police presence outside the white basilica.
Download the NBC News app for breaking news and politics
Thursday's assault was the third attack since the start in September of a terrorism trial into the January 2015 killings at Charlie Hebdo and a kosher supermarket in Paris.
On Tuesday, France warned its citizens abroad in Muslim-majority countries to take extra security precautions as anger surged over the cartoons.
Muslims have held protests in several countries and called for a boycott of French goods in response to France's stance on caricatures of Islam's most revered prophet, whose birthday was also marked on Thursday.
Condemnations of the attack came from Pope Francis, Britain, Spain, Saudi Arabia, Egypt and Turkey. While the French Council for the Muslim Faith also condemned the attack.
Nancy Ing reported from Paris, Saphora Smith from London and Tim Stelloh from California. Reuters and The Associated Press contributed to this report.