AMSTERDAM — The man shot by police at Amsterdam's central station on Friday after stabbing two people had a "terrorist" motive, local authorities said on Saturday.
The suspect, identified as a 19-year-old Afghan with a German residence permit, was interrogated in hospital on Saturday, where he was recovering from wounds to his lower body.
"First statements made by the suspect indicate he had a terrorist motive," the Amsterdam city council said in a statement.
The two people injured in the incident were U.S. citizens, the U.S. ambassador to the Netherlands said in a statement on Saturday.
Ambassador Pete Hoekstra said the pair were tourists visiting the city. They remained in hospital on Saturday with serious injuries, local police said.
"We wish them a speedy recovery and are working closely with the City of Amsterdam to provide assistance to them and their families," Hoekstra said.
"The U.S. Embassy team in the Netherlands stands with our friends in the Netherlands as the authorities seek the full facts as to exactly what happened," he added. "We will assist as appropriate, with our main priority as always being the safety and well-being of U.S. citizens in the country."
Dutch Prime Minister Mark Rutte confirmed on Twitter that the investigation was focused Saturday on extremist ideology.
German authorities searched the suspect's home and seized data storage devices that would be analyzed as part of the investigation, the city government statement said.
Neither the Islamic State nor any other groups had claimed responsibility for the stabbing as of Saturday, according to security consulting firm and NBC News partner Flashpoint Intelligence.
A passerby's dramatic photo showed two police officers pointing guns at a man in blue jeans and sneakers lying on the ground inside a train station tunnel.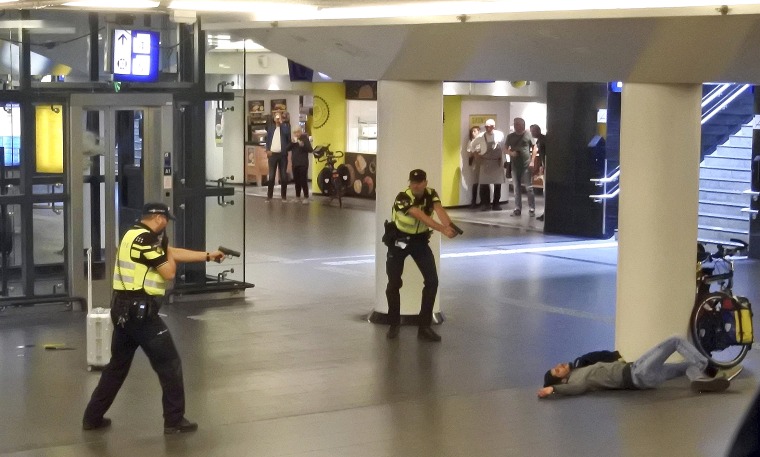 The National Coordinator for Counter-terrorism and Security Policy said the national threat level in the Netherlands was unchanged at "substantial," or one notch below the highest level.
The local government said Saturday it had no immediate plans to beef up security in the city, saying the swift action by police "shows that Amsterdam is prepared for this kind of incident."
Central Station is a busy entry and exit point for visitors to the Dutch capital, with regular trains linking it to the city's Schiphol Airport. Friday is one of the busiest days of the week, with many tourists arriving for the weekend.
Since attacks by Islamist radicals in France, Belgium, Britain and Germany, the Netherlands has been considered a target, because it supports U.S.-led military operations against Islamic State in the Middle East.
The last major attack in the Netherlands was the killing by a Muslim radical of Theo van Gogh, the outspoken filmmaker and great-grandnephew of the famous painter, in 2004.