MUNICH — A man was arrested after he drove a speeding car into a pedestrian area in the westernGerman city of Trier on Tuesday, police said, killing five people, including a 9-month-old.
The crash injured at least 14 others, in addition to killing a 73-year-old woman, and the infant, Mayor of Trier, Wolfram Leibe, said during a press conference.
Trier police later said another severely injured individual had died, taking the death toll to five.
Police have arrested a 51-year-old German national, 51, from the Trier-Saarburg district, they said, and had begun questioning him.
The state interior minister of Rhineland-Palatinate, Roger Lewentz, said the suspect had used a Land Rover SUV to seemingly target the busy crowd.
Download the NBC News app for breaking news and politics
Trier prosecutor, Peter Fritzen, told reporters the motive of the unidentified man was unclear, with no immediate signs of terrorist, political or religious motivations. He added that the suspect would be investigated for murder, among other charges, and did not appear to have a previous criminal record.
Fritzen also said there were signs that the suspect may have had psychiatric issues and that he had apparently consumed alcohol.
Pascal Höwing, 23, was shopping with a friend in the city center when the car drove through the pedestrian zone.
"We heard sirens all around us...then we saw all the people lying on the floor in the pedestrian zone. That was quite a shock," Höwing told NBC News via Skype.
"There were people on the ground everywhere. There were also several crowds of people who took care of the people who were lying on the floor."
Höwing said he heard screaming and saw the dead infant, adding, "nobody felt safe."
German Chancellor Angela Merkel said in a statement posted on Twitter, "The news from Trier saddens me very much. My sympathies are with the relatives of the people whose lives were taken so abruptly and violently."
Merkel added that she was in touch with local officials about the ongoing investigations.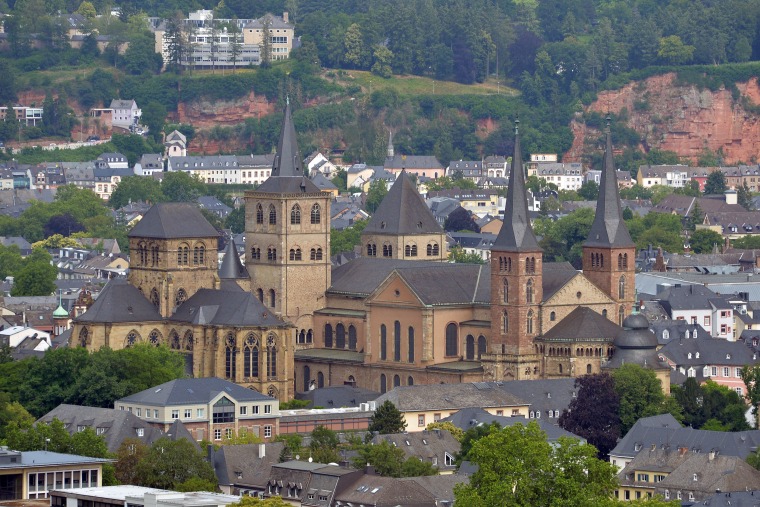 Trier police said on Twitter, there were "no indications of an ongoing hazard" and urged locals to avoid the area while emergency services were on site.
Malu Dreyer, Rhineland-Palatinate Minister President of Germany's Social Democratic Party, offered her condolences and said she was on her way to the city, in a statement on Twitter.
"I am shocked and deeply shaken by the act in my hometown," Dreyer said. "My condolences go out to the relatives of the dead. I wish all the injured that they recover soon and quickly."
The city of around 110,000 people is in the far west of Germany, close to the border with Luxembourg.
According to the town's official website, it is the oldest city in Germany and is known for its "Porta Nigra" Roman-era gate. It is also the birthplace of famed philosopher Karl Marx.
Like other parts of Germany, Trier is facing coronavirus restrictions including closed restaurants, theaters and cinemas, although parts of the town center including shops remain open ahead of Christmas.
Germany has tightened security on pedestrian zones across the country since a truck attack on a Berlin Christmas market in 2016 killed 12 people and injured dozens.
In February, a gunman killed nine migrants in Hanau, near Frankfurt, before killing his mother and himself. Only about a week later, a local man plowed his car into a carnival parade in the town of Volkmarsen, injuring 61.
Carlo Angerer reported from Munich; Adela Suliman & Matteo Moschella reported from London; and Ann-Kathrin Pohlers reported from Frankfurt.
Reuters contributed to this report.