Analysis of satellite images suggests two military bases in Syria may be preparing to accept Russian forces, defense monitoring group IHS Jane's Intelligence Review said.
It released pictures that appear to show new construction of Russian military-style tents at the Assad regime's Al-Sanobar base, near the government stronghold of Latakia. Additional evidence shows significant surface clearance and building construction at the nearby Istamo weapons complex.
The imagery - representing changes at both military facilities between March 10 and September 13 - is evidence that preparations are underway to receive Russian forces in Syria, IHS Jane's said Tuesday.
"Military personnel would likely arrive at these two bases as part of the rapid expeditionary force build-up currently centered around Latakia," said Robert Munks, Editor of IHS Jane's. "With a significantly enhanced ground-attack capability, this represents a substantial step-change in Russia's combat ability in Syria."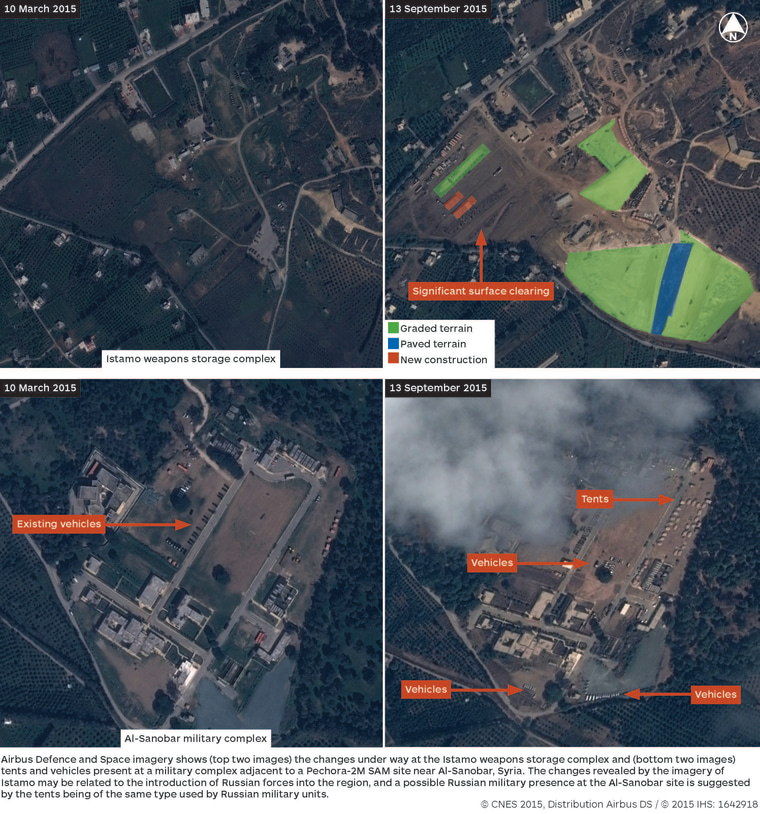 The monitoring group also observed a substantial increase in the number of fast jets stationed on the runway at Latakia's airport Monday.
U.S. officials say Russian attack helicopters and drones are already operating in Syria, raising questions about President Putin's intentions in the region.
Related: Russia Sends Attack Helicopters to Syria, U.S. Official Says
Secretary of State John Kerry told reporters Tuesday that, for the moment, the presence of Russian aircraft in Syria represents little more than "force protection."
Moscow's steadfast support of the Assad regime has put Russia at odds with the U.S. over how to respond to the Syrian civil war, now in its fifth year. Russian military build-up, extremist violence and the refugee crisis in Europe have all added new urgency to diplomatic efforts to resolve the conflict.
"If [Russia is] there to shore up Assad and to certainly provide Assad with the continued sense he doesn't have to negotiate, then I think it's a problem for Syria, and it's a problem for everybody who wants to bring an end to this conflict, which has gone on for too long," Kerry said.
Although analysis suggests further evidence of Russia's involvement, IHS Jane's said Putin's motivation in Syria is still unclear. While accelerating military assistance to the Assad regime, Putin is expected to advocate for a new international coalition against terrorism at a U.N. meeting later this month.
"We assess that Moscow is keeping its options open, will not prop up the Syrian regime at any cost, and may even be preparing its contingencies for the eventual downfall of President [Bashar] Assad," Munks said.
Other analysts have said Russia is unlikely to join a ground war in Syria while it continues to dedicate considerable resources to pro-Russian rebels fighting in eastern Ukraine.