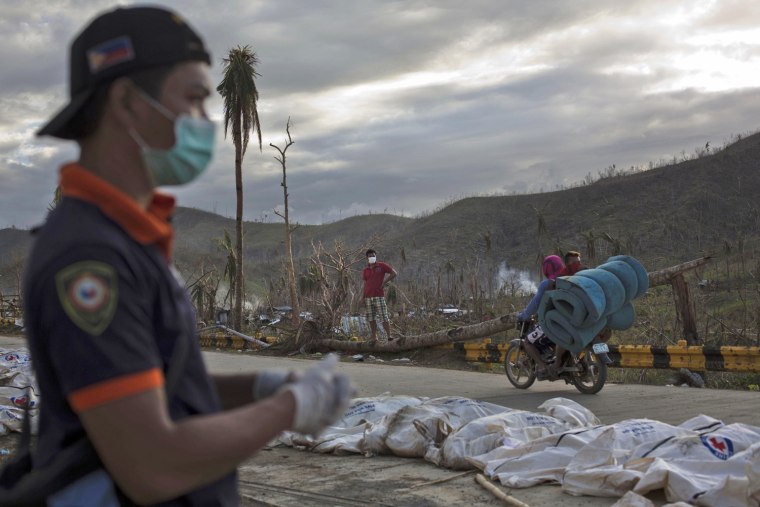 The death toll from super typhoon Haiyan, which smashed into the Philippines two weeks ago, has passed 5,200, an official said Friday.
The number of people killed by what was one of the most powerful storms ever to make landfall now stands at 5,209, Major Reynaldo Balido, spokesman for the Philippines National Disaster Risk Reduction and Management Council (NDRRMC), told NBC News.
He said more than 23,000 had been injured and 1,611 were still missing across islands devastated by Haiyan, which is known as Yolanda in the Philippines.
Asked how the relief effort was going, Balido said: "We have been doing better. We are starting to reach all the people in need, especially in Samar," referring to one of the worst affected islands.
"Right now we are on our third round of distributing relief," he added.
When asked if he expected the figures to rise, he said: "It's hard to speculate if the death toll will increase significantly, but these figures include bodies from today."
Interior Secretary Mar Roxas told the Associated Press: "That is the sad record of Yolanda's passage through our country," but he added that "the worst is over."
He likened the Philippines to a medical patient who had been taken out of the emergency room and transferred to intensive care.
"We have overcome the most difficult part," he said. "In the first week we can say we were in the emergency room ... this second week we are now in the ICU, still critical but stabilized."
Haiyan barreled into the Philippines on Nov. 8 with winds as high as 190 mph. It tore across the islands south of Manila, and the damage was severe even though 800,000 people were able to evacuate their homes.
The storm has damaged millions of dollars worth of crops and infrastructure, destroyed half-a-million homes, and affected more than 10 million people, according to an update posted later Friday by the NDRRMC.
Some 4.3 million people were said to have been displaced -- one million of whom were children.
The total cost of the damage is pegged at more than $288 million, according to the disaster agency. Around $112 million of this was damage to crops, and $100 million damage to livestock and fisheries.
The U.S. is just one of around two dozen governments who have sent aid to the Philippines.
A United Nations appeal for $301 million in relief aid has so far raised $131 million, according to an online tracker.
The Associated Press contributed to this report.
Related: