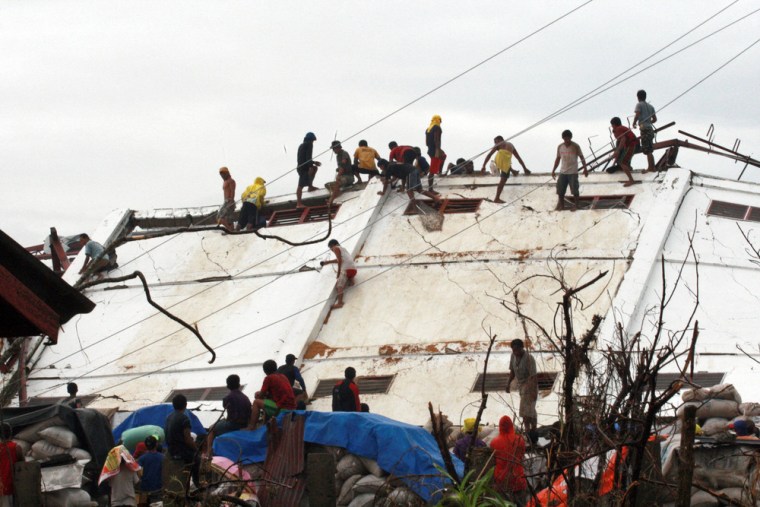 TACLOBAN, Philippines -- Desperation triggered anarchy in communities flattened by Typhoon Haiyan as survivors of one of the most violent storms ever to hit land struggled to find food, clean water and medicine Wednesday.
Police were working to keep order across the region devastated by 195 mph winds and huge storm surges amid reports of armed gangs roaming the streets.  
ANC Television said security forces exchanged fire with armed men amid widespread looting of shops and warehouses for food, water and other supplies in the village of Abucay in Leyte province. The report could not be verified by NBC News. 
Eight people were crushed to death as thousands of people stormed a rice warehouse in Alangalang and carted away up to 100,000 sacks of rice, National Food Authority spokesman Rex Estoperez told The Associated Press.
Soldiers sent to restore order also fired into the air to scatter crowds scavenging through the ruins in Tacloban, where an NBC News crew spotted dozens of uncollected bodies in the streets on Wednesday.
Residents had turned to ransacking houses because warehouses were empty, Tacloban city administrator Tecson John Lim told Reuters.
"The looting is not criminality. It is self-preservation," he said.
Lim said 90 percent of Tacloban had been destroyed but only 20 percent of the city's 220,000 residents had received help. 
Standing amid the rubble, Jennica Ekaya told the BBC that survivors were only looking for food.
"We can survive without these houses ... we'll sleep anywhere. But we need food. Only food," she said. "No money, no places, no televisions, no cellphones, no technology. Food, we need food." 
There were signs that promised help was at least arriving in Tacloban on Wednesday. A stream of American military helicopters and planes arrived at the airport, and Philippine military convoys carrying aid were spotted around the city.
However, an 8 p.m. to 5 a.m. curfew remained in place. 
"We have restored order," Carmelo Espina Valmoria, director of the Philippine National Police special action force, told The Associated Press. "There has been looting for the last three days, (but) the situation has stabilized." 
Aid officials blamed the shortage of aid on not enough trucks and the roads being blocked.
"There's a bit of a logjam to be absolutely honest getting stuff in here," said Sebastian Rhodes Stampa, from the United Nations Office for the Coordination of Humanitarian Affairs.
"We are not looters, what we were looking for is food," one desperate man told NBC News on Tuesday as he searched the remains of a food warehouse in the fishing village of Magallan on the hard-hit island of Leyte.
Some survivors resorted to digging up water pipes.
"We sourced our water from an underground pipe that we have smashed. We don't know if it's safe. We need to boil it. But at least we have something," Christopher Dorano, 38, told Reuters.
Many areas remained all but obliterated. 
The road from Cebu city, the provincial capital, is lined with hundreds of children holding out their hands in despair or carrying crude signs reading: "We need food and water."
Meanwhile, the government downplayed initial reports that 10,000 had died in the storm. President Benigno Aquino said local officials overstated the loss of life, saying it was closer to 2,000 or 2,500 than the 10,000 previously estimated.
Officially confirmed deaths stood at 2,275 on Wednesday, but almost 7 million had been affected by the storm, according to the government.
The preliminary number of missing, according to the Red Cross, is 22,000. Gwendolyn Pang, secretary general of the Philippine Red Cross, told Reuters that figure could include people who have since been located.
United Nations humanitarian chief Valerie Amos launched an appeal for $301 million to help people affected by the storm.
Several senior U.S. military officials said two amphibious ships were preparing to go to the Philippines to help with the humanitarian relief efforts. The ships, the USS Ashland and USS Germantown, would pick up U.S. Marines and supplies in Okinawa, Japan, and arrive in the Philippines in about one week.
The United States has also sent the nuclear-powered aircraft carrier USS George Washington, which carries 5,000 sailors and 80 aircraft, and three U.S. Navy warships — the cruisers USS Antietam and USS Cowpens and the destroyer USS Mustin — to the Pacific islands, defense officials said. On Wednesday, the U.S. Embassy in Manila said that the USS George Washington had been delayed by bad weather and will not arrive offshore the Philippines until Thursday.
The U.S. military has dubbed their relief mission "Operation Damayan" -- which means "help" in the Filipino language.
The government also said it would provide $20 million to help in relief efforts. The Defense Department said it was continuing to work closely with the country's government to determine what, if any, additional assets may be required.
Other countries and organizations have also promised tens of millions of dollars in help. The United Nations released $25 million for aid relief on Monday from the U.N. Central Emergency Response Fund.
NBC News' F. Brinley Bruton reported from London and Courtney Kube from Washington, D.C. Reuters and The Associated Press contributed to this report. 
Related