ITOGON, Philippines — Dozens of miners and their families sheltering in a chapel were feared dead on Monday after a powerful typhoon swept through the Philippines and triggered a huge landslide that buried much of the remote community.
Typhoon Mangkhut, with sustained winds of around 124 mph and gusts of up to around 200 mph, barreled past the northern tip of the Philippines this weekend, killing at least 54 people. The storm then skirted south of Hong Kong and neighboring gambling hub of Macau before making landfall in China, where four deaths were reported.
In the Philippines, the typhoon affected about five million altogether — 150,000 of whom were in evacuation centers when the storm hit. In the mining town of Itogon in the north of the island nation, hundreds of rescue workers using shovels and sometimes their bare hands battled treacherous conditions and heat to search for survivors after the typhoon's heavy rains triggered two landslides.
As of Monday, local authorities told NBC News that they were searching for 56 people who were still missing. Officials earlier said that they were looking for up to 100 people — mostly local miners and their families. The official number of missing could go up as officials are relying on family members to report the names of those believed to be trapped under the debris.
Local miner Roel Ulani told NBC News that he had watched from a distance as part of the hill collapsed on Sunday, burying dozens. He said the victims had been taking shelter in a former workers' dormitory that had been refurbished into a chapel when the landslide hit. A second landslide blocked any means to escape, leaving the community completely trapped.
Ulani, 32, is one of the many members of the community joining the rescue effort — some risking their lives, trying to get into the treacherous valley wearing just their flip-flops.
Even though Philippine authorities say it's highly unlikely any of the people feared buried in a mudslide would be found alive, Ulani said he was desperate to help.
"We have to try," he told NBC News. "We have to try to return these people to their families."
With roads blocked by mud and rocks, rescuers said there was little chance of getting heavy equipment into the valley. In the meantime, rescuers trekked down the side of a cliff to get into the unstable area. While the rain had stopped, rising temperatures hampered rescue efforts.
National Police Chief Oscar Albayalde in a Twitter message on Monday said elite police officers were being sent to the site with radar life detectors, harnesses, digging tools and other search and rescue equipment.
Twelve bodies have been recovered from the debris, local officials said Monday.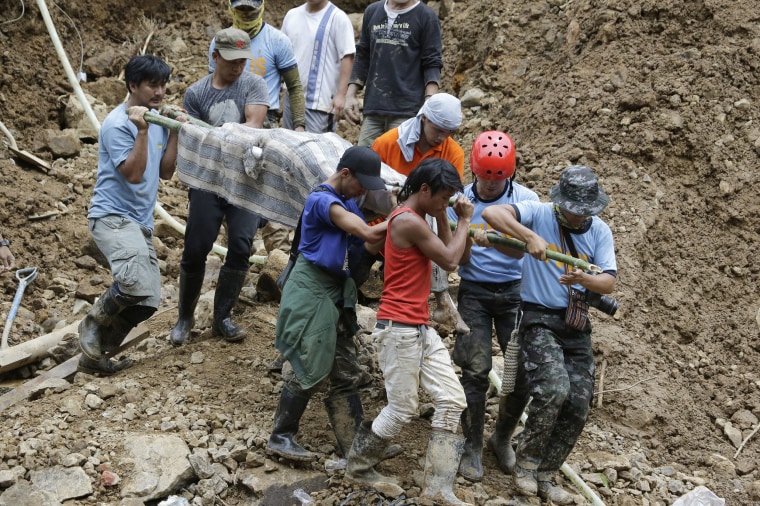 The Chamber of Mines of the Philippines said mining operators in the area had been repeatedly told to leave because of the threat of landslides.
Angered by the deaths from landslides that some government officials say are exacerbated by illegal mining, President Rodrigo Duterte on Monday reiterated his desire to "close all mining."
His environment minister, Roy Cimatu, earlier ordered a halt of all small-scale mining activities in the mountainous region following the landslides.
The typhoon also left parts of Hong Kong and Macau severely flooded, though there were no immediate reports of fatalities.
China Central Television, the state broadcaster, said four people had been killed in Guangdong, China's most populous province of over 100 million residents. As many as 2.45 million people in Guangdong had been relocated on Sunday night, the official Xinhua news agency reported.
The China Meteorological Administration said the typhoon, dubbed "King of Storms," swept west to Guangxi province Sunday night and weakened to a tropical storm. It forecast the storm to hit the regions of Guizhou, Chongqing and Yunnan on Monday.
The meteorological administration said Mangkhut was one of the 10 biggest storms to hit southeast China since 1949 when records began. The Hong Kong Observatory reported Mangkhut was the most powerful cyclone to hit the city since 1979.
Across Hong Kong, authorities tried to clear roads of debris, including toppled trees and bamboo scaffolding. Some transport services remained suspended, though flights in the region were slowly resuming after a shutdown on Sunday, stranding many thousands of passengers.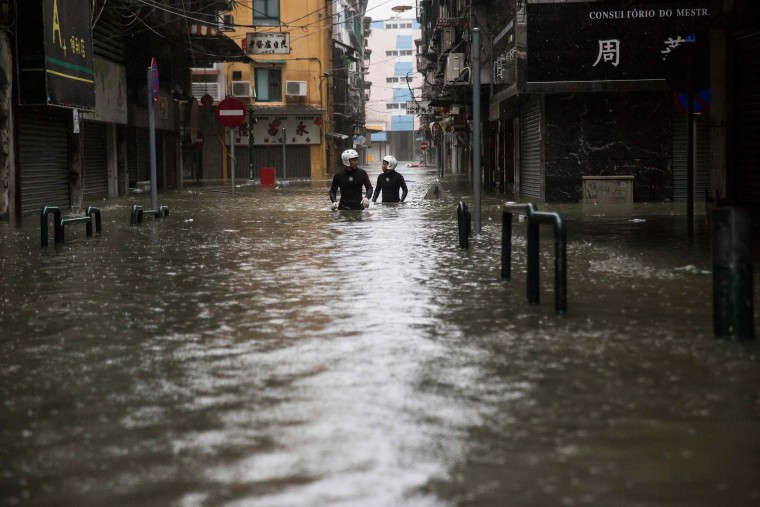 In Macau, badly hit by a super typhoon last year, authorities were more prepared this time around and ordered casinos to close late on Saturday night as the storm approached.
Casinos were operational again early on Monday though authorities were still struggling to restore power to some of the 20,000 households that suffered power cuts.
Janis Mackey Frayer and Aurora Almendral reported from Itogon; Yuliya Talmazan from London.