LONDON — A party founded by a firebrand Protestant preacher-politician who once objected to line dancing because it was sinful is now set to hold the balance of power in the British government.
Prime Minister Theresa May on Friday visited Queen Elizabeth II seeking permission to form a minority government with the help of Northern Ireland's Democratic Unionist Party after her Conservative Party failed to win a majority in the general election.
"Negotiations on our exit from the European Union are about to commence and we now face uncertainty at Westminster," the party's leader Arlene Foster told reporters after May met with the queen. "The prime minister has spoken with me this morning and we will enter discussions with the Conservatives to explore how it may be possible to bring stability to our nation at this time of great challenge."
With this the members of the tiny DUP, which won 10 parliamentary seats in Thursday's election, were cast as king-makers in British politics.
What does the DUP stand for and against?
The DUP is the largest party in Northern Ireland. It stands against same-sex marriage, and opposes lifting the near-total ban on abortion currently in place in the province.
In 2015 when a judge ruled that a Christian-run bakery could not refuse to make a cake with a pro-gay marriage slogan, the DUP led the opposition in the Northern Ireland Assembly, known as Stormont.
DUP assembly member Paul Givan put forward a draft bill arguing for a conscience clause to be added into the equality law.
Related: British PM Clings to Power After Election Humiliation
He said: "Christians do not feel there is space being made for their religious beliefs."
Members of the DUP have also lobbied for museums to exhibit references to creationist theory.
In 2012 a controversy ensued after Britain's National Trust — a heritage conservation organization — included a creationist explanation for the origin of the Giant's Causeway, a rock formation made up of 40,000 basalt columns that stretches out into the sea.
The party also has a track record of denying man-made climate change.
A former Northern Ireland environment minister and DUP lawmaker, Sammy Wilson, has called the Paris Agreement on climate change "a delusion," and said President Donald Trump's decision to withdraw from the accord was "very wise."
Wilson said Trump's decision to leave was "not the disaster green lefties are getting hysterical about" and described the agreement as "totally flawed and pointless."
The party fervently supports a union with Great Britain, as Foster underlined on Friday.
"The union is our guiding star," she said. "We may represent Northern Ireland constituencies in the House of Commons, but we are as seized of the interests of the United Kingdom as a whole, as we are for Northern Ireland."
Who was the DUP's founder?
The party's founder was Ian Paisley, the Protestant firebrand who rejected compromise with Catholics in Northern Ireland for much of his life only to become a pivotal peacemaker in his later years.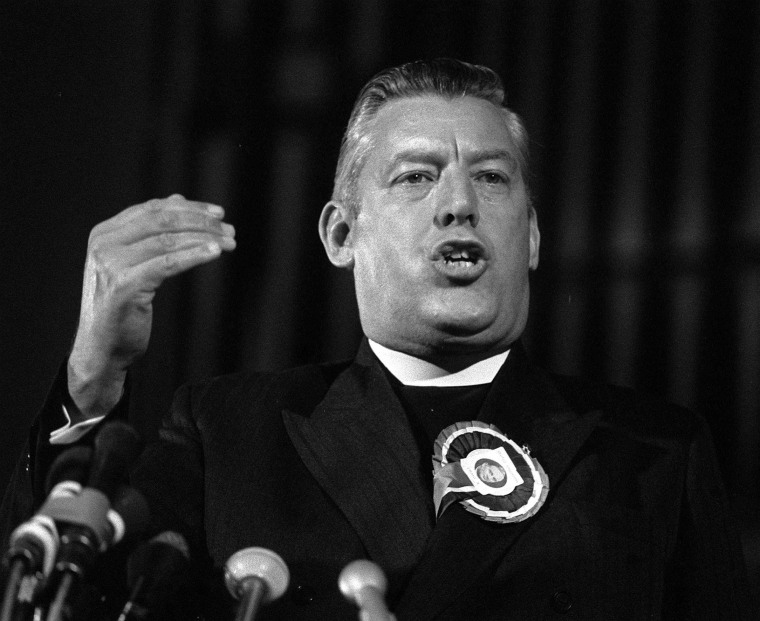 He once said that line dancing was "as sinful as any other type of sexual gestures and touchings," saying it "caters to the lust of the flesh."
His political U-turn helped bring an end to the violence known as the Troubles. This conflict between Republicans who want to separate from Great Britain and join Ireland, and unionists like Paisley claimed some 3,700 lives over four decades.
Paisley entered into the Good Friday Agreement with political rivals Sinn Fein in 1998.
Who leads the DUP now?
While it is an important political force in Northern Ireland in U.K. politics it has, until now, had relatively little weight. The party wants North Ireland to remain part of the United Kingdom and has opposed republican demands for a referendum on Irish unity.
DUP leader Foster grew up during the Troubles. As a child Foster almost died in an IRA bombing, and she said the group also tried to shoot her father.
The last time a Conservative government was dependent on unionists was in 1996, when then Prime Minister John Major's government was propped up by the Ulster Unionist Party.
What is their stance on Brexit?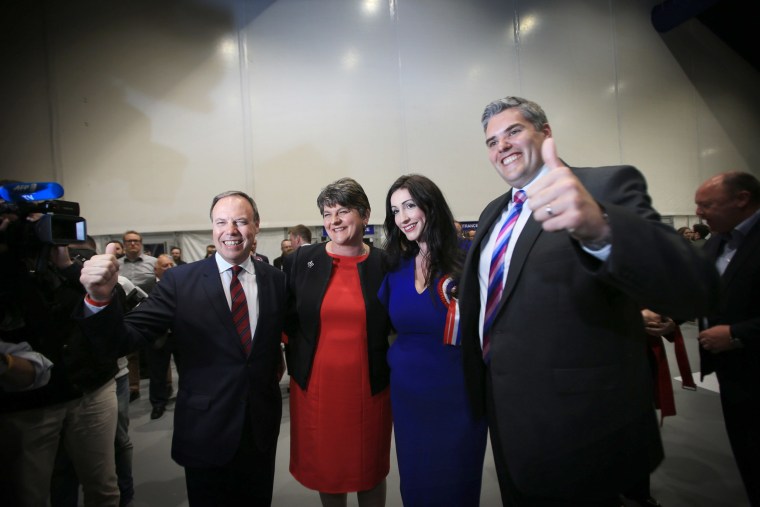 While the DUP supported leaving the European Union, Foster has said she does not want a so-called "hard Brexit" and wants to avoid reinstating customs barriers along the border with the Republic of Ireland, Northern Ireland's southern neighbor.
As a result of the peace process Ireland's border is now virtually non-existent and it is feared that any change to the arrangement could upset peace on the island.
Northern Ireland voted to remain in the European Union by a majority of 56 percent in last June's referendum.
Who are Sinn Fein, the DUP's Opposition?
Irish Republican party Sinn Fein increased its number of lawmakers from four to seven in Thursday's election. However, the party does not actually sit in its seats in the London Parliament because it opposes Britain's rule in Northern Ireland and refuses to swear an oath to the queen.
These abstentions mean that any party hoping to gain power needs a lower majority than it otherwise would. With the Conservatives just short of the required total, this could prove crucial.
Northern Ireland's executive is currently suspended after Sinn Fein's Martin McGuinness resigned as deputy first minister in January.
Talks between the DUP and Sinn Fein to establish a new power-sharing agreement were due to continue after this election.
The negotiations are entirely separate from talks between the Conservative party and the DUP in Westminster.
The new arrangement between the Conservatives and the DUP should not affect possible power-sharing in Northern Ireland.