LONDON — Former British Prime Minister Tony Blair allegedly offered to be an unofficial adviser to Rupert Murdoch as revelations of phone hacking shook the press baron's media empire, a London court was told Wednesday.
Blair also allegedly advised Rebekah Brooks, ex-boss of Murdoch's British newspapers, to "[k]eep strong and definitely sleeping pills," according to a July 2011email Brooks sent to Murdoch's son James, which was read to the jury Wednesday.
"It will pass. Tough up," Blair said, according to Brooks' email to James Murdoch, who was running News Corp.'s operations in Britain at the time.
Blair "is available for you, KRM [Rupert Murdoch] and me as an unofficial adviser, but needs to be between us," according to the email (which can be read in full by clicking here).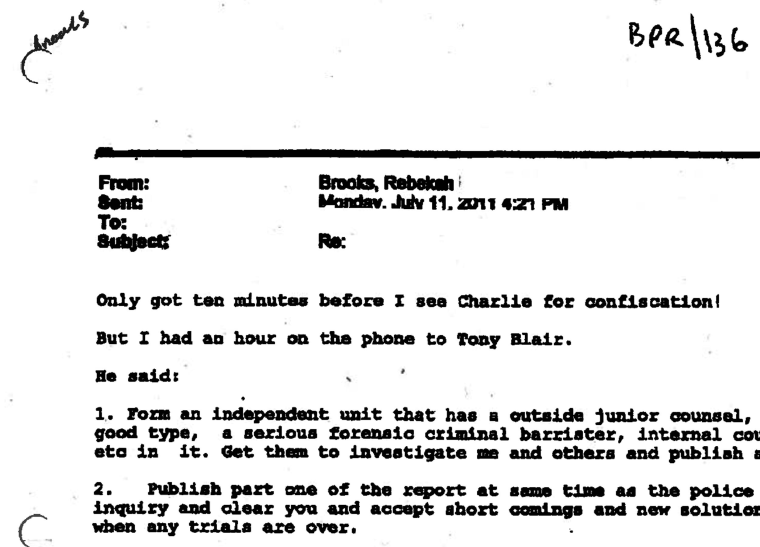 Blair's office confirmed the phone conversation in a statement late Wednesday, but it said Blair had merely offered non-specific "informal advice" to Brooks, stressing that he made it absolutely clear to Ms. Brooks that ... he knew nothing personally about the facts of the case."
The statement didn't directly address contentions in the email that Blair also advised Murdoch's company to take steps similar to the ones his government took in dealing with anger after Britain went to war in Iraq by setting up an independent committee into hacking that would then "publish a Hutton-style report."
The Hutton Report cleared Blair's Labour government over its handling of the so-called "dodgy dossier" of evidence of weapons of mass destruction in Iraq.
Blair's statement said the former prime minister told Brooks that "it was essential to have a fully transparent and independent process to get to the bottom of what had happened."
Brooks was arrested days after the email was sent and charged with phone hacking, among other offenses. She denies any wrongdoing.
The ongoing hacking trial is a result of revelations that employees of Murdoch's News of the World hacked into the voicemails of celebrities, royalty, politicians and a murdered 13-year-old girl. The 168-year-old newspaper was closed amid a wave of public revulsion.
M. Alex Johnson of NBC News, Reuters and The Associated Press contributed to this report.