LONDON — As Prime Minister Boris Johnson was discharged from hospital this weekend after having spent time in intensive care, Britain looked set to face its most challenging week yet in its battle against the new coronavirus.
At around the same time that the prime minister was thanking health workers for taking care of him, the United Kingdom's death toll had breached 10,000 — the fifth largest death toll globally after the U.S., Italy, Spain and France. With this, concerns are growing Britain that the crisis was far from abating.
Over the weekend, Health Secretary Matt Hancock warned that although the rise in numbers of hospital admissions has started to flatten out, the United Kingdom had not reached the peak of the outbreak that would allow for an easing of tight restrictions on movement.
And on Sunday, Jeremy Farrar, a member of the British government's Scientific Advisory Group for Emergencies, told the BBC that the U.K. was likely to be "one of the worst, if not the worst affected country in Europe."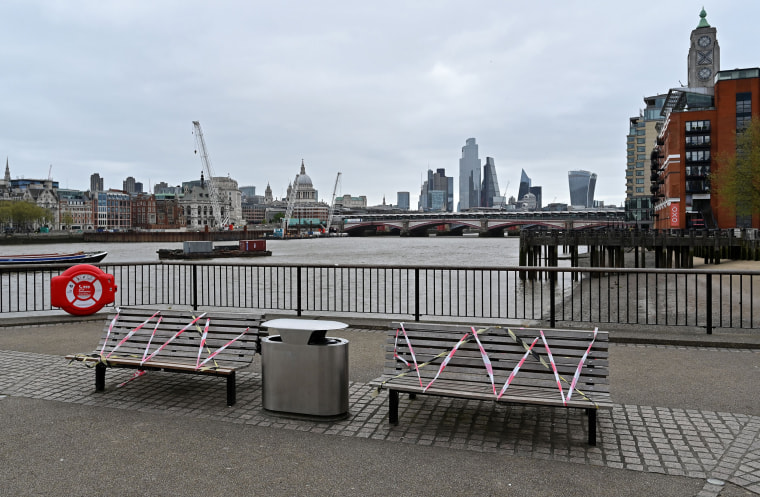 With indications that in Italy and Spain the situation may be taking a tentative turn for the better, there are concerns in Britain that it may become the European nation with the most coronavirus deaths.
Last week, the British government's chief scientific adviser, Patrick Vallance, warned that the daily number of deaths was expected to increase for a couple more weeks.
There is also concern in Britain, as in other countries, that the official death toll could in reality be much higher than what is being recorded. The United Kingdom's official figures only include those who tested positive and were admitted to hospital. Those who died in nursing homes, for example, are not included in the figures.
Meanwhile, Johnson is continuing his recovery at Chequers, the prime minister's country residence north of London. Foreign Secretary Dominic Raab has been standing in for Johnson while he was being treated.
As Britons prepare to return to work following the Easter long weekend, it looks all but certain that lawmakers will extend the lockdown that was due to be reviewed on Monday.
"Our judgment is we're not there yet. We haven't seen a flattening enough to be able to say that we've reached the peak," Health Secretary Hancock told BBC radio on Saturday. "Nobody knows when that might be."
Meanwhile, British Medical Association (BMA), which represents doctors, sounded the alarm that medics and patients in London and Yorkshire were increasingly in harm's way due to "dangerously low levels" of personal protective equipment.
"Doctors are being forced into a corner, facing heart-breaking decisions over whether to carry on caring for patients without proper protection and put themselves and patients at risk," said Dr Chaand Nagpaul, the council chair of the BMA in the statement.
Hancock said on Friday it was a "Herculean" logistical effort to ensure PPE reaches those on the frontline, with hundreds of millions of items delivered so far.
Reuters and The Associated Press contributed to this report