London's hottest day of the year descended into chaos after two water fights ended with five people being stabbed, officials said Wednesday. A British solider also died while on a training exercise in the sweltering temperatures.
With the U.K. in the midst of a 91-degree heatwave, more than 2,000 people gathered in the capital's Hyde Park for a water fight promoted on social media.
London's Metropolitan Police said "our officers came under attack" from bottles and other objects after they attempted to negotiate with a group attempting to set up stereo equipment.
The London Evening Standard dubbed the event "the worst outbreak of youth violence since the 2011 riots," in which thousands of people took to the streets across London and other parts of the U.K.
Eyewitnesses told the newspaper the resulting chaos resembled a "riot" and a "war zone."
One officer was stabbed, another suffered a head injury and three others were injured, according to police. Two civilians were also stabbed.
The chaos lasted almost four hours — from 8:40 p.m. to 2:20 a.m. local time (3:40 p.m. to 9:20 p.m. ET) — with police using riot shields and horses to push the crowds out of the park.
"What took place wasn't a group of people out enjoying the sunshine, but crime and disorder which is quite simply unacceptable," Metropolitan Police Commander BJ Harrington said in a statement. "If people are going to go along to unlicensed or spontaneous events then please think very carefully, they are simply not safe."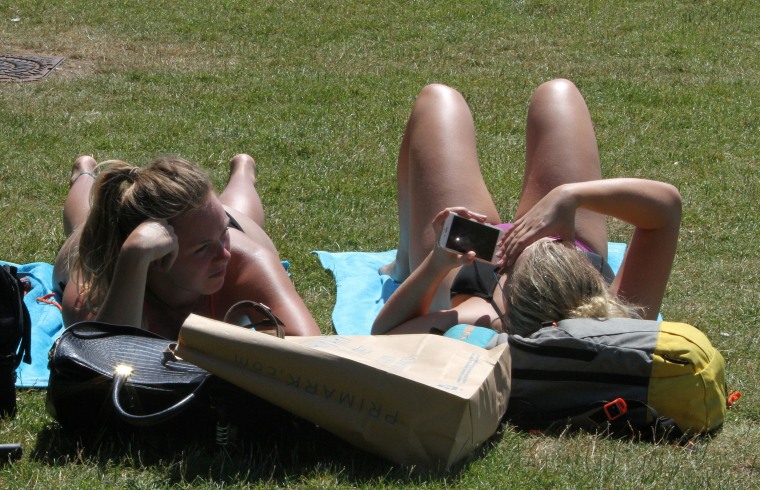 Meanwhile, two 16-year-old boys were stabbed at another water fight in the city's Burgess Park, police said in a separate statement issued later Wednesday. Neither suffered life-threatening injuries.
That event — which had also been advertised on social media — saw more than 500 people gather in the park where the gathering descended "into fights between small groups," police said.
Two hours later, at around 8 p.m. local time (3 p.m. ET), some 200 people caused damage at a nearby supermarket, stole items and injured two members of staff, police added.
Officials do not believe the two water fights were linked although the force noted that "clearly there are similarities."
Officers were also pelted with bottles and other objects in the northeast neighborhood of Stamford Hill, after they attempted to break up a block party which had attracted around 400 people to a residential street.
Elsewhere Tuesday, the Ministry of Defense confirmed that a British solider died while on a training exercise in the Brecon Beacons. The Welsh mountain range is where three soldiers died of heatstroke during a special-forces training exercise on one of the hottest days of 2013.
Like its people, Britain's infrastructure is more accustomed to the country's typically cooler climes.
Rail companies were forced to impose speed restrictions after fears that the high temperatures would buckle sections of the track.
The U.K.'s rail network is the oldest in the world, and the hold-up sparked pandemonium at some of London's biggest train stations, with thousands of commuters packed onto platforms battling to get home.