LONDON — British Prime Minister Theresa May launched a scathing attack on Vladimir Putin late Monday, accusing the Russian president of undermining the West by meddling in elections and seeking to "weaponize" information.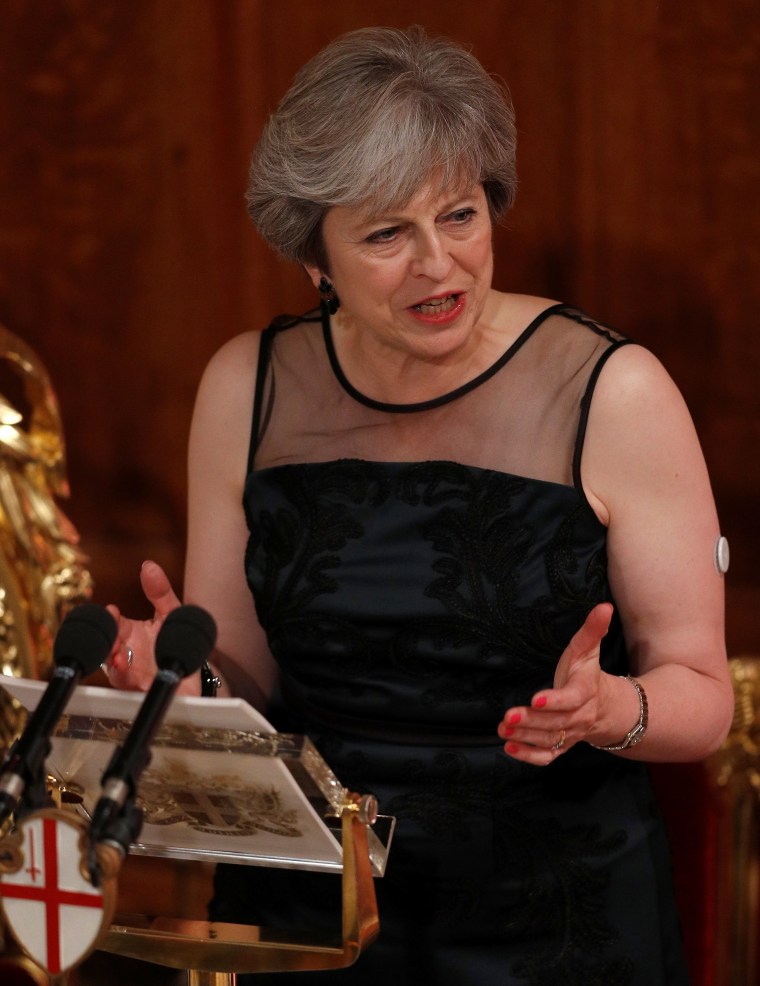 May's comments represent a contrast to those of President Donald Trump, who has been more vague on the issue of whether Moscow interfered in last year's White House election.
"I have a very simple message for Russia," the British leader said. "We know what you are doing and you will not succeed, because you underestimate the resilience of our democracies, the enduring attraction of free and open societies, and the commitment of Western nations to the alliances that bind us."
She told the audience at the Lord Mayor's Banquet in London that "it is Russia's actions which threaten the international order on which we all depend."
Citing Putin's annexation of Crimea and alleged military involvement in eastern Ukraine, May also accused Russia of "meddling in elections," although she did not mention the U.S. presidential election specifically.
"Russia can, and I hope one day will, choose this different path," she said. "But for as long as Russia does not, we will act together to protect our interests and the international order on which they depend."
Russia, she said, "is seeking to weaponize information, deploying its state-run media organisations to plant fake stories and Photoshopped images in an attempt to sow discord in the West and undermine our institutions."
More than 150 million Americans were exposed to Russia-linked material on Facebook and its sister platform, Instagram, in the run-up to Trump's victory last November, the tech giant admitted earlier this month.
Russia is also accused of running "troll factories," generating and disseminating fake news and propaganda on social media.
Several British lawmakers want Facebook to release advertisement information relating to the Brexit referendum that saw Britons vote to leave the European Union last year.
Far from the definitive language of his British ally, Trump has repeatedly cast doubt on the conclusions of the U.S. intelligence community about Russian interference in the 2016 election.
A report published in January said that Putin ordered a campaign to undermine the public's faith in the American democratic process and harm the prospects of Democratic nominee Hillary Clinton.
"Putin and the Russian Government developed a clear preference for President-elect Trump," it said.
During his trip to Asia, Trump hinted that he believed Putin's denials that Russia did not interfere in the election, but later said he was "with" the intelligence agencies on the issue.