LONDON — Terrorists have tried to acquire guns from criminal gangs to carry out Paris-style atrocities in Britain, authorities warned Monday.
A flow of illegal weapons through Eastern Europe has led to a record level of gun seizures in London and prompted concerns that extremists could arms themselves for a devastating coordinated attack.
The terror threat level in Britain is officially set at "severe," meaning that an attack is considered highly likely. Officials say a dozen attack plots have been thwarted since 2013.
Related: Cops Without Guns Protest London Amid Terror Fears
Temporary barriers, surveillance cameras on all Tube subway trains and greater use of cellphone alerts were among the security measures recommended for London in a major report submitted Friday to the city's mayor.
Lynne Owens, director general of Britain's National Crime Agency, said Monday that while automatic weapons remained hard to find in Britain, there had been increases in the availability of Baikal pistols and converted weapons from eastern Europe.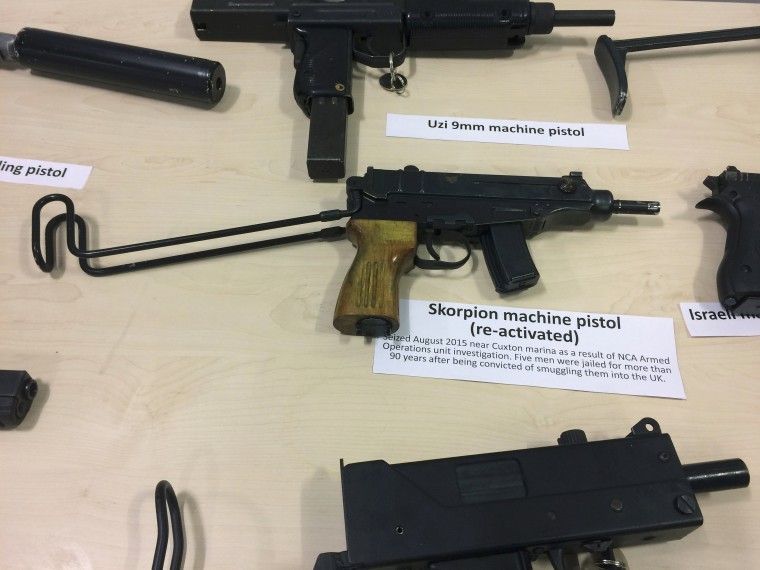 "We want to lessen the harm to our communities and to prevent the possibility of a marauding terrorist attack in the U.K.," said Owens, whose agency leads Britain's fight against serious and organized crime.
"The U.K.'s illegal firearms market is still geared mainly to criminals using weapons to protect against one another or to target one another, but we must be clear that one gun in the wrong hands in a public space is all it takes to cause devastation," she told reporters.
Mark Rowley, the head of National Counter Terrorism Policing, said there had been instances of common criminals drifting toward violent extremism.
Special Report: Europe's Terror Battle
"You do get gang members, criminals, people who are already angry, violent, difficult people causing problems in communities, who perhaps get given a clearer purpose for their violence by a terrorist ideology, whether they pick that up on the streets or in prison," he said. "Those gang criminality links are an issue that concerns us. We have seen evidence of it potentially linking firearms into terrorism."
Rowley told The Times newspaper that five of the 10 terror plots foiled in the past two years involved attempts to obtain explosives or firearms.
Brian Dillon, former head of the Metropolitan Police's firearms command who now runs the counterterrorism consultancy Rubicon Resilience, told NBC News that the fact Britain is an island offered some protection against weapons smuggling.
He added: "Like any enterprise, there's an element of demand and supply in play here. The U.K. is under a 'severe' threat and someone, somewhere will always seek to profit from meeting a demand which in this case relates to illegally held weapons."