LONDON — Many residents of the United Kingdom woke up in a state of mild confusion Monday after Prime Minister Boris Johnson announced a tentative road map for loosening coronavirus restrictions.
In a special televised address Sunday, Johnson outlined a series of conditional and staggered steps beginning this week for exiting the lockdown and encouraged those in England who are unable to work from home, including factory and construction workers, to return to work.
Johnson said that starting Wednesday, the government will allow unlimited outdoor exercise and in June some shops may reopen and some age groups may be able to start to return to school.
But while the measures will be a welcome relief to many in the U.K. who have been largely restricted to their homes for the past seven weeks, the statement also drew criticism from opposition parties and trade unionists for its apparent lack of clarity.
Overnight opinion polling revealed confusion among the general public over what Johnson's new "Stay Alert, Control the virus, Save lives" slogan actually means.
The plans also prompted disagreement between the different parts of the United Kingdom as the elected leaders of Scotland, Wales and Northern Ireland, said they would stick with a simple "stay at home" message rather than pivoting to Johnson's newly-unveiled "stay alert" slogan.
"The new slogan introduced by the Prime Minister for the people of England, to 'Stay Alert', is, I am afraid to say, vague and imprecise," Scotland's First Minister, Nicola Sturgeon, wrote in an op-ed in Britain's Daily Telegraph. On Sunday, she pinned a tweet reinforcing Scotland's message to "Stay home, Protect the NHS, Save lives," to the top of her Twitter feed.
The new leader of the left-leaning opposition Labour Party, Sir Keir Starmer, was equally critical.
"What the nation was looking for this evening was clarity and consensus," he said. "The truth is, the Prime Minister's statement raises more questions than it answers."
Frances O'Grady, general secretary of the Trades Union Congress, a federation of trade unions in England and Wales, described Johnson's statement as a "recipe for chaos."
"Govt still hasn't published guidance on how workers will be kept safe. So how can the PM — with 12-hours' notice — tell people to go back to sites and factories?" she tweeted on Sunday.
The government published further guidance on Monday filling in some of the blanks from Johnson's Sunday statement.
The guidance, for example, clarified that people would be able to exercise or sit and rest outside along with one other person from outside your household, while keeping two meters apart at all times.
It also, for the first time, advises people in England to aim to wear face coverings in enclosed public areas such as on public transport or in some shops.
The government said it will require all international arrivals, barring those on a short list of exemptions, to self-isolate in their accommodation for fourteen days on arrival into the U.K.
It also said it had asked the Scientific Advisory Group for Emergencies to examine whether, when and how it can safely change the regulations to allow people to expand their household group to include one other household in the same exclusive group.
From Wednesday, those breaking the law — or who refuse to follow the police's instructions enforcing the law — may be issued with a fine of 100 pounds sterling (around $123) up from £60 (around $74) in the first phase of Britain's lockdown.
The amount will double for each repeat offense up to a maximum of £3,200 (around $3,950), the government warned.
The government said the measures set out will be kept under review, and formally revisited at the end of the month.
"We have begun our descent from the peak of the epidemic but our journey has reached the most perilous moment where a wrong move could be disastrous," Johnson told the House of Commons after the guidance had been published on Monday.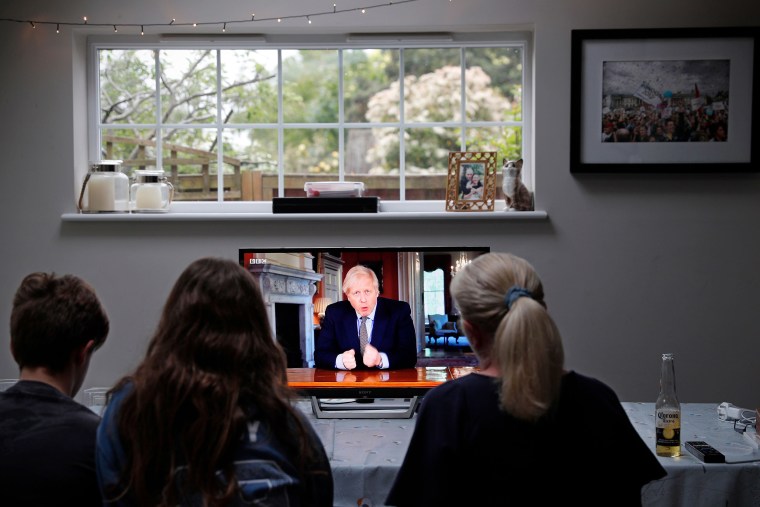 However, Labour-party leader, Starmer, responded that further clarity was still needed.
"There are lots of questions but so far precious few answers," he said, after the guidelines were published.
Starmer said people needed reassurance and clarity and "they need it in the next 48 hours," before those people in England who are unable to work from home are encouraged to return to work on Wednesday.
Johnson said the government would publish guidelines for making workplaces Covid-secure on Monday night and the guidance for public transport on Tuesday. He added Monday that those who plan to return to work on Wednesday are encouraged to avoid public transport wherever possible and should instead opt to drive, or better still walk or cycle to work.
The U.K. currently has the highest official, published death toll in Europe, with some 32,000 deaths since the beginning of the outbreak.
The government hopes that the newly-released guidance may clarify some points of confusion, as Britons overnight were left scratching their heads.
A YouGov poll published early Monday found that only 30 percent of the British public understood what the new "Stay Alert" slogan was asking them to do, compared to 91 percent who said the previous slogan "Stay home, Protect the NHS, Save lives" had made it clear.
The poll of more than 6,500 people also found that the population was divided over the measures with 44 percent saying they support the move and 43 percent saying they were opposed.
And as the criticism mounted, satirists seized the opportunity also.
"So we are saying don't go to work, go to work, don't take public transport, go to work, don't go to work," comedian Matt Lucas said in a video which was liked over 130,000 times on Twitter.
Reuters contributed to this report