LONDON — As news of President Donald Trump's shock diagnosis with Covid-19 spread Friday, the experience of United Kingdom Prime Minster Boris Johnson, who tested positive six months ago, could offer a clue to what might come next.
Johnson, 55, announced on March 27, at the height of the pandemic in the U.K., that he was suffering "mild" symptoms and would self-isolate while continuing to work. He was thought to be the first world leader confirmed to have contracted Covid-19.
He kept in contact with ministers through what he called the "wizardry of modern technology," and 10 Downing Street, his official residence and personal office, maintained that he was in control.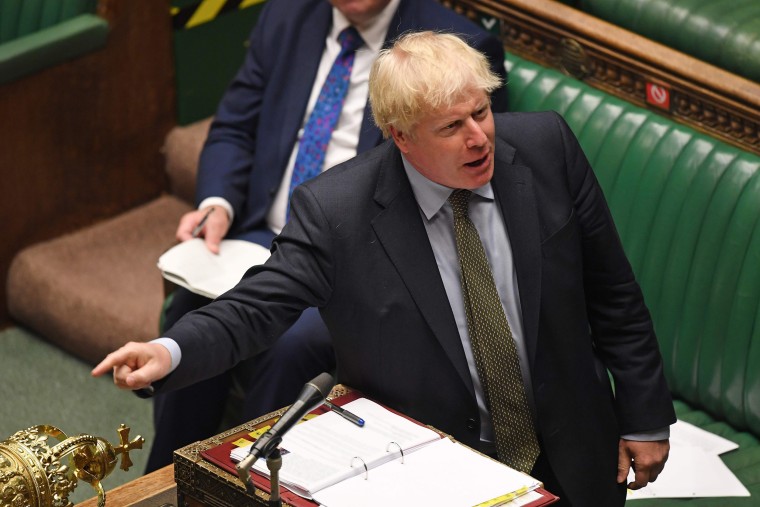 Then, on April 6, Johnson was rushed to a London hospital on the advice of his doctor before being placed in an intensive care unit. He spent a week in the hospital and received oxygen treatment but was not put on a ventilator. Queen Elizabeth II was kept informed of his status, Buckingham Palace said.
Foreign Minister Dominic Raab, who deputized in Johnson's absence, said at a news conference the next day that Johnson was still in control of the government — but he admitted that he hadn't spoken to him since before his hospitalization.
Later the same day, responding to speculation that the government could become paralyzed without its leader, senior minister Michael Gove said important steps could be taken in the prime minister's absence.
"The Cabinet is the supreme decision-making body," he said.
While the wheels of government continued to turn as normal, it remains unclear whether Raab or the Cabinet had the authority, for example, to use the U.K.'s nuclear deterrent or fire government ministers.
On his release, and as he began a period of recuperation at his house in the English countryside, Johnson won praise for a heartfelt message in which he thanked the National Health Service for "saving my life." Referring to how serious his condition was, Johnson said, "It could have gone either way."
Johnson's illness didn't, as some had predicted, lead to a rise in support for the government. As polling company YouGov pointed out Friday, a surge in support happened four days before he became ill.
It wasn't until April 27 that Johnson finally returned to work. Johnson has dismissed media speculation that the illness has given him long-term symptoms, saying Tuesday that he was "fit as a butcher's dog."
The U.K. has the highest number of Covid-related deaths in Europe with more than 42,000, also making it the fifth worst affected country in the world, with a substantially smaller population than the countries ahead in the list: Mexico, India, Brazil and the U.S.
Johnson's illness was a wake-up call for Britons, many of whom were skeptical about the severity and threat of the virus.
And it brought into sharp relief the criticism that the U.K. was far too slow to react to the pandemic. Johnson was personally attacked for a cavalier attitude to the virus: He boasted at a news conference March 3 that he had been shaking hands with people at a hospital overloaded with coronavirus patients.
It later emerged that the government's own scientific advisers had by that point privately called for a public warning against hand-shaking. The prime minister's spokesperson said he didn't see the advice.
A conservative libertarian who has railed against government interference and the "nanny state" in newspaper columns and speeches, Johnson was reluctant to order a national lockdown.
Jeremy Hunt, a senior lawmaker from Johnson's own Conservative Party and a former longstanding health secretary, told the BBC on March 13, in reference to strict lockdowns in Italy and elsewhere in Europe, it was "surprising and concerning that we're not doing any of it at all."
Download the NBC News app for breaking news and alerts on Trump's Covid diagnosis
At the same time, Rory Stewart, a former Conservative lawmaker who led the U.K.'s response to the Ebola outbreak in Africa in 2019, said that Johnson's approach was "defeatist."
"They say there is no point in spending a huge amount of money trying to suppress this, instead they are trying to manage the increase. We are taking far too much risk. I think that is a dangerous thing to do. I don't think if we allow this to spread it can be managed in that way."
As pubs, restaurants and shops all announced closures, Johnson still stopped short of national action until a lockdown was confirmed on March 23.
"Clearly, because of the way that the virus spreads, if we'd have locked down even a week earlier we are talking about thousands, possibly tens of thousands of lives that might have been saved," said Tim Bale, professor of politics at Queen Mary University, London.
"Generally speaking," they let the uncertainty go on too long and they should have locked down earlier."