LONDON — The British government said Julian Assange will be arrested if the Wikileaks founder leaves the embassy where he's spent years holed up to avoid extradition to Sweden in a sex-assault investigation.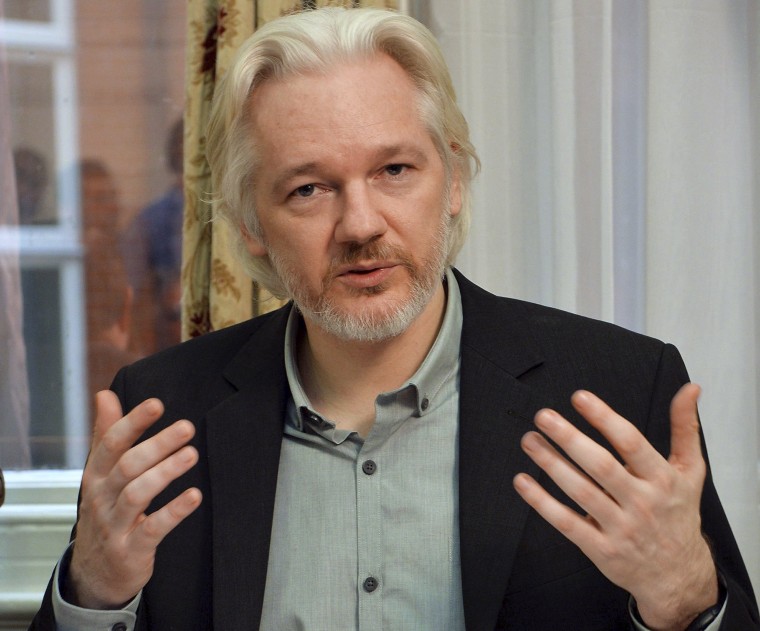 Officials defended their stance in response to Assange's suggestion that a U.N.-backed panel could clear the way for his departure from the Ecuadorean embassy in London.
A U.N. working group — which has no binding legal authority — has been looking into Assange's claim that his time in the embassy amounts to illegal detention.
The Wikileaks founder said in a statement overnight that he expects the "immediate return" of his passport and "termination of further attempts to arrest" him if the panel finds in his favor.
While the U.N. panel declined to comment on it's findings before Friday, Sweden's foreign ministry said Thursday that the working group had deemed Assange "arbitrarily detained in contravention of international commitments."
"The working group's view differs from that of the Swedish authorities," foreign ministry spokeswoman Anna Ekberg said in an email to NBC News.
Britain's Foreign Office, however, made clear Thursday that the U.K. will continue to seek his arrest.
"We have been consistently clear that Mr. Assange has never been arbitrarily detained by the U.K. but is, in fact, voluntarily avoiding lawful arrest by choosing to remain in the Ecuadorean embassy," it said in a statement. "An allegation of rape is still outstanding and a European Arrest Warrant in place, so the U.K. continues to have a legal obligation to extradite Mr. Assange to Sweden."
British Prime Minister David Cameron's office echoed that line and noted that the U.N. panel's decision would not be legally binding, according to Reuters.
Assange voluntarily took refuge in the Ecuadorean Embassy in 2012 to avoid extradition to Sweden, where he was wanted for questioning over sexual assault and rape allegations against two women.
The investigation into allegations of sexual assault was dropped in August 2015 because prosecutors ran out of time to bring charges, but prosecutors said they would continue investigation a further allegation of rape.
Assange has denied the allegations and expressed fear that if Britain extradites him to Sweden he would then be extradited to the United States to face trial.
The Geneva-based U.N. Working Group on Arbitrary Detention doesn't have any binding authority to impose its recommendations on British or Swedish judicial authorities, which have been involved in years of legal wrangling involving Assange.
The U.N. decision could, however, influence how aggressively Swedish prosecutors pursue Assange for questioning about allegations of sexual misconduct.
Sweden's foreign ministry on Thursday declined to comment on the legal process, saying that was handled by Swedish prosecutors.