A prolonged Saudi-led block on humanitarian aid and vital imports into Yemen could trigger widespread famine and bring millions of people closer to "starvation and death," the United Nations and more than 20 aid organizations warned this week.
"If the blockade continues, if we run out of supplies, we're talking a matter of weeks," Rasha Muhrez, program director for Save the Children in Yemen, said "before widespread famine and children starving to death."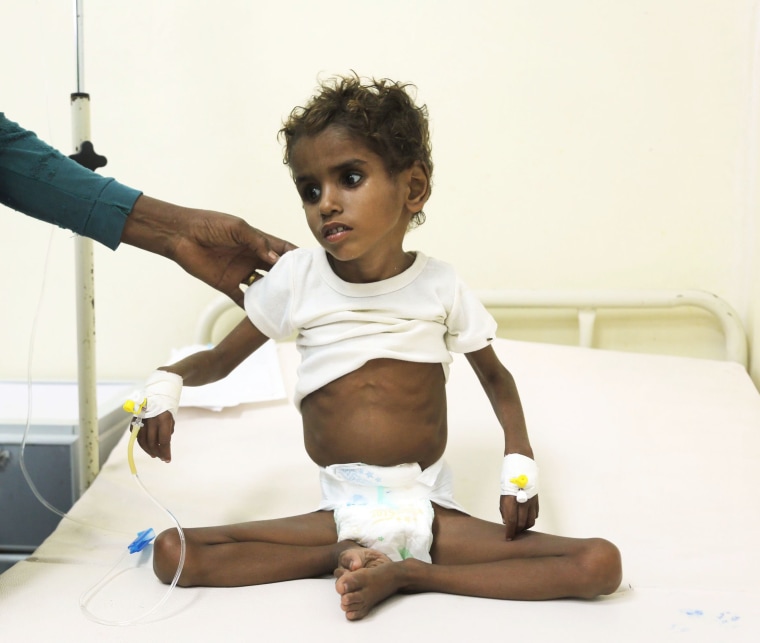 A Saudi-led coalition grounded all humanitarian flights and closed all ports into the country after Yemen's Houthi rebels fired a ballistic missile that was intercepted near Riyadh, the Saudi capital, last weekend.
Saudi Arabia blamed the strike on Iran, which supports the Houthis but has denied arming them. The top U.S. Air Force official in the Middle East said Friday that Iran had manufactured the missile.
As many as 7 million people in Yemen were already facing "famine-like" conditions and rely completely on food aid to survive, according to the aid groups.
"In six weeks, the food supplies to feed them will be exhausted," the aid groups, which include CARE, Save the Children and Islamic Relief, said urging the Saudi-led coalition to allow humanitarian corridors to reopen.
The U.N.'s humanitarian chief also warned this week that unless the coalition lifts its blockade, Yemen will face "the largest famine the world has seen for many decades, with millions of victims."
Saudi Arabia's warplanes have been leading the bombing campaign against Iran-linked Houthi rebels in the desperately poor country, which is on the front line of a proxy war between Saudi Arabia and Iran.
The fighting has killed thousands — and the country is also suffering from the largest cholera outbreak in human history, according to Save the Children.
"Ten million people were already in acute need in Yemen. And then you stop the food coming, then you stop the fuel coming in and then you stop the medicine coming in," Shane Stevenson, country director for Oxfam in Yemen, said. "It's desperate, it's really desperate and it's all man-made."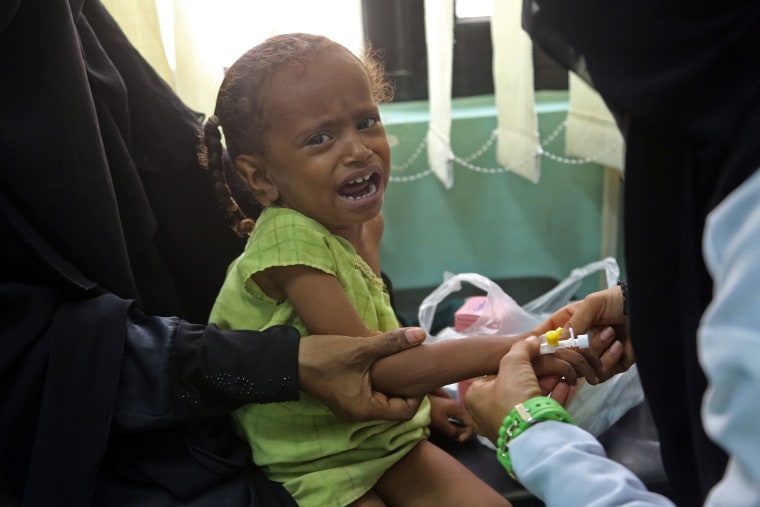 While restrictions on commercial cargo imported into Yemen have been in place since 2015 and humanitarian supplies have on occasion also been barred entry, this is the first time imports have been blocked across the country, Mhurez said.
Border closures had already stopped vital medical and nutrition supplies — including essential cholera medication such as I.V. drips — from reaching Save the Children's centers across Yemen, making the aid group's job "almost impossible," Mhurez added.
The blockade is especially crippling because 90 percent of Yemen's food and medicine is imported, as well as much of its fuel and water — it has already triggered a 60 percent jump in fuel prices and an increase in the price of food, according to Muhrez.
And the price of water had soared by 400 percent in some areas, according to Stevenson.
In Sanaa, Yemen's capital and its largest city, streets are deserted and the atmosphere is one of uncertainty and desperation, said Muhrez. "No one knows where the air strikes will hit next."
Long lines have formed outside gas stations and people appear visibly panicked as they hoard fuel, according to several of the people NBC News spoke to.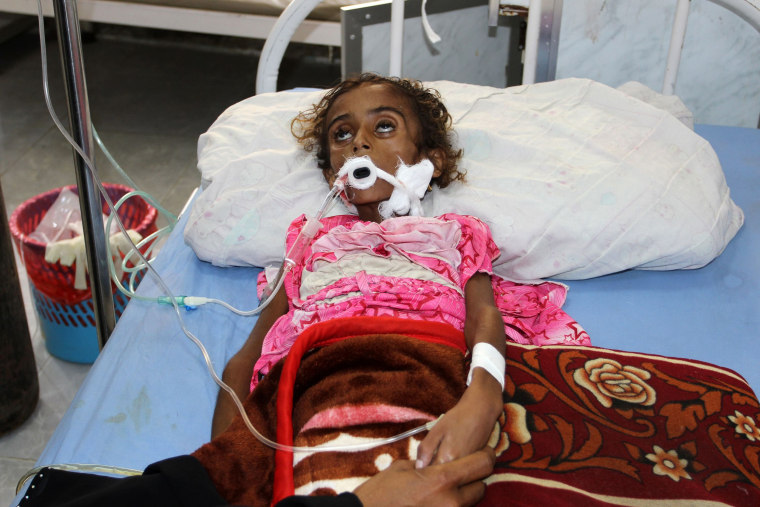 The food situation is similarly desperate — as supplies dwindle, aid groups fear the risk of famine is real.
The one thing keeping a lot of people from the brink of starvation is humanitarian aid, said Paolo Cernuschi, country director for the International Rescue Committee (IRC) in Yemen. If this aid stops widespread famine will ensue, he warned.
"Yemen was already the world's worst humanitarian man-made crisis before the blockade started, so there's no resilience, no coping mechanisms," Stevenson from Oxfam said. "People don't have anything to rely on anymore."
"There is concern about when is the breaking point, when is it all going to go to pieces … and drop off the cliff," he added.