United Nations officials have accused Facebook of spreading hate speech in Myanmar, where human rights experts are investigating a possible genocide against the Rohingya Muslim minority.
Marzuki Darusman, chairman of the U.N. Independent International Fact-Finding Mission on Myanmar, told reporters on Monday that the social media giant has played a "determining role" in the troubled Southeast Asian nation, according to Reuters.
"It has ... substantively contributed to the level of acrimony and dissension and conflict, if you will, within the public," Darusman said. "Hate speech is certainly, of course, a part of that."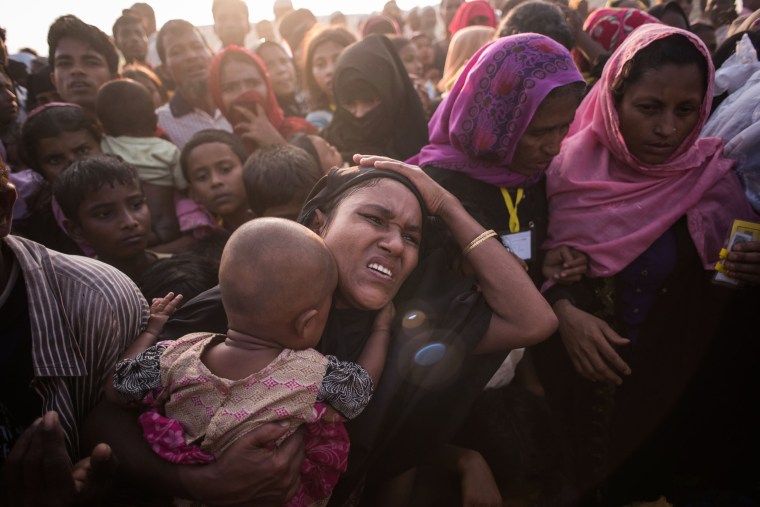 "As far as the Myanmar situation is concerned, social media is Facebook, and Facebook is social media," he said.
In an email, a Facebook spokesperson, Ruchika Budhraja, said in part: "There is no place for hate speech or content that promotes violence on Facebook, and we work hard to keep it off our platform."
Hundreds of thousands of Rohingya Muslims have fled Myanmar for Bangladesh amid a crackdown by Myanmar security forces that began last August after a string of insurgent attacks.
The U.N. human rights chief, Zeid Ra'ad al-Hussein, said last week that he strongly suspected "acts of genocide" may have taken place in Myanmar's northern Rakhine State. The United States has declared the violence against the Rohingya minority to be "ethnic cleansing."
Al-Hussein also suggested that reports of the bulldozing of mass graves there showed a "deliberate attempt by the authorities to destroy evidence of potential international crimes, including possible crimes against humanity."
Related: Rohingya Muslims will soon face cyclones, monsoons in Bangladesh
U.N. Myanmar investigator Yanghee Lee said Facebook was woven into public and private life in Myanmar, where the government uses the platform to share information with citizens.
"Everything is done through Facebook in Myanmar," Lee told reporters, according to Reuters.
"It was used to convey public messages, but we know that the ultra-nationalist Buddhists have their own Facebooks and are really inciting a lot of violence and a lot of hatred against the Rohingya or other ethnic minorities," she said.
"I'm afraid that Facebook has now turned into a beast, and not what it originally intended," she said.
The social media company has a policy that bars hate speech targeting people because of their race, ethnic identity or religion. It suspends and sometimes removes users who promote hate speech on the platform.
"We have invested significantly in technology and local language expertise to help us swiftly remove hate content and people who repeatedly violate our hate speech policies," Budhraja said, adding that the company has worked with experts in Myanmar on "safety resources and counter-speech campaigns."
"Of course, there is always more we can do and we will continue to work with local experts to help keep our community safe," Budhraja said.