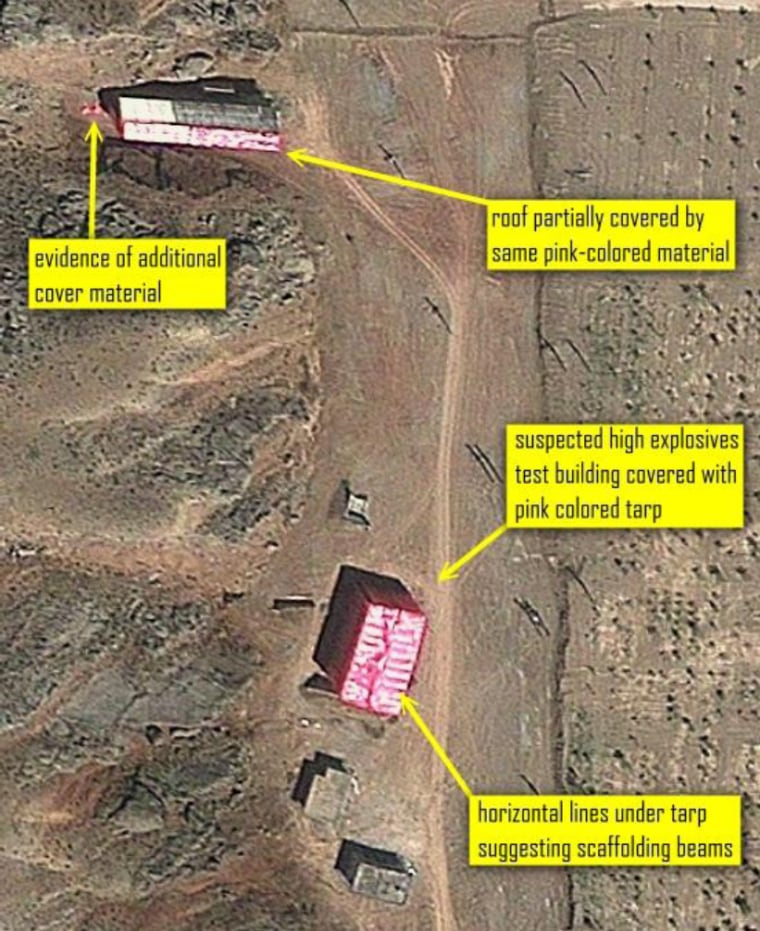 The United Nations' nuclear inspection agency, the IAEA, is about to issue a report finding that Iran has made significant progress on installing hundreds of new uranium-enriching centrifuges, a senior administration official told NBC News on Friday. 
The New York Times reported earlier that U.N. inspectors would issue a report indicating that Iran had recently installed upward of 1,000 new centrifuges. The article went on to say that, according to diplomats and experts, Tehran could be speeding up its production of nuclear fuel while talks with the United States and its allies had ground nearly to a halt. 
The senior U.S. official, who spoke with NBC News on condition of anonymity, said most of the new equipment has been installed underground in Iran's Qum nuclear facility. 
While declining to discuss specific details in the International Atomic Energy Agency report, the official said it will also deal with the fact that Iran is focusing on enriching nuclear fuel to the dangerous 20 percent level, capable of being used in nuclear bomb production. But the report will not conclude that Iran has made the political decision to build a bomb, the official said. 
In a related development on Friday, the Institute for Science and International Security released satellite imagery that it says shows apparent cleanup activities at the Parchin site in Iran, which is suspected of being used for explosive experiments related to the development of nuclear weapons.
An accompanying ISIS report, written by David Albright and Robert Avagyan, indicated that after "considerable sanitization and earth displacement activity" at the site earlier in the month, a photo taken on Aug. 15 shows several buildings at the site have now been wrapped "with scaffolding and tarpaulin, hiding any sanitization or other activity there from satellite cameras."
"Depending on how effective of a seal the tarp provides, the goal could be continue sanitizing the inside and outside of the building that is suspected to contain particles indicative of nuclear weapons development work," it said. "Alternatively tarps could provide a cover for the demolition of the buildings, or portions of them, while also containing the spread of potentially contaminated debris."
Iran has thus far refused to give IAEA inspectors access to the Parchin site.
Watch World News videos on NBCNews.com
While both U.S. and Israeli officials are concerned about Iran's continued nuclear work, they do not agree on how near Tehran might be to building a nuclear weapon. 
Tommy Veitor, a spokesman for the U.S. National Security Council, said Friday that financial sanctions imposed on Iran are working, despite Iran's continued progress on its nuclear program, but need more time. 
"I can't get into the specifics of the report," he said, "but it's no surprise that Iran is continuing to violate its international obligations. 
Related: Ex-Israeli intel chief speaks out on Iran strikes
"That's why the president has led an unprecedented effort to increase the pressure on Iran to live up to its international obligations. Because of the president's leadership, Iran is under greater pressure than ever before. Just last month (Iranian) President (Mahmoud) Ahmadinejad said they are facing 'the most severe and strictest sanctions ever imposed on a country.' We continue to believe that there is time and space for our current approach of diplomacy paired with unrelenting pressure to achieve our shared objective - preventing Iran from acquiring a nuclear weapon." 
Another senior U.S. official, who also spoke on condition of anonymity, said that while the Obama administration is "very concerned by Iran's ongoing nuclear activities," the new centrifuges do not "change significantly the amount of time Iran would need to break out" and build a nuclear weapon. 
Stay informed with the latest headlines; sign up for our newsletter
But as Israel's Ambassador Michael Oren said last week on "The Andrea Mitchell Report" on MSNBC and in a recent Wall Street Journal column, Israel does not agree with the U.S. on the timeline.  Israeli officials have argued that time is running out before Iran reaches the point of no return.
There is some ambiguity, however, about how much of Israel's warnings are saber rattling intended to frighten Iran. 
NBC's Andrea Mitchell and Robert Windrem contributed to this report.
More world stories from NBC News: