EYGELSHOVEN, Netherlands — The U.S. and its NATO allies are taking no chances amid a build-up of military force on Europe's eastern frontier with Russia.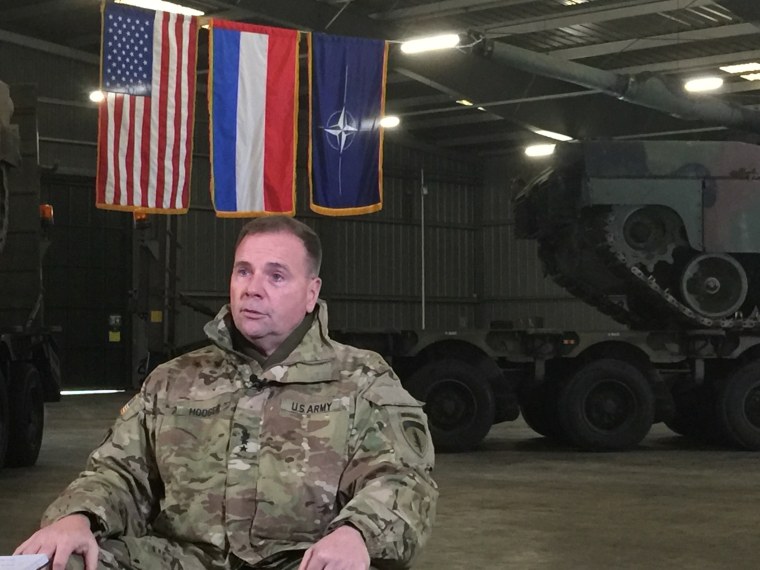 Three years after the last American tank left Europe, they are being brought back "as part of our commitment to deterrence," Gen. Frederick "Ben" Hodges told NBC News.
Hodges, who is commander of the U.S. Army in Europe, welcomed a batch of tracked and wheeled support vehicles to a depot in the Netherlands on Thursday.
At the Dutch installation in Eygelshoven, a 500,000-square-feet storage space — including nine humidity-controlled warehouses — has been made available to house elements of the Army's "strategically prepositioned critical war stock." It includes Abrams tanks, Bradley fighting vehicles and Paladin self-propelled howitzers.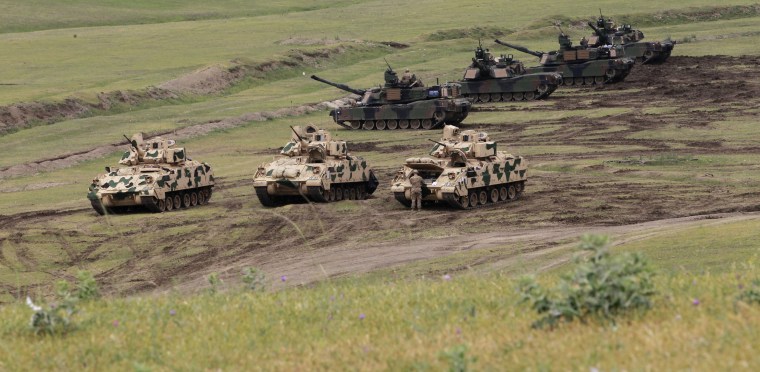 In September, the U.S. Army began to assemble additional so called Army Prepositioned Stocks (APS) for permanent storage in Europe. The latest shipment includes ammunition.
The additional combat equipment will give the Army the option for another heavy armored brigade. Presently, it has only two light brigades in Europe: 173rd Airborne Brigade and the 2nd Stryker Cavalry Regiment.
Russian President Vladimir Putin's government has repeatedly stated that it "will never attack a NATO member state."
But following the reduction of America's military presence in Europe after the Cold War ended, military officials are now putting structures back into place to guarantee the rapid deployment of U.S. troops in case of crisis.
"These activities are the embodiment of the United States' commitment to deterring aggression and defending our European allies and partners," Hodges added.
Russia's recent unannounced military exercises along the borders of the Baltic states and the 2014 annexation of Crimea have "disrupted nearly a generation of relative peace and stability between Moscow and its Western neighbors," according to a RAND Corporation report published earlier this year titled "Wargaming the Defense of the Baltics."
The study concluded that Russia's military would be capable of overrunning NATO defenses and could reach Baltic capitals including Tallinn, Estonia, and Riga, Latvia, within 60 hours.
Amid the new threat from the East, U.S. and NATO officials have been preparing for an increased presence across Europe, especially at NATO's eastern borders, "sending a clear message to Russia," officials say.
"We don't want to risk escalation, but send a message of our commitment," Gen. Tom Middendrop, the Dutch chief of defense said at a ceremony in Eygelshoven on Thursday.
In January, the U.S. Army in Europe is due to deploy a total of 4,000 American troops and 2,000 military vehicles on a rotational basis to Poland, Romania, Bulgaria and the Baltic nations.
The U.S. Army's prepositioned stocks, which will eventually be stored at military bases in the Netherlands, Belgium and Germany, allow it to "reduce deployment timelines, improve its deterrence capabilities and provide additional combat power to U.S. European Command for use in contingency operations," the Pentagon said in a statement.
The equipment can also be deployed for use in training and exercises.
The U.S. Army in Europe plans to conduct more than 90 maneuvers with NATO allies and European partners next year, including Swift Response 17 in July which will see U.S.- led and NATO rapid response forces test their readiness to work together.
For NATO troops, speed has become a critical factor in achieving the alliance's objective of deterrence.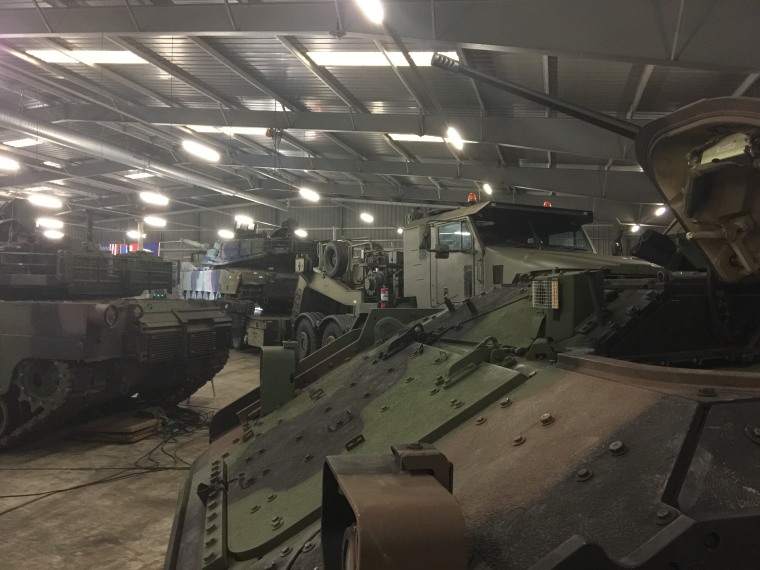 U.S. Army officials say the Swift Response exercise is designed to demonstrate NATO's ability to respond to a crisis "within 18 hours of notification."
To minimize that reaction time, a U.S.-led battalion will also be stationed in Poland near the border with Russia's Baltic exclave, Kaliningrad, following Moscow's announcement that it will station nuclear-capable missiles there.
But as an assertive Russia steps up its military presence in the Baltic region at Western Europe's eastern flank, countries including Poland fear what will happen during the Donald Trump era. During the election campaign, the president-elect suggested he might not come to the aid of NATO allies if they were attacked.
"We hope that the new administration will recognize that Russia is a long-term strategic challenge for the United States and a strategic threat to this part of Eastern Europe," Marcin Terlikowski, head of the International Security Program at the Polish Institute of International Affairs in Warsaw, told NBC News.
While Eastern European countries "simply do not know what President-elect Trump's Russia policy will be," they are hoping NATO's commitment and the stationing of American troops in the region are "sustainable engagements for the U.S.," Terlikowski added.
Hodges said Thursday's arrival of combat vehicles should reassure allies.
"It is in our economic interest that Europe is safe, secure, stable," Hodges told NBC News.