U.S.-backed fighters have liberated the Syrian town of Manbij from ISIS, observers and Syrian-Kurdish officials said Saturday as dazed residents reportedly described their terror at the hands of militants.
The northern town "is under full control" of rebels, Nasser Haj Mansour of the predominantly Kurdish Syria Democratic Forces (SDF) told the Associated Press, adding that search operations are still ongoing to try find any extremists who might be hiding in the town.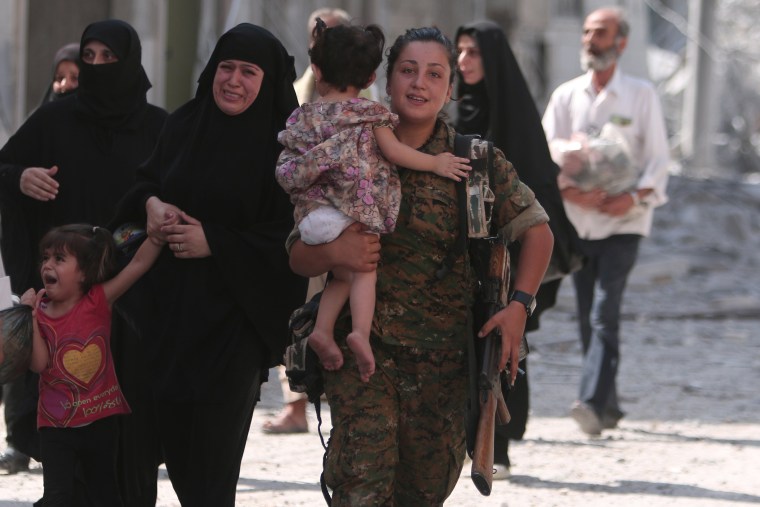 Details of the operation and the status of thousands of residents in the town were not immediately clear.
The SDF launched its offensive in late May to capture Manbij under the cover of airstrikes of the U.S.-led coalition. It was an ISIS hub and lies on a key supply route to the group's de facto capital of Raqqa.
"They destroyed our homes!" an unidentified man in the town shouted according to video footage obtained by Reuters. "They are pigs. They are pigs. My hand got broken."
An unidentified woman in the same video shouts: "Thank God. We are happy. Thank God we got rid of [ISIS]. May God hold them to account!"
Another woman screamed at the camera before fainting: "I feel joy and [it is like a] dream I am dreaming. I cannot believe it. Things I saw, no one saw. I am unwell."
The Manbij operation, in which U.S. special forces have played a significant role on the ground, marks the most ambitious advance by the Washington-allied SDF since the U.S. launched its military campaign against ISIS two years ago.
U.S. officials have said once the Manbij operation is completed, it would create the conditions to move on the militant group's de facto capital of Raqqa, Reuters reported. U.S. officials anticipate a tough battle.