WASHINGTON — American-backed forces have launched a "daring" offensive to liberate a key Syrian dam from ISIS, with U.S. choppers flying Syrian forces near the key facility.
The American military supported their move on the dam using Apache attack helicopters, M777 and Himars artillery pieces, and U.S. Special Operations forces, said Col. Joe Scrocca, spokesman for the U.S.-led coalition against ISIS.
Scrocca described it as a "multi-pronged assault" on the facility, which is about 25 miles west of Raqqa, the effective capital of ISIS. The operation was launched overnight Tuesday and announced Wednesday.
The U.S. helicopters flew the Syrian Democratic Forces near the Tabqa Dam, a major facility on the Euphrates river, officials told NBC News. The SDF is a multi-ethnic coalition that is leading the U.S.-backed charge in Syria.
A major operation to retake Raqqa, codenamed Operation "Euphrates Anger," began Nov. 7 — two weeks after a campaign to clear ISIS from Iraq's Mosul — and is being supported by U.S. air strikes as well as 30,000 SDF forces.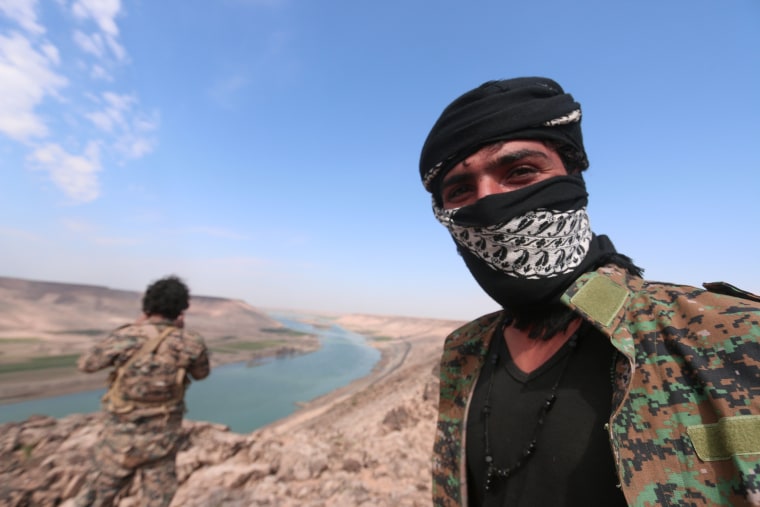 While U.S. forces in this operation "are in harm's way," they are "not on the front lines," said Scrocca. "The role of coalition forces hasn't changed."
Earlier this month, a group from the 11th Marine Expeditionary Unit deployed in the area with M777 Howitzers, capable of firing 155mm shells, to assist the SDF.
President Donald Trump has promised to destroy ISIS with a "secret plan."