SEOUL, South Korea — Two U.S. B-1B bombers and American and South Korean fighter jets on Friday conducted an exercise that included practicing attack capabilities at a training range, in a show of force to North Korea days after that regime tested an intercontinental ballistic missile.
U.S. Pacific Command said the Lancer bombers took off from an air base in Guam and "practiced attack capabilities by releasing inert weapons at the Pilsung Range."
The Pilsung Range is well inside South Korean territory, but local media reported that the bombers also flew close to the demilitarized zone (DMZ) separating the two countries although they did not enter the zone or cross any demarcation lines.
"North Korea's actions are a threat to our allies, partners and homeland," Pacific Air Forces Commander Gen. Terrence O' Shaughnessy said in a statement. "Let me be clear, if called upon we are trained, equipped and ready to unleash the full lethal capability of our allied air forces."
Two U.S. officials said the show of force was intended to "send a clear message" to North Korea, ruled by the dictator Kim Jong Un.
"South Korea and U.S. air forces will immediately respond to enemy provocation in any form anytime and anywhere," South Korean air force operational commander Lieutenant-General Won In Chu told reporters in a text message.
On Tuesday, North Korea fired a "two-stage" ICBM that the U.S. had never before seen used by Pyongyang, a missile Defense Department officials believe is capable of traveling 3,500 miles.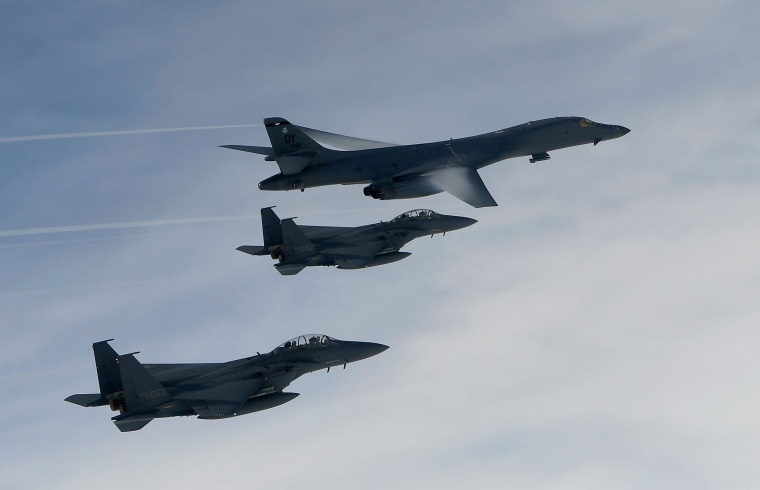 The launch by the self-declared nuclear regime was condemned by the United States and others. It was the first time North Korea had successfully tested an ICBM. The United States condemned the move, firing warning missiles and vowing to hold the regime accountable at the United Nations.
Friday's show of force by the U.S. differed from those in the past in that it involved inert weapons dropped at Pilsung Range, and was carried out as a specific response to this week's missile tests, the two U.S. officials said. Other displays had been planned long in advance.
As the Lancer bombers returned to Guam, they were joined by Japan Air Self-Defense Force F-2 fighter jets over the East China Sea, Pacific Command said.
Although North Korea is barred under a U.N. resolution from firing ballistic missiles, it routinely does so, saying its arsenal is a necessary tool to defend itself from the United States. The country has conducted five nuclear weapons tests since 2006, with two last year alone.
If the ICBM type tested by North Korea on Tuesday is capable of traveling 3,500 miles, that range means it could be able to reach Alaska.
Earlier Friday, the U.S. Missile Defense Agency said it would conduct a test of an anti-missile system based in Kodiak, Alaska in July. The Terminal High Altitude Area Defense system will be used to detect, track and engage a target with an interceptor, Missile Command said. A date of the test was not announced.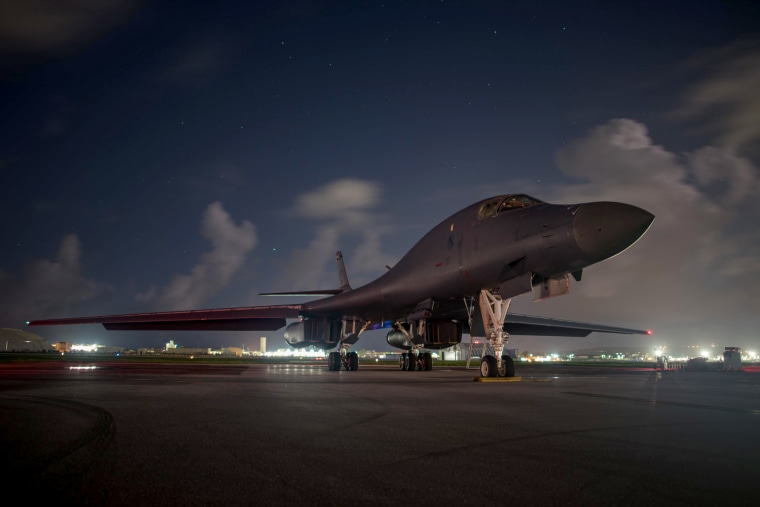 Courtney Kube reported from Washington D.C., Phil Helsel reported from Los Angeles.