The U.S. Air Force is on track to triple the number of bombs dropped in Afghanistan this year compared with last year, new figures reveal as the White House opens a new front in America's longest war.
The military dropped 3,554 weapons against the Taliban as of Oct. 31 — already nearly three times the 1,337 dropped in 2016 and nearly four times as the 947 fired in 2015.
Despite the significant uptick in strikes from above, the Taliban continues to terrorize a significant portion of Afghan territory below.
Gen. John Nicholson, the commander of U.S. forces in Afghanistan, said that the number of districts controlled by the Taliban was "roughly the same as last year" and noted that the Taliban had failed to take control of any cities.
But Bill Roggio, a senior fellow with the Foundation for Defense of Democracies and editor of its Long War Journal, disputed that assessment somewhat, saying that the Taliban controls or contests about 40 percent of Afghanistan — more than twice the area it had in 2015.
Nicholson on Monday also detailed a wave of American airstrikes targeting drug labs under a new strategy aimed at cutting off Taliban funding.
Flying B-52s and F-22 stealth fighters, U.S. forces dropped precision bombs on opium production plants, hitting an industry that the Pentagon believes is worth more than $200 million every year to the Taliban.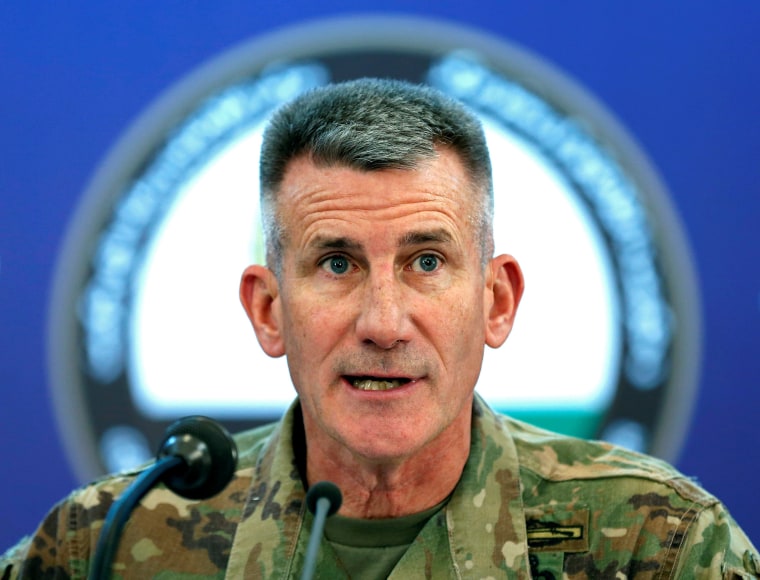 "We hit the labs where they turn poppy into heroin," Nicholson told reporters in Kabul. "We hit their storage facilities where they keep their final product, where they stockpile their money and their command and control."
Nicholson has set a two-year target of getting the security situation under control, with a goal of 80 percent of the population under the control of the U.S.-backed Afghan government — a figure he described as a "critical mass" to "drive the enemy to irrelevance."
Related: Violence, Bloodshed Mount in Afghanistan, Report Says
Nicholson attributed the stalemate and security situation to fact that the U.S. drew down "too far and too fast" and that "we telegraphed to the enemy that we were leaving." The improving security situation in Iraq and Syria had also allowed a shift in airpower to Afghanistan, he said.
Hamdullah Mohib, the Afghan ambassador to the U.S., says American airstrikes have been saving Afghan military lives.
Mohib said 75,000 Afghan Security Forces had been killed or wounded in 2015 and 2016, in a spike that followed the U.S. withdrawal in 2014. However, casualty rates so far in 2017 are dropping as Afghans are more on the offensive, he said, attributing the change to their ability to target militants "with much more ease."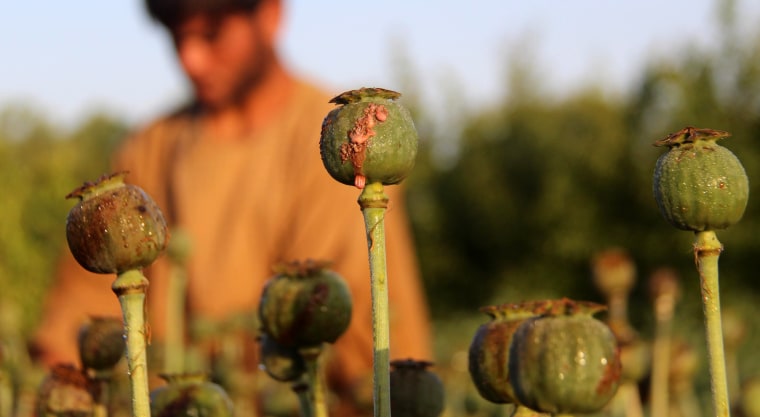 "We are bracing ourselves for a difficult few months or perhaps year," as the Taliban try to deflect the new military push in Afghanistan, Nicholson said, adding they will attack places like urban centers.
In August, the Pentagon acknowledged that the U.S. military had thousands more troops on the ground in Afghanistan than they had ever reported to the public. The Pentagon deployed more than 3,000 more troops to the war zone as part of the Trump administration's new South Asia strategy.
Nicholson said the drug-lab bombing operation took weeks of preparation, and precautions were taken to limit civilian casualties. He also made clear that the new strategy would not be targeting farmers in rural communities who rely on poppy production for their livelihoods.
The strategy is to transition those farmers to agricultural staples such as wheat. "We are not striking farmers," the general said. "They are held hostage by debt and threat of violence by the Taliban."
As the opioid crisis continues to devastate American communities, Afghanistan is also struggling with its own uptick in addiction.
More than 10 percent of Afghan children in rural areas have tested positive for opium, and 31 percent of all Afghan households were affected by drug abuse in 2015 alone.
This year's opium crop was the largest since the war began and 87 percent bigger than in 2016, according to the U.N. Office of Drug and Crime (UNODC).
"We're determined to tackle criminal economy and narcotics trafficking with full force," Afghan President Ashraf Ghani said on Twitter.