The U.S. Coast Guard resumed searching Tuesday for four British sailors missing in the Atlantic - more than three days after it gave up looking for the men.
The change of heart comes after a fervent campaign in the U.K., with desperate appeals from the friends and family of the Cheeki Rafiki yachtsmen and a petition of nearly 200,000 signatures.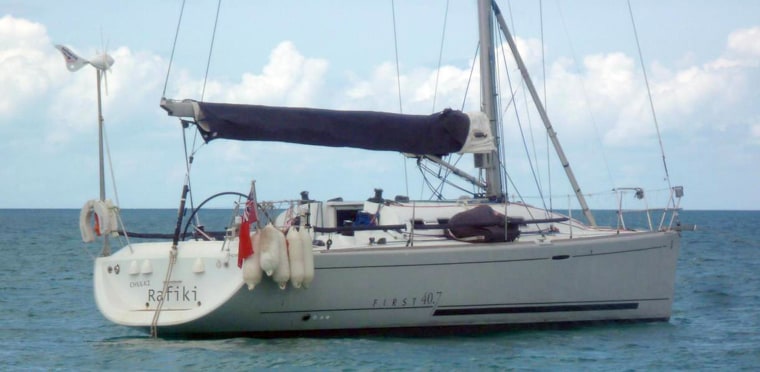 "The U.S. Coast Guard has resumed search efforts for the missing crew of the Cheeki Rafiki," Jennifer Robertson, a spokesperson for the Coast Guard, confirmed to NBC News. She added more information would released imminently.
British Prime Minister David Cameron thanked the authority after it made the announcement.
Graham Male, father of crew member James Male, told NBC News' British partner broadcaster ITV News that his family were "absolutely over the moon" at the decision.
A locator beacon suggests the yacht got into difficulties 1,000 miles off Cape Cod, Mass., while returning to Britain from a sailing event in Antigua.
The U.S. Coast Guard called off the search on Sunday, 53 hours after detecting the beacon. It said given the rough seas and high winds the crew's estimated survival time would have been 20 hours.
However, family members - backed by several experienced British sailors, including Virgin founder Sir Richard Branson - are adamant the men could be alive, and have begged officials to reconsider their decision.

The plight of their families has been bolstered by the online petition, which as of 10.30 a.m. Tuesday had more than 192,000 digital signatures, as well as a fervent campaign on social media. This was taken up, among others, by Britian's Sir Ben Ainslie, the most successful sailing Olympian of all time.
A day before the Coast Guard announced it was to resume the search, the U.K. Health Secretary Jeremy Hunt, who is also the local member of parliament representing one of the men, urged the search to resume.
- Alexander Smith