With more than 3,000 killed by the coronavirus in the United States, according to numbers released Tuesday, the U.S. death toll is approaching that of China where the pandemic broke out.
Spain, meanwhile, saw a massive surge of 9,222 new confirmed cases and 849 deaths in a single day, its Health Ministry announced, bringing total cases to 94,417 and deaths to 8,189.
Spain and Italy each held a moment of silence to honor their dead at 12 p.m. (6 a.m. ET). The two countries account for more than half of the deaths globally.
On Monday, New York Gov. Andrew Cuomo warned the situation in his state is a sign of things to come if other parts of the country don't act fast.
"There's nothing unique about New Yorkers' immune system. There is no American who is immune from this virus," he told Lawrence O'Donnell on MSNBC's The Last Word. "New York is just the test case for this. We're the canary in the coal mine"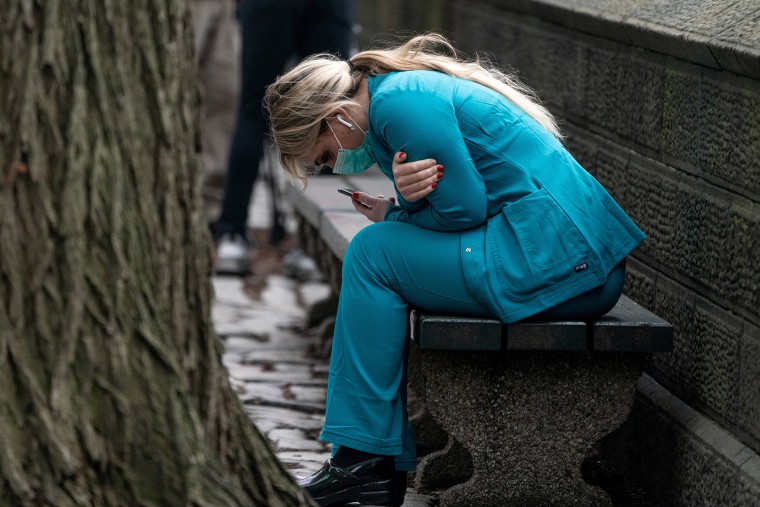 The number of people confirmed to be infected with the virus in the U.S. reached 163,838 as of 2:30 a.m. ET, according to NBC News' tracker — the highest number for a single country in the world. More than a third of the cases are in New York state.
Also Monday, President Donald Trump said at a press conference that support was being rolled out across the country, including the construction of a 2,900-bed hospital in New York and thousands of more beds and equipment being distributed by the U.S. Navy and the Army Corps of Engineers.
"It's been really pretty amazing what they've done," he said.
"I think we're going to be in very good shape," he added about preparations for the country to manage the growing rate of infections.
Trump also approved disaster declarations for the states of Rhode Island and Pennsylvania on Monday.
In China, the rate of deaths has slowed with only one more reported from Monday, bringing the total to 3,187. As the country eases restrictions following the slowdown of the spread of the virus, factories have reopened, allowing for China's manufacturing industry to rebound this month.
But the China Federation of Logistics & Purchasing cautioned that the world's second-largest economy still faces challenges in rebuilding supply chains while authorities try to prevent a spike in infections as employees return to work.
The World Health Organization has also warned the pandemic is "far from over" in Asia.
"This is going to be a long-term battle and we cannot let down our guard," Dr. Takeshi Kasai, WHO regional director for the western Pacific region, said during a press conference Monday in the Philippine capital of Manila.
"We need every country to keep responding according to their local situation," he said.
Japan's foreign minister announced Tuesday that the nation would ban its residents from traveling to 73 countries including the United States, China, South Korea and most of Europe to prevent the spread of the virus. It would also ban entry to people coming from those countries.
France hit a grim milestone with its highest jump in death toll for a single day Monday, with 418 new deaths reported. It brought the country's total to 3,024. The country's Director General of Health Jerome Salomon said more than 5,000 patients are in critical condition in intensive care.
In Italy, flags flew at half-staff around the nation.
Italy's Health Minister Roberto Speranza said the nationwide lockdown due to end this Friday will likely be extended until Easter, after he met with a scientific committee advising the government on how to contain the virus.
Even after the lockdown is lifted, strict measures on businesses to keep people at a safe distance from one another will likely continue and some businesses such as gyms and beauty parlors may remain closed longer.
The Associated Press contributed to this report.