PESHAWAR, Pakistan — A U.S. drone strike in Afghanistan has hit a Pakistani Taliban camp for suicide bombers, killing 21 fighters, militant commanders and local security officials said Thursday.
The strike in Kunar province, a remote region on the border with Pakistan, happened Wednesday, local officials and militants said. Targeting of Pakistani militants on Afghan soil is very rare.
A senior U.S. official confirmed the strike was conducted by a CIA drone. The official declined to provide any details about the strike, other than to confirm the target was a group of Pakistani Taliban.
A Pakistani military official, who spoke on condition of anonymity, claimed that among those killed was the 20-year-old eldest son of the Pakistani Taliban's leader, Maulana Fazlullah, as well as a senior suicide-bombing trainer.
"This is a remarkable achievement and a very big success of the CIA-operated spy aircraft in fight against terrorism as these suicide bombers were supposed to be dispatched to [the Pakistani region of] Swat in coming summer for terrorist attacks," the official said.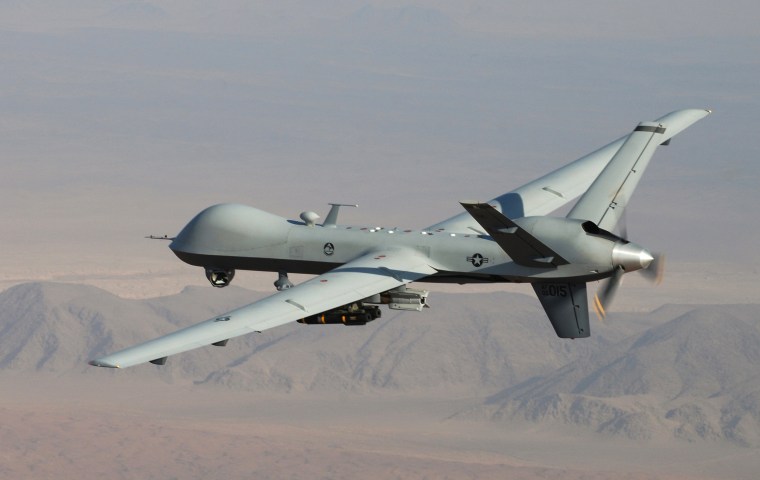 The militants fled Pakistan following an offensive by that country's military, according to Pakistani security officials. They had been hiding in the mountainous region of Afghanistan and planned to use it as a base from which to carry out attacks in Pakistan, the officials said.
"We never expected this as our people had been living there for some time," one member of the Pakistani Taliban said. "The fighters were busy in their routine activities when the drone fired four missiles on the camp and killed twenty-one militants on the spot."
The Taliban member said most of those killed were originally from Pakistan's Swat valley, the hometown of Nobel laureate Malala Yousafzai.
Pakistani security officials on the Afghan border area also confirmed the drone strike and said most of the militants were getting suicide-bomber training when they were killed.
Islamabad has for years has asked officials in Washington and Kabul to take action against Fazlullah and other Pakistani Taliban believed to be hiding in neighboring Afghanistan and crossing the porous Afghan-Pakistan border to launch attacks inside Pakistan.
Kabul, for its part, has long complained that Islamabad is not doing enough about militants who use Pakistani soil to launch attacks against U.S., NATO and Afghan forces in Afghanistan.
In recent months, U.S. President Donald Trump has turned up pressure on Pakistan to act against militants by suspending key security assistance to the country. Pakistan denies providing sanctuary to militants and says it has carried out several military operations in the country's tribal regions and elsewhere to kill or arrest militants.