U.S. experts were expected in Somalia Friday to assist the investigation into an explosion that blew a hole in the side of a passenger plane, the country's aviation chief said.
The blast tore through the cabin of the Airbus A321 - killing one passenger, who fell to the ground, and forcing the jet into an emergency landing.
Officials are trying to determine whether Tuesday's blast was caused by a bomb after explosive residue was found on the aircraft, two government sources told NBC News.
Abdiwahid Omar, director of the Somali Civil Aviation Authority, said that his country "asked for assistance" from America, and that U.S. officials were expected to arrive in Mogadishu Friday morning.
"What we want to do is a complete and thorough investigation so that we can convince the security forces, the local community and everyone involved about what really happened," he told NBC News.
The U.S. team was set to follow up on a first round of testing by British-trained Somali officials, Omar said, adding that "we need to make sure we have at least three different samples of the same results."
Omar said the FBI had been "invited" to assist with the investigation. FBI spokesman Joshua Campbell referred an enquiry from NBC News to authorities in Somalia "who are leading the investigation."
So far, no terrorist group has claimed credit for the blast. However, Somalia has been waging a long-running battle with al Shabab, which is allied with al Qaeda.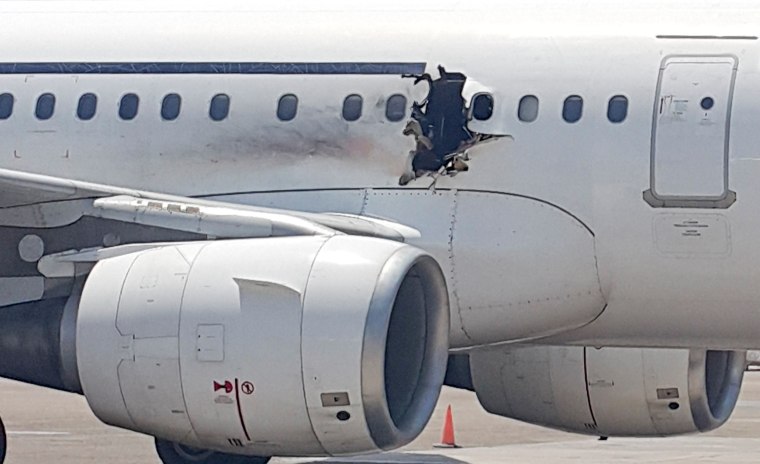 One passenger, identified as 55-year-old Abdullahi Abdisalam Borleh, was killed after he was blown out of the plane. A high-ranking Somali intelligence agent told NBC News that Borleh is not believed to have been a suicide bomber.
The blast happened minutes after takeoff from Mogadishu as the jet was climbing between 12,000 and 14,000 feet. Had the plane been higher, the explosion could have had a devastating effect on the pressurized cabin.