LONDON — An Iranian oil tanker impounded in Gibraltar last month has been released, the government of the British overseas territory has confirmed, despite a last-minute effort by the U.S. government to seize the vessel.
Grace 1 was detained last month in a British Royal Navy operation off of Gibraltar.
It was suspected of violating European Union sanctions on oil shipments to Syria — an ally of Iran — and its seizure deepened international tensions in the Persian Gulf.
Gibraltar's chief minister Fabian Picardo said in a statement Thursday that he met with Iranian officials in London last month "in the spirit of seeking to de-escalate all aspects of the issues arising from the detention of Grace 1."
"I made clear that our detention of the vessel related exclusively to the implementation of sanctions against Syria," he said.
Download the NBC News app for breaking news and politics
On Aug. 13, Picardo said he received a written assurance from Iran government that if released, the destination of Grace 1 would not be an entity that is subject to E.U. sanctions.
"In light of the assurances we have received, there are no longer any reasonable grounds for the continued legal detention of the Grace 1," he said.
A British Foreign Office spokesperson said, ". Iran must abide by the assurances they have provided. We will not stand by and allow Iran – or anyone – to bypass vital EU sanctions on a regime that has deployed chemical weapons against its own people."
Earlier on Thursday, Gibraltar officials said the U.S. Department of Justice had applied to seize the vessel "on a number of allegations which are now being considered."
In his statement Picardo confirmed that the U.S. had requested that a new legal procedure for the detention of the vessel should be commenced.
"That is a matter for our independent Mutual Legal Assistance authorities who will make an objective, legal determination of that request for separate proceedings," he said.
NBC News has requested comment from the Department of Justice earlier on Thursday, but has still not heard back.
Gibraltar officials have also earlier confirmed to NBC News that the tanker crew members initially arrested — the captain and three officers — have now been released.
Their whereabouts are not presently known.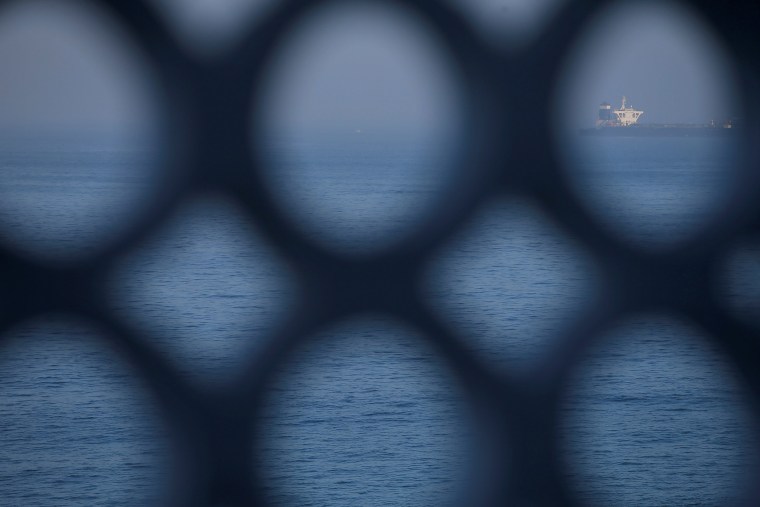 There was no immediate reaction from officials in Tehran.
However, Iran's ambassador to the U.K., Hamid Baeidinejad, tweeted upon tanker's release: "Our country in the past 40 days with the cooperation of related entities under the management of the foreign ministry had consistent talks in political, legal and technical levels with the British side to lift this illegal act."
The seizure of Grace 1 became a simmering point in the ongoing tensions between Iran and the west.
Weeks later, Iran seized a British oil tanker named Stena Impero in the Strait of Hormuz for "violating international regulations."
Tensions have escalated in the region since President Donald Trump unilaterally withdrew the U.S. from Iran's 2015 nuclear deal with world powers over a year ago.
The decision stopped billions of dollars' worth of business deals, largely halted the sale of Iran's crude oil internationally and sharply depreciated Iran's currency.
In recent weeks, Iran has begun to step away from the nuclear deal by increasing its production and enrichment of uranium. It has threatened to take further steps in early September if Europe can't help it sell its oil abroad.