PESHAWAR, Pakistan — An American professor held hostage by militants is seriously ill and requires immediate treatment, a senior member of the Afghan Taliban told NBC News on Monday.
Kevin King was kidnapped at gunpoint from the American University of Afghanistan in Kabul alongside Australian colleague Timothy Weeks in August 2016.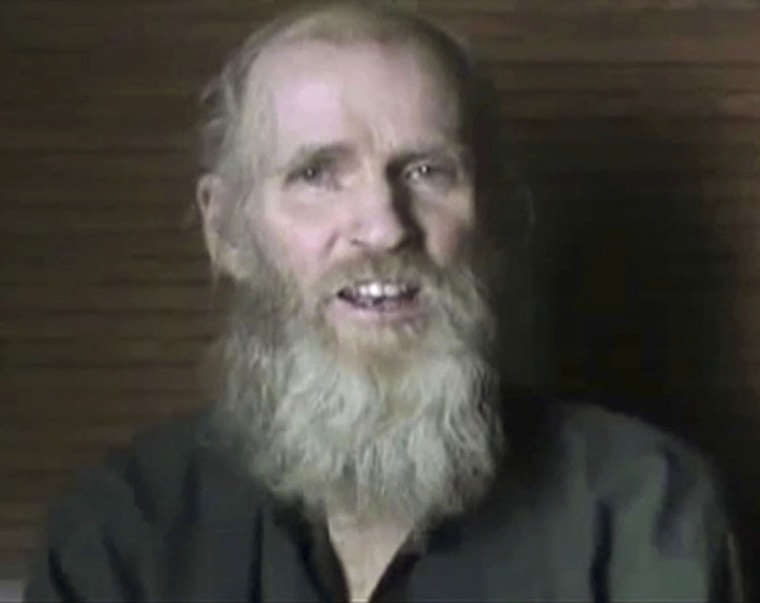 A Taliban commander, who asked for anonymity as he was not permitted to speak to the media, described the 61-year-old King as being in "serious condition" due to his heart disease and said he urgently requires hospitalization. However, the militants have been unable to arrange that.
"Whatever we could do, we did to save his life but it's beyond our capacity and resources to provide him the quality of care he needs," the militant added.
According to the Taliban commander, King's health has deteriorated in recent weeks despite the fact the group had arranged treatment and obtained drugs for him.
He added that the militants "should not be held responsible" if King were to die.
King and Weeks are both believed to be held by the Haqqani network, a group which is linked to the Afghan Taliban.
The Haqqani network was also responsible for the 2012 kidnapping of the U.S.-Canadian couple Caitlan Coleman and Joshua Boyle in Afghanistan. The pair and their three children, who were born while they were held hostage, were released earlier this month in an operation involving Pakistan's military.
Boyle, who told reporters that they were in Afghanistan to help villagers living under Taliban rule, accused the Haqqani network of "the stupidity and evil of authorizing the murder of my infant daughter" during their five-year ordeal. He also said his wife was raped by a guard.
Members of the Haqqani network and the Afghan Taliban denied Boyle's allegations.
The Haqqani network, whose leader is the deputy head of the Afghan Taliban, also held Sgt. Bowe Bergdahl for five years. The Afghan Taliban obtained five top commanders in exchange for the U.S. soldier in 2014 in a deal with the U.S. that was brokered by Qatar.
Due to their wealth and deep links to local tribes, one Western diplomat once dubbed the Haqqanis "the Kennedys of the Taliban movement."
Related: Hostage Rescue Hints at New Era With Pakistan
The Afghan Taliban said it issued the update on King's condition in the event the U.S. or his family wanted to negotiate his release.
"If America wanted to save Kevin's life, they should make arrangements for his immediate release," Taliban spokesman Zabihullah Mujahid said. "At the moment he is alive but may die if not provided better care."
The Haqqanis waged war on NATO forces in Afghanistan and have been blamed for many of the more than 2,000 U.S. military deaths there.
The U.S. has long criticized Pakistan for not aggressively going after the Haqqani network. Pakistan rejects accusations that it shelters the militants.