VIENNA — Secretary of State John Kerry postponed a planned departure from talks about Iran's nuclear program in Vienna Friday evening as the deadline for a deal loomed just days away.
"Secretary Kerry has delayed his departure ... in order to continue consultations with Foreign Minister Zarif," State Department Spokesperson Jen Psaki said.
After more than a decade of diplomacy, Iran and six world powers met briefly in the Austrian capital seeking what they hope will be a breakthrough. Kerry had been due to head to Paris for discussions with "European counterparts," according to his spokesperson.
Iran's Foreign Minister Mohammad Javad Zarif's team, meanwhile, stayed in Vienna Friday after having initially planned to return to Tehran for consultations, a senior negotiator told NBC News. At a sensitive juncture of a previous round of the talks, Zarif traveled to Iran to brief Supreme Leader Ayatollah Ali Khamenei.
Both sides are racing against the clock ahead of Monday's deadline to resolve a dispute that has in recent years threatened to escalate tensions across the Middle East. Here's what you need to know about the talks.
What's at stake?
The main dispute is over Iran's nuclear program, which could produce fuel for nuclear reactors but also for the fissile core of a nuclear warhead. Iran has repeatedly denied that it is seeking to develop nuclear weapons and is hoping that concessions from its side, and possibly more regular access to the country's nuclear facilities, will lead to the lifting of painful international sanctions.
"This is a very critical week obviously in Iran negotiations," Kerry said before joining the talks in Vienna.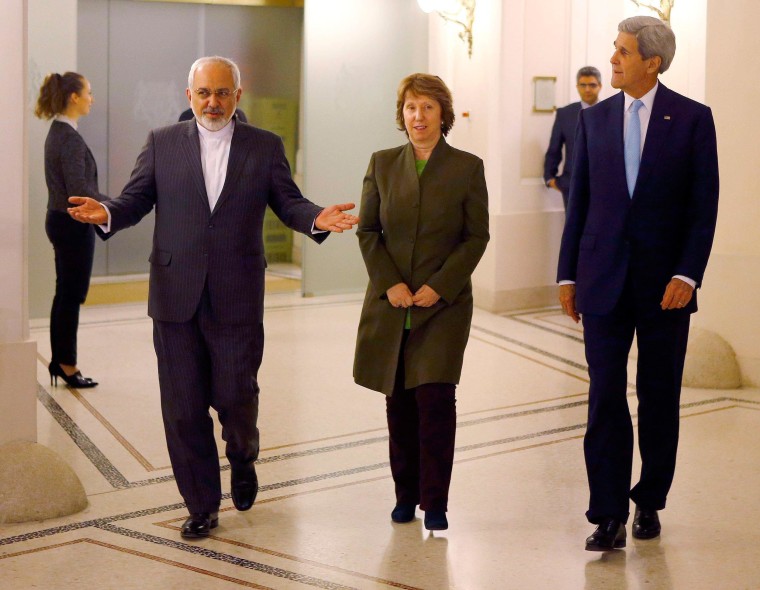 Olli Heinonen, the former deputy director of the International Atomic Energy Agency (IAEA), said in an interview with NBC News that the key issue now will be how to limit Iran's nuclear program and how to observe it.
"The main questions really are: What are the real needs for Iran in terms of the nuclear energy? How much uranium do they need and where do they get it?" he said.
"I don't see any reason for Iran to boost its enrichment capabilities," added Heinonen, who regularly inspected nuclear facilities during his 27 years at the IAEA. "They don't need it, as their civilian nuclear program is actually fairly modest."
What does Iran want?
Iran wants its nuclear rights recognized and sanctions removed. "Iranians want lifting of sanctions, and at least the ones imposed by U.N. lifted upfront," said Mark Fitzpatrick, a former U.S. diplomat who is now Director of the Nonproliferation and Disarmament Program at the International Institute for Strategic Studies. "But the West doesn't want to lift them upfront," he said, because once they were removed it would be hard for them to be reimposed.
In Iran, opinions are split. Many want to see a deal happen so sanctions will be lifted, hoping for an improving economy and an end to Iran's isolation in the world community. But others, especially hardliners in Tehran, want to hold on to a full-scale nuclear program.
"There are many in Iran who don't want to give up option to make a dash for nuclear weapons," Fitzpatrick said. "They don't necessarily want nuclear weapons now, but they want option for the future, it's a kind of hedging strategy."
What do the U.S. and its allies want?
The U.N. Security Council's so called P5+1 group — including diplomats from the United States, Russia, China, the United Kingdom and France, plus Germany — is seeking binding assurances from Iran that its nuclear program is purely for civilian purposes. They are no longer seeking a full suspension of Iran's nuclear program.
"We have to realize that a year ago, the U.S. and its allies made a huge concession that Iran did not have to suspend enrichment program, but could have a limited," Fitzpatrick said. But he added that the allies would still require all of Iran's paths to a nuclear weapon to be blocked.
What could happen if this round fails?
If the parties fail to reach a comprehensive agreement in this round they might reach another extension of the talks. Both sides could argue that they are very close and a breakdown would not serve anyone's interests.
"The November 24 deadline can be extended, and I think it will be, there's no reason to halt diplomacy," Fitzpatrick said. "But now is best time to do reach a conclusion. There are presidents in both Tehran and Washington who are looking for pragmatic solutions."
Barring a comprehensive deal, both sides might agree to take further confident building steps to show progress is being made. A senior Iranian negotiator involved in the talks told NBC News that it was hard to predict what will happen in the next few days in Vienna but that there appears to be a willingness to reach an agreement by the deadline. "We are working hard to reach a deal by Nov. 24," said the negotiator on condition of anonymity.
What could happen if the parties fail to reach an accord?
In the event of a breakdown, a lot of progress — including the first direct talks between the U.S. and Iran in over three decades — would be undone very quickly.
Sanctions on Iran would be increased and Iran's economy would remain isolated from great parts of global trade and could be subject to additional pressure resulting from a global decline in oil prices. The West, and especially the United States, is worried that Iran will enrich more uranium and soon be capable of producing atomic bombs, thus becoming a major threat in the region. And the military option to counter an Iranian threat would be once again on the table. But that threat is not yet real.
"There is a desire on both sides to keep diplomacy alive," Fitzpatrick said.
Carlo Angerer of NBC News contributed to this report. Ali Arouzi reported from Tehran.