U.S. service members on Okinawa have been banned from drinking and restricted to base or their off-base residences after a crash involving a Marine in which a local man died.
In addition, all U.S. service members on mainland Japan are prohibited from buying or consuming alcohol on or off base.
Alcohol may have been a factor in the crash, which occurred before dawn Sunday in Naha, in Okinawa prefecture, the U.S. military said. The U.S. government-funded Voice of America quoted local police as saying the Marine's blood-alcohol level registered three times the legal limit during a breath test.
Police on the southern Japanese island reportedly arrested a 21-year-old Marine on suspicion of drunken driving, The Associated Press reported, citing Kazuhiko Miyagi of the Okinawa police. That information could not immediately be confirmed by NBC News.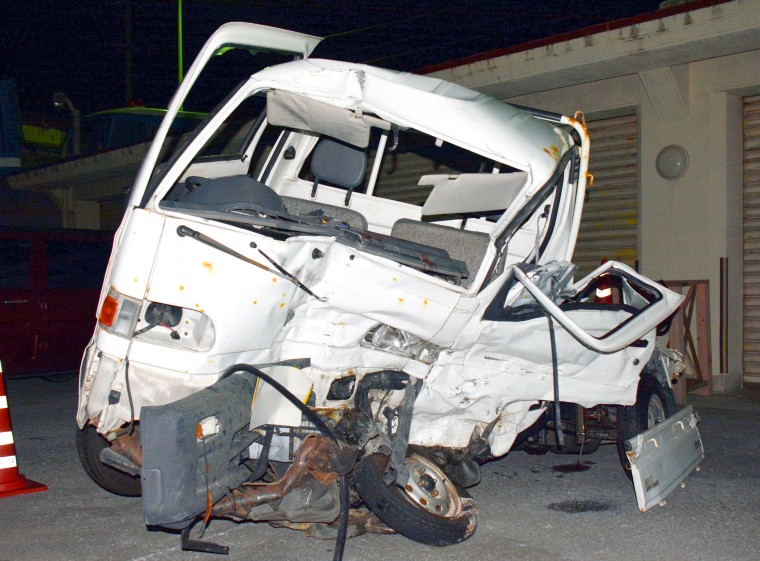 A photo of the scene showed the local man's small truck crumpled into an almost unrecognizable heap of twisted metal.
U.S. Forces Japan comprises about 50,000 U.S. service members, about half of them on Okinawa, and their presence has been a source of tension among local residents for years. Tens of thousands of people turned out to protest in June 2016 after a U.S. base worker was arrested in connection with the killing of a local woman.
"When our service members fail to live up to the high standards we set for them, it damages the bonds between bases and local communities and makes it harder for us to accomplish our mission," U.S. Forces Japan said in a statement Sunday night. "We are committed to being good neighbors with our host communities."
The order directs commanders across Japan to immediately begin leading mandatory training in responsible alcohol use, risk management and acceptable behavior for all military members and U.S. government civilians in Japan. It restricts all U.S. military personnel on Okinawa to their bases or their homes, and it prohibits alcohol consumption by all U.S. military personnel across the country at all times.
Lt. Gen. Lawrence D. Nicholson, commanding general of Marine Forces Japan, extended his "deepest regret and sincere condolences" to the Okinawan man's family. He said the Marine Corps was cooperating fully with the local investigation and would "take every possible step to keep this from happening again."