The U.S. military has ordered an aircraft carrier group to move closer to the Korean Peninsula in response to recent provocations by North Korea, a U.S. defense official said Saturday.
Adm. Harry Harris ordered the Carl Vinson Carrier Strike Group to travel north from Singapore to the Western Pacific Ocean, Pacific Command said in a news release.
The U.S. official said the strike group will provide a show of presence in the region. Since March, North Korea has twice carried out ballistic missile tests in defiance of United Nations resolutions. It has also conducted five suspected nuclear tests, including two last year.
Within hours of the U.S. announcement, North Korea vowed to boost its defenses. A foreign ministry official told the country's state-run news agency that recent U.S. airstrikes on Syria proved that it needed to protect itself against Washington.
"The recent U.S. military attack on Syria is an action of warning," the report said, according to the Associated Press. "We will bolster up in every way our capability for self-defense to cope with the U.S. evermore reckless moves for a war and defend ourselves with our own force."
Dave Benham, a spokesman for U.S. Pacific Command, earlier said moving the carrier strike group was a "prudent measure to maintain readiness and presence in the Western Pacific."
"The number one threat in the region continues to be North Korea, due to its reckless, irresponsible, and destabilizing program of missile tests and pursuit of a nuclear weapons capability," Benham said.
Related: Trump's Options for North Korea Include Placing Nukes in South Korea
Some U.S. allies in the region welcomed Washington's moves.
Japanese Prime Minister Shinzo Abe praised the "strong commitment" of President Donald Trump to global and allied security after his second call with Trump in four days, Reuters reported.
The two leaders agreed to remain in close contact along with South Korea on the North and to closely watch China's response to Pyongyang's missile and nuclear development, Abe told reporters at his official residence.
The U.S. move comes after Secretary of State Rex Tillerson announced a change in approach to curb North Korea's ambitions for its weapons programs.
In South Korea last month, Tillerson said "the policy of strategic patience has ended." He said military option is on the table if the North Korea elevates the threat of its weapons program.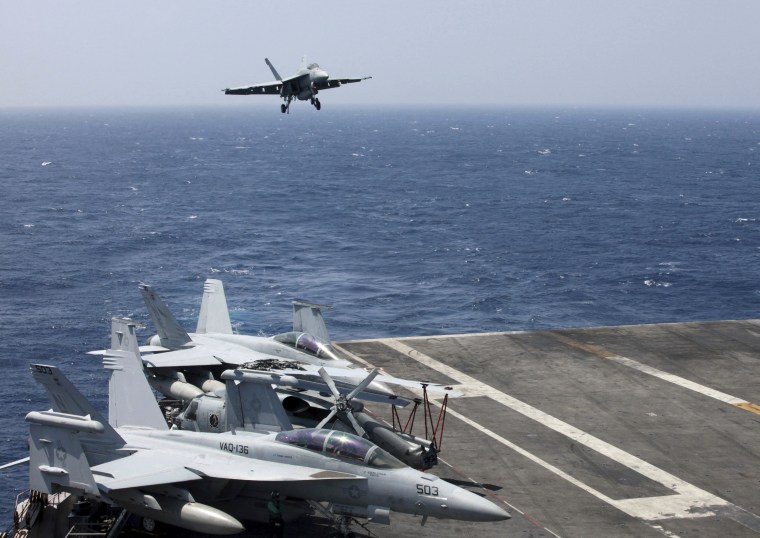 The decision to move the carrier group also comes days after the United States launched a Tomahawk missile strike against a Syrian government airbase in response to a chemical weapon attack allegedly carried out by the government of Syrian President Bashar al-Assad in that country's civil war.
The Carl Vinson Carrier Strike Group will leave Singapore and head to the Western Pacific Ocean, the Pacific Command said.
The strike group includes a Nimitz-class aircraft carrier, aircraft, two guided missile destroyers and a guided missile cruiser, the military said. It deployed around 7,500 sailors when it left port in San Diego on Jan. 5. The strike group has participated in numerous exercises with Japan's Maritime Self Defense Force and the South Korean navy, the military said.